David Kraftsow, Justin Bieber, and the Evolution of Curatorial Practice
By: Maya Livio & Audrika Rakshit
Brooklyn-based programmer David Kraftsow, best known for projects that re-contextualize and reinterpret user-generated Youtube content on his Don't Save website, creates projects–borne of and presented on the Internet–to provide his own commentary on popular culture.
Regarding his YooouuuTuuube project, Kraftsow says, "I had wanted to create a program that uses YouTube videos as source material for a long time. At first I didn't really have a very specific idea of how I wanted it to work. It wasn't until I finally sat down and started coding little experiments and prototypes–in order to see what could be done from a technical standpoint–that a final project idea started to emerge."1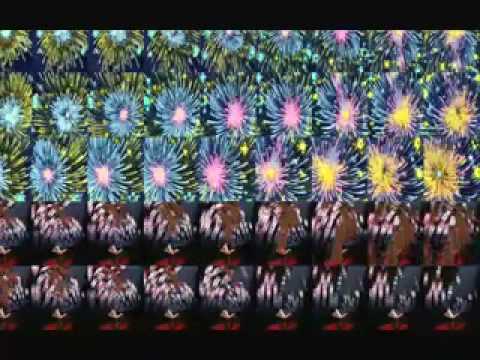 Screen recording of Yooouuutuuube configuration of remix of Disney's "Alice in Wonderland" by Pogo.
After developing Yooouuutuuube, Kraftsow added other diverse projects to his portfolio, from gamified experiences such as First-Person Tetris (a dizzying twist on the classic Nintendo game) and YouTube Free Jazz (allowing you to create your own jazz jams using YouTube keyword search) to mediated ones such as YouTube Rave (which turns any YouTube video into a raging party) and QVC #2 and #3 (which process live video from the American home shopping channel to make it even creepier than it already is).
Kraftsow's projects Better Than Bieber and At My Funeral both employ the use of an algorithm that searches Youtube videos for comments containing the phrase "better than Bieber" or "at my funeral," respectively, and then aggregates them onto a page for display. As an act of collecting, showcasing, and interpreting, these works raise interesting questions about contemporary curatorial practice in digital spaces.
The word curator finds its etymological roots in the Latin word curare, meaning to "take care." The role of the curator has been historically regarded as one of a content specialist who is responsible for an institution's collections, and is also involved in the interpretation of this material for the public.2 If this traditional definition is applied, Kraftsow's aforementioned works may be viewed as acts of digital curation in that he assembles, re-contextualizes, and thereby interprets digital works (where here Youtube serves as the institution). Kraftsow's "caring" for the collections comes on a personal level, as he says about Youtube, and it's parent company, Google: "I love my Android phone and my gmail account and I really really love YouTube! I mean absolutely no harm to the company with this project. If anything it's like more like a kind of love letter to them!"1
However, there are significant differences between this contemporary intervention and previously held notions of curation. While Kraftsow does present an "exhibition" of related works, he creates these groupings through a mostly automated process. Rather than choosing pieces to showcase through a refined selection process, Kraftsow develops a set of criteria that the works exhibited should share, and then programs a tool to cull through Youtube's vast collection and display everything which meets these criteria. The works are then exhibited in a standardized format on a template website, without their sequence, placement, or mode of display being individually considered.
In a Rhizome artist profile, David discusses his own take on his role as a potential curator: "I'm not really sure if "curation" is the right word to describe my YouTube projects. While I do, on occasion, go out and hand-pick specific content for display … most of the rest of my YouTube work is either the result of an autonomous script, or a user-initiated generator … If curation can simply involve the design and execution of such an algorithm, then the role of the curator in this case seems to be very similar to that of a data miner. Both are interested in creating programs that mechanically extract hidden patterns to reveal new meanings from a large dataset."3
In the context of what it means to be a curator in the digital age, where users are now empowered to assume roles of selection on social media platforms, Kraftsow's views follow analogously with those of Neal Stimler, from the Image Library at the Metropolitan Museum of Art, who says that "While scholars and museum visitors contribute to the enrichment of curatorial practice through a social media dialogue, I do not share the view that using social media makes everyone a curator. Curators are the most trusted art experts, whose aggregated knowledge, critical thinking abilities, and aesthetic observations define the meaning and value of art."4
By defining the scope of Better than Bieber and At My Funeral, Kraftsow is clearly generating interpretations by choosing to highlight these specific search queries. Perhaps the collections relate to absurdity–in the sheer quantity of videos considered to be "better than Bieber", for example–or to the humanity present even within such absurdity, such as how common it is for users to consider their inevitable funerals in a space devoted primarily to entertainment. This curatorial statement is implicit in Kraftsow's intervention, but it is not made explicit through text, a commonly accepted practice in traditional curation.
David Kraftsow appears to have initially set out to create a personal project for the purposes of amusement, without intending to confront questions of curatorial practice, inevitable as they may be. With the recent increased self-definition of Internet users as curators and the shift of curatorial practice to new media spaces, it will be interesting to see how Kraftsow's interventions–and the l field in general–develop.
_______________________________
1 Moss, Ceci. "Interview with David Kraftsow" Rhizome. Ed. Joanne McNeil. 2009. 29 September 2012. <http://rhizome.org/editorial/2009/jun/4/interview-with-david-kraftsow/>
2Wikipedia. "Curator". Wikimedia Foundation. 2003. 29 September 2012. <http://en.wikipedia.org/wiki/Curator>
3Doulas, Louis. "Artist Profile: David Kraftsow" Rhizome. Ed. Joanne McNeil. 2012. 29 September 2012. <http://rhizome.org/editorial/2012/may/1/artist-profile-david-kraftsow/>
4Proctor, Nancy. "Digital: Museum as Platform, Curator as Champion, in the Age of Social Media." Curator: The Museum Journal 53.1 (2010): 35-43. 29 September 2012. <http://onlinelibrary.wiley.com/doi/10.1111/j.2151-6952.2009.00006.x/abstract>