What You See Is What You Get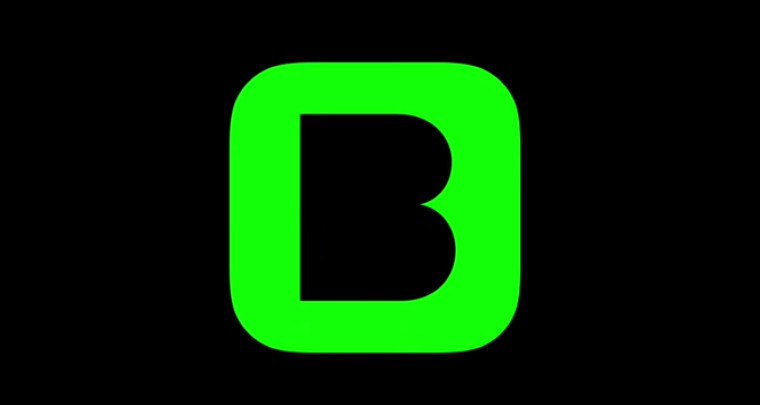 The time of the curated self is over. No more filters, adjustments, retakes or any other tool that makes the world more spectacular than it is. The pattern of over-tailored and over-garnished content on social media might have been broken with the introduction of a new app in the space of social media. Authenticity is the new keyword. Self-awareness and self-consciousness are moving to the background in a new app called Beme.
Beme 101
Viral video maker Casey Neistat and former VP of Engineering at Tumblr Matt Hackett released the app in July 2015. Beme approaches the concept of social media in a different way. Social media is by origin the place where the digital version of us can communicate with others. The 'problem' in Neistat's and Hackett's eyes is that this happens via a contrived manner, which results in a distorted picture of reality. According to Fitz Tepper (2015) "things shared on social media are a very carefully created version of what someone wants to share" (n. pag.). The filters on Instagram for instance made our common lives look uncommon and exceeding. With social media platforms we are able to adjust the picture by looking at a screen instead of looking at reality. Beme changes this and wants you to just share things and don't think about the process of sharing.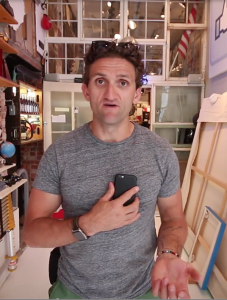 A video can be made by holding your phone against your breast. When the proximity sensor at the front of your phone doesn't detect any light it will start recording for 4 seconds. With this quite simple but effective way we cannot see what we are recording and how this actually will look like on a screen. There is no time for a revision, adjustment or a retake because the video will automatically be uploaded to the server. There's no preview or a review and therefore it makes it as raw as it gets. The video will become content that is characterized by ephemerality, which results in that it's only possible to see it once. When the video has been watched it will automatically be deleted. Therefore Beme admires that people aren't concerned with the future past. It's also something that well known Snapchat admires. A form of quantifiable feedback (amount of likes, comments or shares) is not present as well. The focus is on the actual content instead of quantification around the content. With these characteristics Beme aims to let you be really you. There is no social pressure on Beme and therefore there is no need to make the reality more beautiful than it is.
Some footnotes
It looks like Beme could be an app that restores the authentic part in social media. There are a few things we need to keep in mind though. There is still the possibility to prepare yourself for a video by taking a different – read social improved – look or behavior. Beme really emphasizes the idea of authenticity. Therefore it's almost something what Andrew McNicol (2013) calls "enforced authenticity" (204). Aren't we going to act different because of this pressure? Furthermore Danah Boyd (2011) writes about the concept of 'white-walling'. "Teens are fully aware that their peers can copy and paste content from one place to another, but they purposefully set up social hurdles to make it more difficult" (n. pag.). The key element in this is that we adjust our behavior. Therefore a claim for authenticity is very very hard to reach in Beme. Secondly 4 seconds of recording is way too little to make anything really coherent. It's according to Nathan Jurgensson (2013) "a challenge to exhaust the meaning from the image before the clock runs out" (n. pag.). It makes it difficult to watch and the temporality is characterized by ephemerality, which requires a fast form of attention.
The idea around authenticity is nice but we need to be realistic as well. Is this exactly the content we want to see every day? Isn't authenticity actually quite dull? It's also something Kyle Vanhemert (2015) addresses. "Life is usually more interesting when it's edited and scrutinized before being rebroadcast" (n. pag). It's the same with movies where the most of is fiction and let us see a world that actually doesn't exist. Beside the question around authenticity, the concept of being honest and really show your authentic self is a difficult one as well. Honesty can be reached by trust, which is the result of exclusivity and attention to privacy. By looking at the Privacy Policy of Beme makes you second guess recording something the next time. "We cannot guarantee the security of any Account information (n. pag.)." The claim for ephemerality is not fully guaranteed either: "Given the nature of sharing on the Services, any public activity on your Account prior to deletion will remain stored on our servers and will remain accessible to the public (n. pag.)." How can you be your truly authentic self when you know you're still being recorded? Therefore the question is: do you really see what you get? Eventually we all like to pretend we are living a more interesting life that we actually do. With Beme the first steps has been made to show your raw beautiful authentic self. It will be a very long road though.
Reference List
Boyd, Danah. "Networked Privacy." Personal Democracy Forum. New York, 6 June 2011.
Jurgenson, Nathan. "Pics and It Didn't Happen." The New Inquiry. 2013. 12 September 2015. <http://thenewinquiry.com/essays/pics-and-it-didnt-happen/>.
McNicol, Andrew. "None of Your Business? Analyzing the Legitimacy and Effect of Gendering Social Spaces Through System Design." Unlike Us Reader: Social Media Monopolies and Their Alternatives. Eds. Geert Lovink and Miriam Rasch. Amsterdam: Institute of Network Cultures, 2013. 200-238.
"Privacy Policy." Beme. 2015. 12 September 2015. <https://beme.com/privacy.html>.
Tepper, Fitz. "A Week In, Casey Neistat's New App Beme Has 1.1M Videos Shared." TechCrunch. 2015. 12 September 2015. <http://techcrunch.com/2015/07/28/a-week-in-casey-neistats-new-app-beme-has-1-1m-videos-shared/>.
Vanhemert, Kyle. "Beme Has a Problem: Authenticity Is Boring." WIRED. 2015. 12 September 2015. <http://www.wired.com/2015/07/beme-authenticity-boring/>.