Apple's New Home App: A New Standard Towards Smarter Homes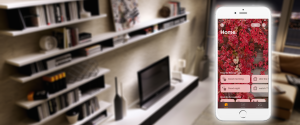 How do you feel about presetting your thermostat in order to enter a warm living room during the winter season? Or what about turning off all your lights with one simple tap while lying in your bed? The tendency towards smarter homes due to an increasing amount of connectivity among your electronic devices has been set for a couple of years. The idea of controlling your home cinema set using a particular application on your smartphone has been deployed to make life much easier. But easier is not equally to easiest. As media professor Mark Deuze points out, "we are living a media life" in media, rather than with media (242), as media are "ubiquitous and pervasive" (66). This tendency becomes even bigger and bigger and therefore quite literally, as various companies started exploring their way to connected homes, like Philips's effort to design personal Hue lights, the Toon® thermostat by the Dutch energy supplier Eneco or Samsung's Family HubTM refrigerator with camera's, Wi-Fi and touchscreen. Although the introduction of these relatively new product categories within the Internet of Things and the promising capacities to create an easier way of living, it is obvious that there is missing some kind of standardization within this web of connected devices.
What these devices have in common is that every kind of device is accompanied by a separate app for your smartphone or tablet. Philips developed a special app for connecting their Hue lights to the user's smartphone, but in order to get it work it also requires a separate Hue Bridge device. In the same way Eneco introduced a special app for its smart thermostat and Samsung for its refrigerator. Though, in a way the decentralized control structure of isolated devices has become more centralized, as the control of these devices made its way to one single mobile device. But we can still speak of a certain form of decentralization when we zoom in on the mobile device. At this level, the user has to deal with a bunch of apps in his effort to make his home as smart as possible, although certain companies already responded to this problem by developing a singular app for multiple devices, but first and foremost to only connect devices of their own brand.
Apple's solution: Home
With the introduction of Apple's most recent mobile operating system for iPhone and iPad, called iOS 10, and watchOS 3 for Apple Watch, the tech company provides us with the standard installation a new app that allows the user to combine and connect the various household devices to one singular app called Home. The introduction of this app is Apple's next step in its effort to make smarter and easier-to-use homes. In 2014 it was the same company that developed HomeKit, a platform to connect all your smart devices in order to be controlled from your own mobile Apple device. For example, manufacturers of lights, curtains, security cameras, doorbells, thermostats and so on could implement this platform in their electronic products to fit in the new organizational structure of the hyperconnected smart home. The new Home app has been built upon this platform and serves as a user friendly interface to control your devices. Although HomeKit was very promising in restructuring one's activities at home, the users of this platform still have to deal with some restrictions. First, an Apple TV is required as a central hub to control your devices from a place outside your home. Second, communication with devices at home didn't occur via one particular mobile application, but via separate applications specifically designed for each separate device. The integration of HomeKit by different manufacturers provides the user the possibility to command each device via Apple's virtual assistant Siri that comes along with Apple's iDevices. Now that more and more product categories are using HomeKit as standard API for connecting their devices, Apple comes with a user friendly interface within its new Home app to communicate with one or more devices at the same time. The premise of the new Home app is that "you can securely control all your HomeKit accessories from your favorite iOS device." In doing so, Apple imposes a new compatibility standard for both users and manufacturers. Users must take this standard into account when they want to buy a new device ("Is this device compatible with HomeKit?") in their effort to make their homes smarter, and manufacturers have to meet the rules of the HomeKit Accessory Protocol to bring HomeKit supporting devices on the market.
Protocol as reorganizer of life
The reorganizing and restructuring operation of the HomeKit Accessory Protocol goes beyond the technological centralization of combining heretofore separate mobile applications into one particular app. Alexander Galloway considers the computer protocol as formal apparatus (55). According to Galloway, "the totality of techniques and conventions [affects] protocol at a social level, not simply a technical one" (55). It might be clear that the implementation of smart devices in our homes will have a huge effect on our daily routine. Thus, the new set of rules that come along with the HomeKit protocol does not only reorganize the technological infrastructure and logic, but also the way we live our media life. Further examination of computer protocols as reshaping social context might be very interesting.
---
Deuze, Mark. "Conclusion: Liquid Media Work." Media Work. Cambridge: Polity Press, 2007. 233-242.
Deuze, Mark. "Media Today." Media Life. Cambridge: Polity Press, 2012. 33-66.
Galloway, Alexander. "Form." Protocol: How Control Exists After Decentralization. Cambridge: MIT Press, 2004. 54-79.