Weverse: Fandoms in the Age of Global Pandemic – Redefining Communication with an Army Bomb
Introduction
Attending concerts, listening to music, decorating rooms with posters are some of the practices of fandom (Shuker 166). In the digital age, the fan is also an active customer switching between Social Media Sites. On Twitter, he can engage in discussions and interact with the artist's posts, on Facebook he has the ability to set a group and form communities, and on for instance YouTube, enjoy the music and other video content. Buying merchandise and concert tickets is a google search away. But would it not be easier if the fan could do it on one platform? The occurrence of the pandemic at the beginning of 2020 significantly jeopardized the physical aspect of bond usually solidified and nurtured by tours and fan-meetings. In the unfortunate and challenging circumstances brought upon fans, artists and the companies, South Korean developers of beNX company saw an opportunity in innovating communication through synergy and convergence using Weverse.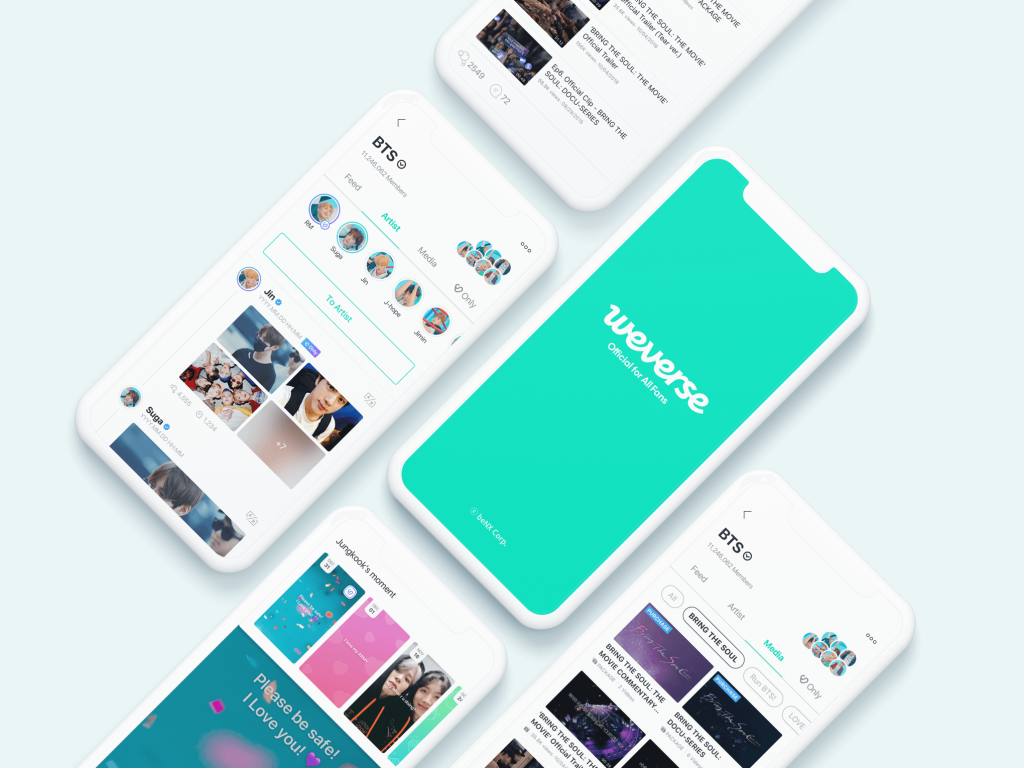 What is Weverse?
Introduced in 2019, Weverse is a 'one and only integration of fandom culture in the world and one-of-a-kind global fandom platform.' (Wooseok 2020) It is the only application that enables close fan-artist communication and allows performing all fan activities usually spread across social media sites in an integrated environment. Directly linking Weverse with Weverse Shop makes purchasing goods, exclusive membership, albums and enjoying these contents convenient (PressReels). The application hosts six bands as of this moment, and the focus of this blog post will be on BTS, a South Korean pop band and their fanbase ARMY.
Weverse connects the label and business, and it constitutes the core of 'platform-based ecosystem' of Big Hit Entertainment. It incorporates distinctive features of social media and business sites, from creating posts, watching artists' stories to buying and enjoying the content. However, for the 'platform-based ecosystem' to be vibrant, therefore, successful and efficient, it has to not only facilitate interactions but also "stimulate the evolving process of interactions among these individuals, companies and organizations." (Isckia 155). The app utilizes suggestion of the balancing act of being a fan, which regards the "four realms" of engagement – entertainment, escapism, education and aesthetics, contributing to the increasing of quality of fan's experience (Linden 2017), especially in the age of COVID-19 when staying in touch with an artist is in demand.
With the deconstruction of the term 'communication' into intermediary actions such as connecting, viewing, learning, and buying, I will delineate the platform's facilitation of those activities. Following Vyas, Chisalita and van der Veer's description of affordance as 'the common ground between the user and his environment' (93), I will look into the Army Bomb, a 'light stick' as the component of dynamic links between a fan, the artist and the company in shaping new forms of communication on one application.
Connect with BTS
One of Weverse's innovations introduced this year was connecting the Army Bomb to an online concert BANGBANGCON: The Live. Map visualization of those who connected and the number of 'World Fans' that tuned it, gave insight into the scale of fandom's participation (legal streaming only) breaking Guinness record for 'most viewers for a music concert live stream' with 756,000 participants from 109 countries and regions (Punt). Kiswe, a video technology start-up that provided the live streaming via Weverse link, embedded an on-screen chat that was available among the six multi-view screens playing simultaneously.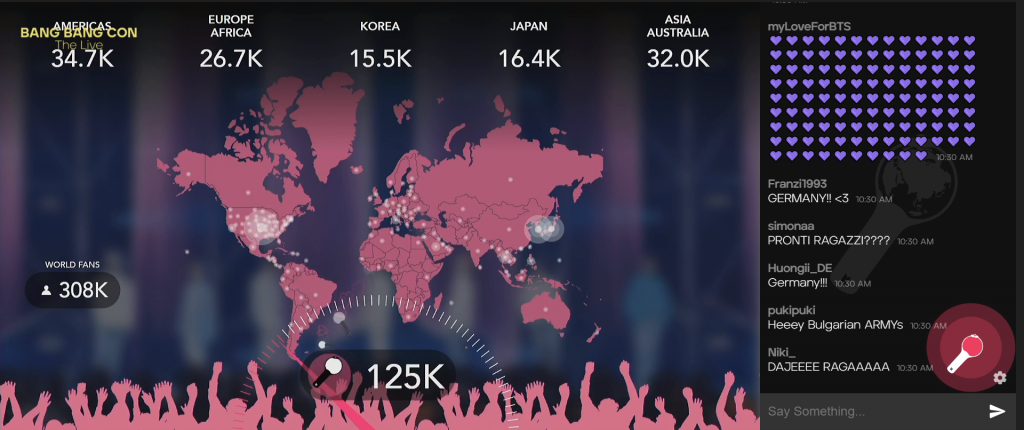 The screen was visible during the concert for both fans and artists to give a sense of interaction in a digital environment. Effectiveness of such innovation of online concert practices was possible due to the prevalence of the light sticks' use at concerts in South Korean culture, as well as the platform's means. Although not as effective as the real-life 'sea of lights', the map bridged the gap between fans and artists. After the successful trial during the concert, the recent update encourages fans to 'Connect Your Army Bomb!' via Weverse to enjoy music videos in a similar manner, synchronizing the stick.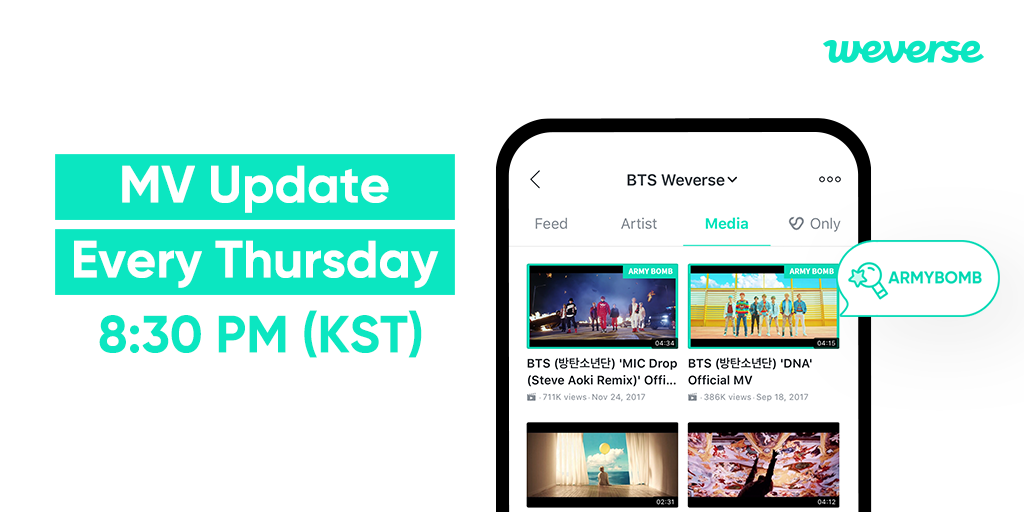 Engagement & Quality Content
Army Bomb is ubiquitous and apart from being connected during concerts or music videos, the light stick constitutes the social button of Weverse. In comparison to Twitter's 'hearts' or Facebook's 'likes', Weverse button 'cheers' the posts of fellow fans or artists. Apart from initiating social experience, it also transforms users' engagement into numbers on button counters, (Gerliz and Halmond 1352) which are later used for the company's insight (Yoon 2020). However, what differs Weverse from behemoth social platforms is the lack of third parties' services involvement. Fully owned and independent platform with its greatest capitalistic force fans is the company's asset. In March, when lockdowns and quarantines began, Big Hit introduced an education section on Weverse Media titled Learn Korean with BTS. In August, the total amount of people who watched and 'cheered' episodes was 2.19 million from 200 countries and regions. (Yoon 2020) The measurement of engagement contributed to establishing a new segment of the company – Big Hit Education. This prompted the release of textbooks purchasable on Weverse Shop and initialization of Korean courses at universities around the world. The pace of expansion granted Big Hit 4th place in the Fast Company ranking following Snap, Microsoft and Tesla. (Mechta) Rachel Kim, one of the app designers states that engagement in the contents and the ecosystem leads to the production of higher quality content (2019).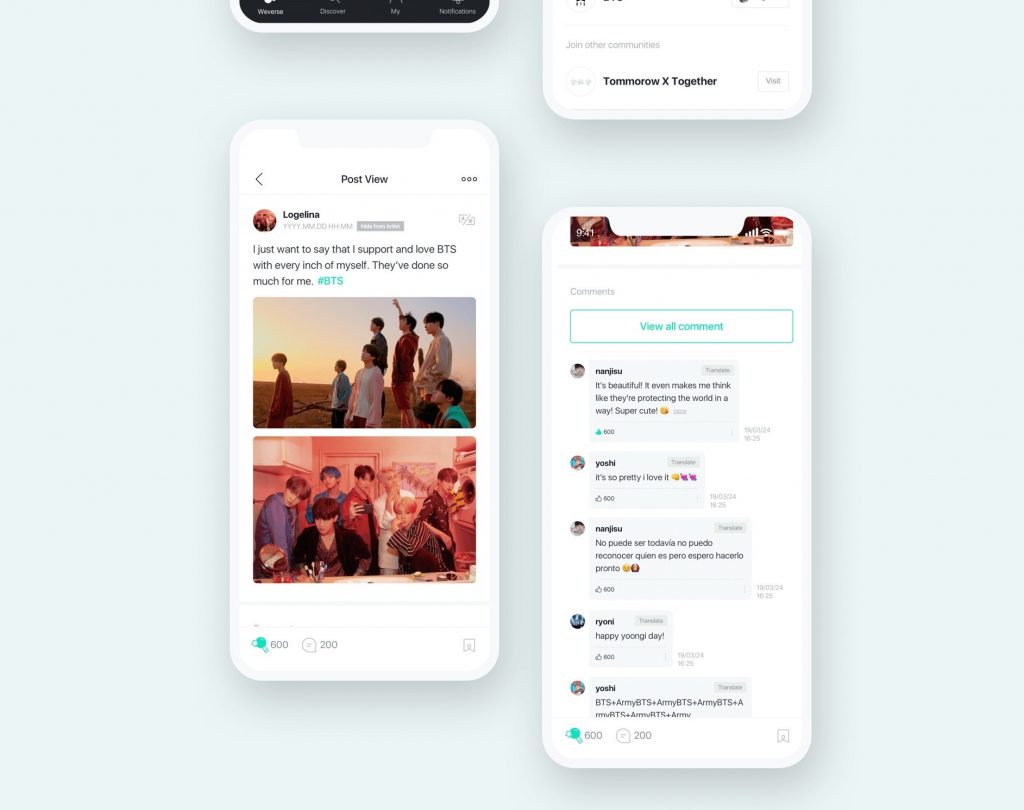 The Future of Fandom
Weverse does not only create space for direct fan-artist communication but with the use of Army Bomb as its tool reimagines that communication on personal, collective and business spheres. It allows a literal and emotional connection for fans during a live concert and shifts the paradigm of streaming. Subsequently, as a social button, it affords mutual 'cheers' on posts or media which provide information for the company on the quantity of engagement. With the sections Feed, Artist, Media, Membership, the fan can connect, view, learn and buy, each allowing new practices and forms of communication. In the overall optimistic approach, Weverse has the artist, loyal fanbase, capitalistic force and quality content that appeals to the audience. Its technological environment facilitates constant expansion and one can only wonder about the impact it might bring upon the industry and the world of tech.
Images sources:
https://www.rachelkimy.com/weverse / https://twitter.com/weverseofficial
References
"Big Hit Corporate Briefing with the Community (2H 2020)." YouTube, uploaded by Big Hit Labels, 13 Aug. 2020, https://www.youtube.com/watch?v=MyGF8mFDMeI&t=3012s&ab_channel=BigHitLabels
Gerlitz, Carolin, and Anne Helmond. "The like Economy: Social Buttons and the Data-Intensive Web." New Media & Society, vol. 15, no. 8, 2013, pp. 1348–1365., doi:10.1177/1461444812472322.
Isckia, Thierry, et al. 'Digital Innovation in Platform-Based Ecosystems: An Evolutionary Framework'. Proceedings of the 10th International Conference on Management of Digital EcoSystems – MEDES '18, ACM Press, 2018, pp. 149–56. DOI.org (Crossref), doi:10.1145/3281375.3281377.
Kim, Rachel. "Weverse, Global Kpop Community Platform." Rachel Kim, 2019, www.rachelkimy.com/weverse
Linden, Henrik, and Sara Linden. 'Fans and (Post)Subcultural Consumerism'. Fans and Fan Cultures, by Henrik Linden and Sara Linden, Palgrave Macmillan UK, 2017, pp. 51–52. DOI.org (Crossref), doi:10.1057/978-1-137-50129-5_3.
Mehta, Stephanie. "Millions of BTS Fans Use These 2 Apps to Connect and Shop. No Tech Startups Needed." Fast Company, Fast Company, 11 Mar. 2020, www.fastcompany.com/90457458/big-hit-entertainment-most-innovative-companies-2020.
Micheals, Dan. "BTS, Downloading 10 Million Weverse – Innovating Global Fandom Culture with Technology.'" PRESSREELS, 6 Aug. 2020, pressreels.com/bts-downloading-10-million-weverse-innovating-global-fandom-culture-with-technology/13233
Punt, Dominic. "K-Pop Sensations BTS Set Concert Live Stream Record with Bang Bang Con: The Live." Guinness World Records, 22 July 2020, www.guinnessworldrecords.com/news/2020/7/k-pop-sensations-bts-set-concert-live-stream-record-with-bang-bang-con-the-live-624548.
Shuker, Roy. "Record Collecting and Fandom." Popular Music Fandom: Identities, Roles and Practices, by Mark Duffett, Routledge, 2014, pp. 166–167.
Vyas, Dhaval, et al. 'Affordance in Interaction'. Proceedings of the 13th Eurpoean Conference on Cognitive Ergonomics: Trust and Control in Complex Socio-Technical Systems, Association for Computing Machinery, 2006, pp. 92–99, doi:10.1145/1274892.1274907.