Kids see Kidfluencers; a qualitative study on the negative effects of child influencers on YouTube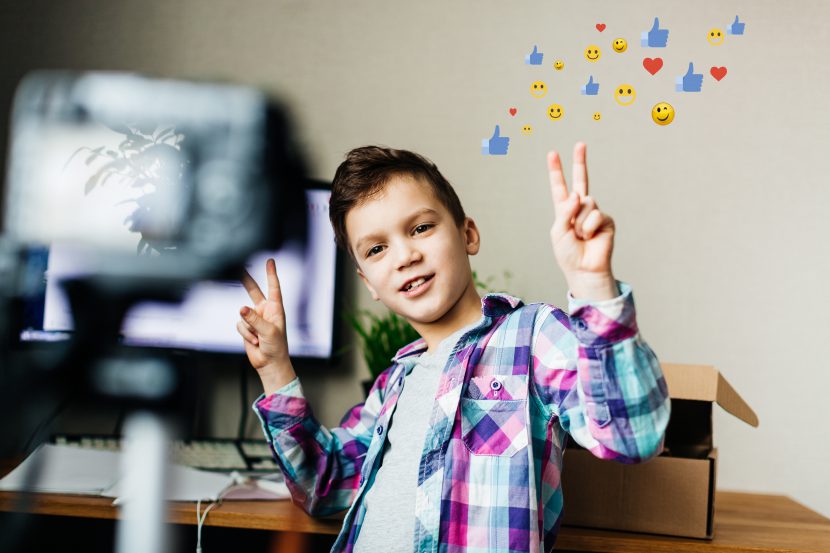 Members: Josine Haas, Liza Osakue, Morris Nieuwenhuis, Thomas de Boer
Abstract
In recent times, there has been a steady increase of a specific type of content creator on multiple social media platforms; the Kidfluencer. Most notably, these child influencers have placed themselves in a niche sphere on YouTube in which they have gained great masses of subscribers and followers. The question that arises is whether these content creators are within ethical bounds in relation to marketing practices, and are the implications for the parents in relation to monetization?
Introduction
Over the past few years there has been a thematic rise of a certain type of influencer: the Kidfluencer. The Kidfluencer, aged between four and thirteen years old, is a type of YouTuber that aims to provide content for children similar to their age, while doing activities and practices children relate to the most (Masterson 2020). When managed properly, there seems to be very little wrong with the intent for children sharing their activities online http://webbanki.ru/mikrozaimy. However, multiple questions arose in temporary society regarding children's wellbeing related to influencer practices. For example, the question whether or not children are being exploited too easily, and if children have enough say in the activities they engage in for their content. In response to these arising problems, the Dutch government has developed a 'message point' as a means to provide a line for other parents and stakeholders who suspect children are engaging in too many vlog related activities (RTL Nieuws 2021).
But not only Kidfluencer YouTubers themselves could be considered as possible victims: the content they create could be harmful for the children watching it as well, since no traditional regulations regarding advertising are applicable to this content. Following these issues, we believe it is necessary to shine an additional light on this topic and analyze how Kidfluencers and their parents operate. We therefore aim to answer the following question: To what extent could the common branded narrative elements of Dutch Kidfluencer videos on YouTube be harmful for the children watching this content? To do so, we have developed a qualitative content analysis of the biggest Kidfluencers in the Dutch YouTube sphere. We aim to answer our main question by discussing multiple sub-questions first. These sub-questions are aimed at giving more context to the problem, such as what type of content is most common among Dutch Kidfluencers on YouTube. Through answering these questions, we can argue whether the content KidFluencers generate on YouTube could be considered harmful or not.
Framework
The word Kidfluencer is a compound word between kid and influencer. An influencer is "a person who is able to generate interest in something (such as a consumer product) by posting about it on social media." (Masterson, 2020, p. 583). An influencer is only considered a Kidfluencer when he/she/it is under thirteen years old, which is based on the fact that YouTube regulations do not allow children under thirteen to create an account on the platform. Thus, when a child does have an account, this is usually managed by his/her/its parents. And because these children are of a young age, it is mostly their parents who make sponsorship deals with companies and think of what and how content should be created to keep the YouTube channel interesting.
Influencers generate money in a variety of ways, and this does not differ for Kidfluencers. First, they can do so through sponsorship deals (Masterson 2020). For example, when a toy company wants a Kidfluencer to promote a specific toy, this company can pay the child (or its parents) to do so on his/her/its YouTube channel. It is also common for less well known Kidfluencers to receive the toy for free as a way of payment as long as they promote it on their YouTube channel. Next to sponsorship, Kidlfuencers can also create revenue through Google AdSense. This is "an advertising program that allows Google to run ads on influencers' YouTube accounts and pays the influencer on a per-click basis." (Masterson 2020).
As the Kidfluencer industry is worth billions of dollars (Masterson 2020) and with some children making up to millions of dollars a year (Cezarita Cordeiro 2021), it comes as no surprise that so many parents are willingly exploiting their child to make these videos. On the surface Kidfluencer content might seem harmless, as most of them show kids playing with toys. But one needs to bear in mind that the parents do not have to conform to any type of regulation, as these videos are being shot within the parameters of their own house (Cezarita Cordeiro 2021).
In the traditional sense of marketing, advertising towards children is regulated. These regulations were implemented because children are highly influenceable (Coates & Boyland 2021). For example, a study has found that children under eight years old have a relatively hard time identifying advertisements (Alruwaily et al. 2020). Thus, they are not able to differentiate advertisements from entertaining content. This is highly beneficial for Kidfluencers channels promoting a brand, as they can easily incorporate product placement in their videos, making it harder for their young viewers to recognize their intention. By incorporating certain products in their content unnoticed, children create a preference for these. This leads to an increase of "pester power" (Alruwaily et al. 2020), which is the event of children begging "parents for specific products or brands." (Alruwaily et al. 2020).
Since marketing on online platforms is a relatively new phenomenon, regulations have not yet been implemented (Coates & Boyland 2021). Many advertisers take advantage of this, resulting in an exponential growth of the online marketing industry the last couple of years (Coates & Boyland 2021). Among other things, making sponsor deals with Kidfluencer channels is highly popular among advertisers. A first reason for this would be that Kidfluencers are immensely popular among children. They not only have the same age as the audience they reach, but they also seem normal, as they are not famous in a traditional sense. This makes them relatable, trustworthy and a "persuasive spokespersons to promote their products" (Alruwaily et al. 2020). Secondly, as Kidfluencers generally have a young audience, advertisers can easily target specific age groups, hereby making advertising more efficient.
Research shows that "more than 80% of parents with a child <12 years of age allow their child to watch YouTube" (Alruwaily 2020). Thus, the reach these Kidfluencers could potentially have is enormous. In the last years, The World Health Organizations' Commission on Ending Child Obesity has expressed its concern regarding the increasing risk of obesity when watching Kidfluencer content on a regular basis (Coates & Boyland 2021). A research conducted by Coates and colleagues (2019) even shows that children watching videos of Kidfluencers on a regular basis, consume an average of hundred calories more than children not watching these videos on a regular basis due to the food types that are marketed in these videos (Coates et al. 2019). This may not seem as much, but as a thousand calories is the recommended daily amount for children, this is a ten percent increase of daily consumed calories.
Methodology
This paper examines narrative elements of five Dutch Kidfluencer channels on YouTube, proposed with qualitative research which consists of an interpretative-based content analysis. To answer the main research question, the following sub-questions are created:
Sub-question 1: Who are the most influential Kidfluencers in the Netherlands?
Sub-question 2: What kind of content do these Kidfluencers offer on YouTube?
Sub-question 3: How do Kidfluencers market products in their videos?
This qualitative and interpretative-based content analysis focuses on the five most popular vlogs of five selected Dutch Kidfluencer channels on YouTube, published between 2015 and 2021. In addition, specifically five vlogs are selected as this is the appropriate scope for the length of this paper. Furthermore, five Dutch Kidfluencers are manually selected via Socialblade.com, an American website that follows several social media platforms – including YouTube – and provides statistics and analytics with considerable outcomes. The YouTubers were selected from the list 'top 100 YouTubers in The Netherlands'. Furthermore, we chose to focus on the most popular vlogs, as they give an adequate representation of the most influential content for children. Our analysis is based on the following Kidfluencer YouTubers: @LuanBellinga, @Bibi, @SennaBellod, @ZoeteZusjes and @LakapJunior.
In order to categorize the content of Kidfluencers on YouTube, we make use of the thematic axes of content provided by Castillo-Abdul and colleagues (2020). We use this method of analyzing content to see whether there are recurring themes across the vlogs being analyzed. To categories on which this analysis will focus are: Challenge, Tutorials, Unboxing, Humor, Cooking, Lifestyle, Crafts and Family activities. Moreover, in the article by Castillo-Abdul and colleagues (2020), the research of Ramos-Serrano & Herrero-Diz (2016) is cited, as it argues that there are not only differences in content but differences between YouTubers themselves as well. Group A produces sporadic content which is aimed at leisure. Group B on the other hand treats YouTube as a job. Through analyzing these axes we can see in which category Kidfluencers on YouTube operate and whether they conform to the standard of Group B, which uses YouTube as a means of monetization and business.
In addition to the thematic axes and to come to an understanding of brand practices, an analysis on brand presence within our research scope is conducted. This model is based on the analytical model as presented by Smith and colleagues (2012). The model prescribes a conceptual framework that uncovers how content produced by Kidfluencer channels relates to and influences communication and marketing strategies of brands. As follows, the following seven indicators to come to an understanding of brand presence are:
Promotional Self-presentation; which focuses on whether the content is explicitly self-promotional.
Brand centrality; which is coded as yes if the brand was the main focus of the content.
Multiplicity of brands; how many brands are present in the video.
Marketer-directed Communication; used when the message directly addressed a sponsor
Response to Online Marketer Action; if the content was in direct response to an online marketer action.
Factually informative about the brand; whether the information conveyed about the product is objective.
Brand Sentiment; whether the content is positive, neutral or negative.
Analysis
As can be seen below, the most popular Dutch Kidfluencers have between 178.000 and 582.000 subscribers on their channel, on which a total of between the 135 and 660 videos were published. Results based on the thematic axes provide some notable similarities between the different Kidfluencer YouTubers. Overall, the content of the vlogs differs in some instances and overlap in others. As shown below, all Kidfluencers focus on having challenges, humor and family activities, as these are the main axes their channels revolve around. In addition, it is notable that these Dutch Kidfluencers focus very little on crafts, tutorials and gameplays.
Emerging thematic axes
| | | | | | |
| --- | --- | --- | --- | --- | --- |
| | Luan Bellinga | Bibi | Senna Bellod | Zoete Zusjes | Lakap Junior |
| 1.Challenges | X | X | X | X | X |
| 2.Tutorials | X | | | | |
| 3. Unboxing | X | | | | |
| 4. Humor | X | X | X | X | X |
| 5. Cooking | | | | X | |
| 6. Lifestyle | | | X | X | X |
| 7. Crafts | | | | | |
| 8. Family activities | X | X | X | X | X |
| 9. Parks & outdoor activities | X | X | X | | |
| 10. Sports | | | | | |
| 11. Gameplays | | | | | |
Figure 2. Thematic axes
Thus, as seen in figure 2. there are clear thematic issues that the YouTubers conform to. For example, all Kidfluencers mentioned above have a 'challenge' video in their top 5 most watched videos. This indicates a certain content model to which they conform to: the earlier mentioned Group B. These Kidfluencers are not sporadically producing content but are clearly structuring it around a certain thematic axes.
Moreover, there is an evident occurrence of them engaging with brands. Each Kidfluencer engages in brand placement (whether these brands are of food or toys) in their own way. For example, three out of five engage with a main brand focused approach, in which they revolve content around a specific brand in their video.
Building on the issue of branded content, not all Kidfluencers disclose whether they were sponsored for the content or not. @ZoeteZusjes stated that they were sponsored for two of their most popular videos in the description below the video. Even though they acknowledged that their content was being sponsored, it remains a problematic phenomenon, as the @ZoeteZusjes retained a positive sentiment towards the products in their videos. In addition, when analysing the brands mentioned in the vlogs, almost all Kidfluencers mentioned ate (unhealthy) food related products. For example, @LakapJunior focused exclusively on showing food related brands, with multiple vlogs revolving solely around eating challenges.
Brand presence on Kidfluencer YouTube channels
| | | | | | |
| --- | --- | --- | --- | --- | --- |
| | Luan Bellinga | Bibi | Senna Bellod | Zoete Zusjes | Lakap Junior |
| 1. In channel's promotional self-presentation | No | No | No | No | No |
| 2.Brand Centrality | Main brand and product placement | Main brand and product placement | Product placement | Main brand and product placement | Product placement |
| 3. Multiplicity of brands | Aquaventura Slidepark, Mentos, Haribo, Venco | Action | Archos, Magnum, Thuisbezorgd | Fortnite, Nerf, UNIVERSAL,Hasbro | Lays, Heinz,Organix |
| 4. Marketer directed communication | No | No | No | No | No |
| 5. Response to online marketer action | | | | Video in collaboration with 'Pieter Konijn' movie rollout | |
| 6. Factual information about the brand | Always | Always | Always | Always | Always |
| 7. Brand sentiment | Positive emotions | Positive emotions and opinions by Bibi and influencer MeisjeDjamila | Positive emotions | Positive emotions and opinions | Positive emotions and opinions. Also parents. |
Figure 3. Brand presence in Kidfluencers YouTube videos
Discussion
When looking at the different vlogs and their emerging topics, there are various key issues that arise. Most notably, unhealthy food placement and undisclosed marketing are of main concern.
In regard to food placement, there were many instances were Kidfluencers engaged in eating challenges. Although the account is hosted from the children perspective, it is important to reestablish that the parents have a big influence over the content the Kidfluencers put out, as mentioned by Cezarita Cordeiro (2021). In this case, looking at the aforementioned marketing related studies by Alruweily (2020), Coates and Boyland (2021) and Coates and colleagues (2019), there are worrying issues that emerge in relation to child- and food related marketing. Children are easily influenced and unhealthy food related product placement has shown to be of harm. Due to these facts there seems to be a space where parents should be held accountable. While not being the focal point of the videos, they are in control of directing the videos.
On the note of marketing, the study of Masterson (2020) regarding advertised toys is also something to be considered in the light of this research. As Masterson states, these YouTubers could be paid for content or smaller YouTubers would receive toys in exchange for their brand mentioned on the channel. In this study, Kidfluencers were seen explicitly disclosing brand names whilst not stating the fact whether they were sponsored for the content or not. Looking at the observation that the target audience of these Kidfluencers are of a young age, concern should also be raised about the undisclosed sponsored deals from an ethical perspective, since often it is their parents closing these deals.
Conclusion

In conclusion there are many key issues to be deduced from the content analysis done on Kidfluencer YouTube Channels. After conducting our research, we have come to the following conclusions.
Firstly, in terms of content, there are clear thematic axes that arise from analyzing the content. All Kidfluencers engage in activities revolving around challenges, humor and family activities. More importantly, the fact that five out of five Kidfluencers engage in the same axes means that they operate in a clear framework created to make profit. Overall, while looking at the framework provided, we can conclude that these YouTubers produce content related to a specific content model, in order to make profit and treat YouTube as a business.
Secondly, there are various ways in which they market their products, some more transparent than others. All Kidfluencers relied on product placement in their videos, with some solely focusing on a main brand as the focal point in their vlogs. As previously mentioned, only @ZoeteZusjes disclosed that they were sponsored by a certain brand for their content. On top of that, all Kidfluencers engaged with food- related videos, with @LakapJunior being most noticeable.
To suggest future research angles, the issues mentioned above are also suggested as points to embark on. More research could be done on whether parents should be able to control the sphere where children influence other children. As mentioned before, the content relating food could prove to be more harmful than thought. Future study could provide more insight of the severity of these key issues.
Bibliography
Alruwaily, Amaal, Chelsea Mangold, Tenay Greene, Josh Arshonsky, Omni Cassidy, Jennifer L. Pomeranz and Marie Bragg. "Child Social Media Influencers and Unhealthy Food Product Placement." Pediatrics 146, no. 5 (2020): 1- 10
Bárbara, Castillo-Abdul, Luis M. Romero-Rodríguez and Anna Larrea-Ayala. "Kid influencers in Spain: understanding the themes they address and preteens' engagement with their YouTube channels." Heliyon 6, no. 9 (2020): 1 – 10
Cezarita Cordeiro,Vanessa. ""Kidfluencers" and Social Media: The Evolution of Child Exploitation in the Digital Age." Humanium, February 23, 2021.
https://www.humanium.org/en/kidfluencers-and-social-media-the-evolution-of-child-exploitation-in-the-digital-age/
Coates, Anna E and Emma Boyland. 2021. "Kid influencers — a new arena of social media food marketing." Nat Rev Endocrinol 17, (2021): 133–134
Coates, Anna E., Charlotte A. Hardman, Jason C.G. Halford, Paul Christiansen and Emma J. Boyland. "Social media influencer marketing and children's food intake: a randomized trial." Pediatrics 143, no. 4 (2019): 1 – 9
Masterson, Maria A. "When Play Becomes Work: Child Labor Laws in the Era of" Kidfluencers." U. Pa. L. Rev 169, (2020): 577 – 607
McRoberts, Sarah, Elizabeth Bonsignore, Tamara Peyton and & Svetlana Yarosh. "Do It for the Viewers!" Audience Engagement Behaviors of Young YouTubers." Association for Computing Machinery, (2016): 334-343
Ramos-Serrano, Marina, and Paula Herrero Diz. "Unboxing and brands: youtubers phenomenon through the case study of EvanTubeHD." Prisma Social: Revista de Ciencias Sociales, 1 (2016): 90-120
RTL Nieuws. "Inzet jonge influencers kinderarbeid? Kabinet komt met meldpunt." Oktober 9, 2021.
https://www.rtlnieuws.nl/nieuws/nederland/artikel/5259403/meldpunt-kinderarbeid-jonge-influencers-kinderen-werken
Smith, Andrew N., Eileen Fischer, and Chen Yongjian. "How does brand-related user-generated content differ across YouTube, Facebook, and Twitter?." Journal of interactive marketing 26, no. 2 (2012): 102-113