"Connecting the next generation."?: Engaging young adults in political debates
Social media is a great way to reach a certain audience. To magnify the political spectrum, every political party has a social media page to share their opinions on different issues, update and connect to their audience, and reach as many people as possible. Ministers have social media pages to, for instance, inform the public about their latest activities and decisions. Even some governmental institutions maintain a social media page. On the other side lie the pages that are providing a critical analysis on particular actions and decisions made by the government and other injustices that they believe people need to be aware of. They try to extend their message of awareness and sometimes a call for action as far as they can webbanki.ru. American Instagram pages such as Feminist and Democracy Now! are examples of profiles that produce aforesaid content.
These pages are especially useful for young people for the reason that this group is often hard to attract when it comes to political debates. "New media offer appealing and convenient ways to stimulate participatory activity, especially among younger citizens who have been the least likely to participate in formal politics." (Shifman, 2014) Pages that are specially designed for young adults help them to be aware of political debates and may influence what they are voting for in an upcoming election. Most of these pages are made by young adults for young adults. "[…] the ways young people are using digital tools and online spaces to document inequalities, address injustice, and take social action, building on the groundwork of previous generations of activists even as they seek to extend and transform those efforts." (Stornaiuolo & Thomas, 2017) They can encourage participation at different levels among their peers. This includes locally and globally; collectively and individually; and virtually and in the streets (Feixa & Nofre, 2013; Campos; Simões & Pereira, 2018). Young people are encountering a new kind of engagement in political and civil issues in the distribution of obtaining and sharing knowledge (Campos et al., 2018).
[@politieke_jongeren] (Political youths) is a Dutch Instagram page. Its main objective is to discuss topics that concern young adults and actively engage them in the current political environment, with "Connecting the next generation" as the message placed in their bio. It is founded by Nugah Shrestha, who was still a student back when the first posts were created. At the early stages of the page, it consisted mostly out of memes.
The account gained traction in 2019 after it made multiple posts about criticizing people who are still celebrating a Dutch holiday with the presence of a racist character, chiming in on one of the biggest national discussions the Netherlands has. Currently, their feed is formatted in memes and more serious posts, while also occasionally posting an encouragement to demonstrate against particular issues. Some examples of recent topics that were posted are the Dutch housing crisis, the government's COVID-19 policy, the crisis in Afghanistan, racism (in the Netherlands), and the wrongdoings of the current Dutch administration.
Pages designed to attract young people are not directly targeted to a specific demographic of young adults, one just tries to inform all. This raises the question if the feelings behind the posts are reciprocal – between the admin and reader – for most people or if it is just directed to a certain group of young adults. With the help of the meme content, this paper will discuss memes from the past seven months, including the Dutch Chamber of Deputies elections that took place in March of 2021. Guided by Shifman's (2014) book 'Memes in Digital Culture'. The question connected will be "To what extent is @politieke_jongeren able to connect all youths to their Instagram Page?" The sub-question to establish the main question will be "In which the main function do the page's political memes fall in?" These functions will be explained in the next paragraph.
The functions of a political meme
Shifman describes a meme as groups of digital items that share common characteristics of content, form, and/or stance, created with awareness of each other, and circulated, imitated, and transformed by many users via the Internet. In another chapter of her book, she defines political memes as the following: "But regardless of their emotional keying, political memes are about making a point – participating in a normative debate about how the world should look and the best way to get there." Shifman also mentions that the tone of a political meme can either be humorous or serious, not every meme is required to be funny. In the chapter 'May the excessive force be with you: memes as political participation' she outlines three interrelated functions of a political meme: memes as a form of persuasion or political advocacy; memes as grassroots action; and memes as modes of expression and public discussion.
Memes can be considered as a form of persuasion and action where social media are used as a tool for political action, instead of a cause of political action (Valenuala, 2013). "Social media are critical platforms for building informal and formal social ties that can increase participation in civic and political life." (Boulianne, 2017) Memes can be persuasive as shown in, for instance, election campaigns.
Memes play an essential role in today's world if there is a need to take coordinated action. Social media can quickly distribute information before public gatherings so people will be informed about a certain event (Boulianne, Koc-Michalska & Bimber, 2020). Individuals on social media can start a conversation about an issue, as a consequence, a general consensus in a particular group can be formed about it being an injustice, and as a result, create a movement. This movement can further lead to a drive to protest. The most common protests that derive from this are mostly street demonstrations and contacting news media (Valenzuala, 2013). The memes included in these campaigns gain popularity because it personalizes the issue. People will find the meme and morph it into their own story (Shifman, 2014).
Memes are oftentimes used for voicing a political opinion because it sets a low bar for the participators. Memes are accessible, cheap, and enjoyable (Shifman, 2014). Which is the last function; memes as modes of expression and public discussion.
The housing crisis
Since the past couple of years, the pricing of houses has skyrocketed. What only appeared to be an issue and becoming worse in big cities, now the problem has spread to the rest of the Netherlands as well. Houses get sold far above their asking price and people overpay way too much on their rent. A third of the houses that are bought in the big cities (Amsterdam, The Hague, Utrecht, and Rotterdam) are sold to people who do not intend on living there (Kassa, 2021). Starters on the housing market do not have the financial allocation to outbid the investors who have the money to possess multiple houses. The investors are ruling the housing market. The biggest investor has, solely in Amsterdam, 512 addresses (and counting) as their personal property (Couzy & van Dun, 2017).
This is not only a problem for people who want to buy a house but for students as well. There is a shortage of student housing, due to international students coming to the Netherlands and a higher amount of young adults who are following a study at university. Universities are placed in very specific places, thus students who follow a study at a university are more likely to move out of their parents' house. Alongside these phenomena, is the issue of prices in rent. A student spends an average of 46 percent of their income on their rent and 43% of students who live at home do so because of the expensive costs. The shortage of student housing increased to 26.500 in 2021 (Kences, 2021). When students graduated and want to buy a house, they are facing another problem. When they want to apply for a mortgage their student debt is taken into account, so the mortgage may be less when the student debt is high. These are just some of the many problems in the housing crisis. The dissatisfaction is therefore immense under all these groups.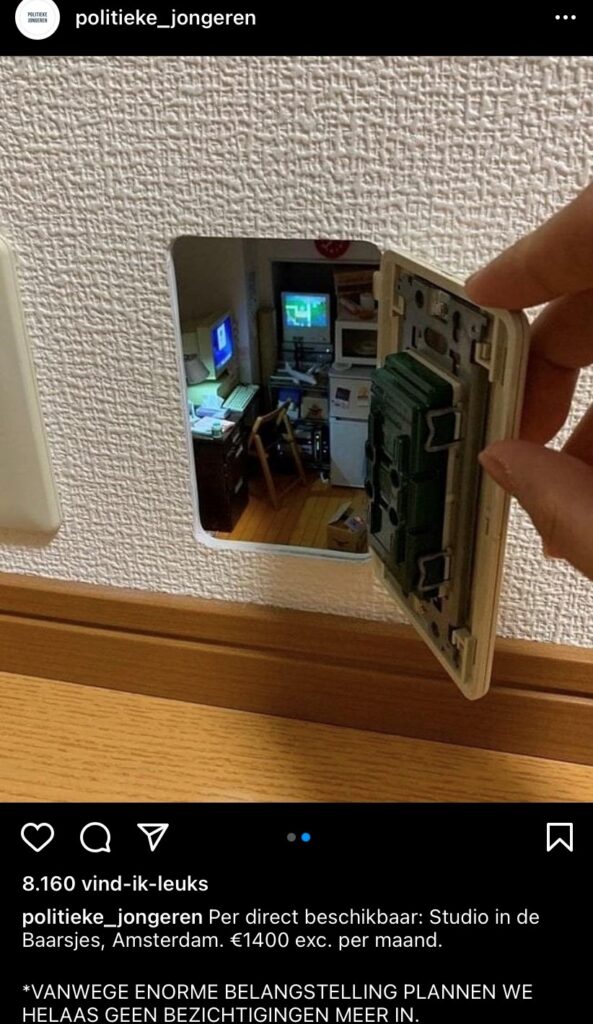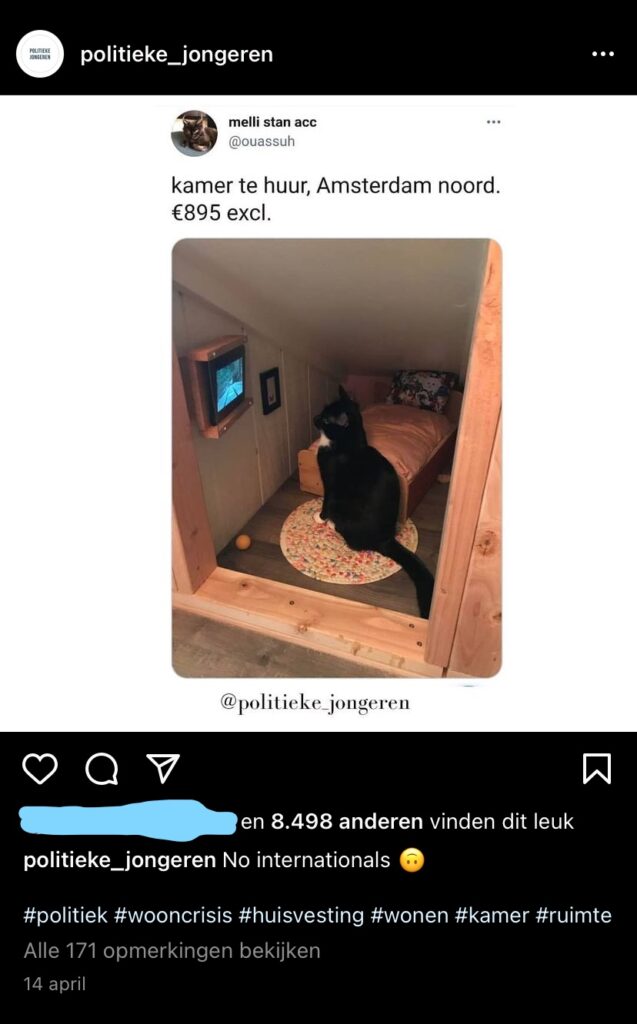 Both of these images in this section represent the meme discourse created among student housing. The memes mock unrealistically small rooms for an extremely big amount of money per month. Texts that are included are "Unfortunately, due to the enormous interest, we do not plan any additional viewings." The second one includes the statement: "No internationals". This statement is oftentimes used on Facebook pages offering student housing, excluding students who cannot speak Dutch in being eligible for a room. There are innumerable amount of examples of these kinds of memes, all with the same idea. Showing a space that no one can live in, and including an unrealistic amount of money for rent. Memes such as these can be placed in the third function, memes as modes of expression and public discussion. Nevertheless, they are not excluded from the second function as well. On the 12th of September 2021, a demonstration was planned to protest the housing crisis, so a lot of these memes were also a way to mobilize people for this event. This demonstration was considered successful with a high attendance rate of over 15.000 people.
The elections
This meme was made before the Chamber of Deputies election in March 2021. This election is recognized as the most crucial for voters because it decides who will be the prime minister and consequently chooses which parties will form the Cabinet. It has a direct impact on who will rule the nation for the upcoming four years. It is oftentimes claimed that young adults do not have the knowledge and skills to make a strategic decision when casting a vote (Laughland-Booÿ, Skrbiš & Ghazarian, 2018). Posts such as this one can help young people to make conscious choices during an election. The first picture shows Wilders (left) and prime-minister Rutte (right), who is currently under registration. Wilders and his party PVV (Freedom Party) are notorious for being a populist right-wing party, with some racist comments under his belt. Rutte's party VVD (People's Party for Freedom and Democracy) is known to be a liberal party which on the Dutch political scope means his party is right-wing.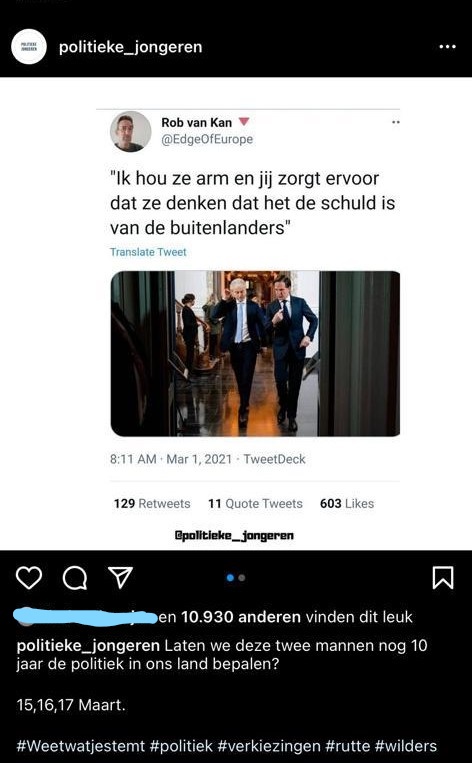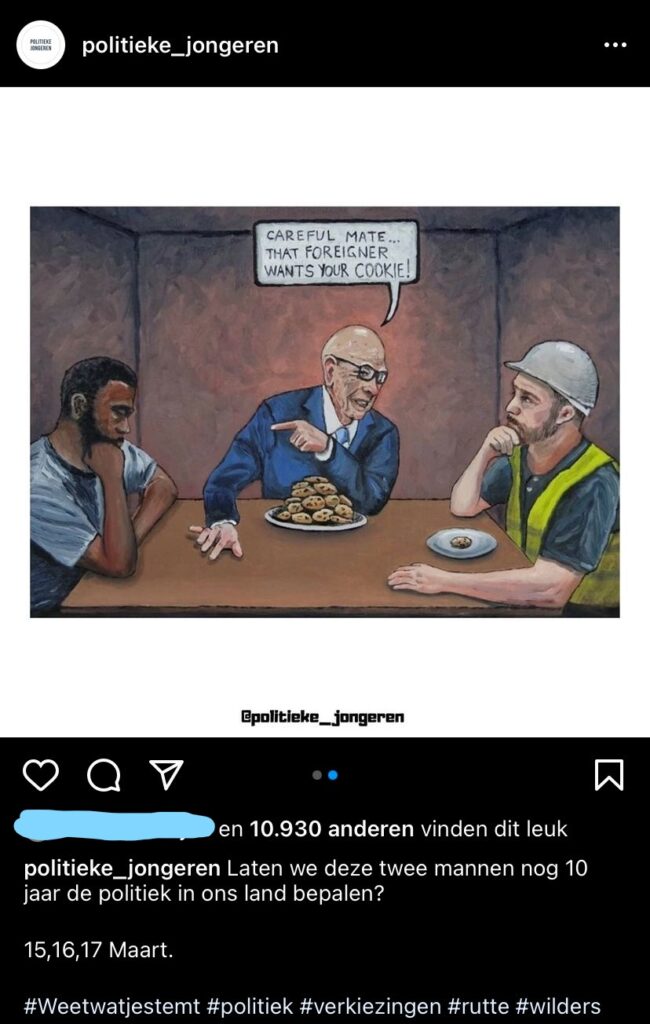 The text in the meme states "I will keep them poor and you will persuade them in thinking it's the fault of foreigners." The other picture states "Careful mate… that foreigner wants your cookie!" The caption notes "Are we going to let these two men decide what will happen in our country for another 10 years? 15, 16, 16 of March" The post falls under memes as forms of persuasion or political advocacy. In this post, the admin tries to warn people about certain people in the Chamber of Deputies. He does so by making one of the hashtags #Weetwatjestemt (Know what you vote for). He is persuading his followers to conclude for themselves if they want to have the same people in a position of power, disclosing the dates when people can vote as well. It is an individual question, so users can reflect upon the choices these politicians have made in the past and if they agree with these choices.
Several elements of the caption returned to subsequent posts before the election: the days on which people can vote and the hashtags #Weetwatjestemt and #politiek #verkiezingen. These memes can hence be identified as memes as grassroots action. The admin reminds their followers when they are able to vote. The contrast with a protest is the wanted outcome, which differs per person depending on who one is voting for. The owner of the page is preparing people to go to the polls, without directly expressing whom to vote for. His intention seems to be to inform in order for his audience to make a conscious verdict about the elections.
Political figures
The different little pictures of this meme are all images of trash. Altogether the meme states "Ruim AUB je f*cking afval op" (Please clean up your trash). This is by far the most controversial meme of all three examples because the man in the picture is implied to be trash as well. This man is called Thierry Baudet, chairman of the political party Forum voor Democratie (Forum of Democracy) a right-wing populist party. He has been under fire for multiple statements. Leaked WhatsApp messages talking about the IQ of different ethnicities (RTL, 2021) and stating that white heterosexual people cannot get HIV (Rootselaar, 2021) are one of the controversies Baudet has been in, in 2021. Baudet and his party considered right-wing populists. The cover of the party's 2021-2025 election program is called "Stem Nederland Terug" (vote the Netherland back) (FVD, 2021). One of the characteristics of populism is suitably giving back the government to the people (Otjes & Louwerse, 2013). The policies in this program chimes in on what people want, such as paying fewer taxes and getting rid of all the measures to prevent further spread of COVID-19, reflecting upon the general will of people, and also another characteristic of populism (Otjes & Louwerse, 2013). People from every corner of the political spectrum were inclined to state their viewpoints in the comment section, leaving this meme with a high engagement rate in comparison to other posts on this account.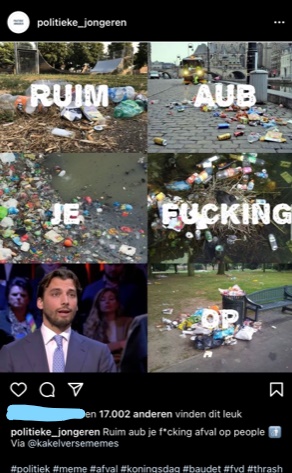 This meme was posted a day after Kingsday, where crowds seek to go outside and meet up with friends and family to celebrate this holiday. The main complication for celebrating it outside is the trash that individuals left and did not clean up. Consequently, the construction has a double meaning, regarding trash and the politician fulfilling the role as 'trash' in this meme.
This post can be treated as part of all three functions. This post is a mode of expression, it has a clear and loaded statement of what the page thinks of Baudet, hence making it a persuasion method. Following from the page, the people need to believe that this person is trash. The meme can even be recognized as a form of action, encouraging people to treat him like trash and not as a worthy politician. Whether this statement is true or false, the admin shows a clear disdain for this person and the party behind him.
Conclusion
The disclosed memes presented the interwoven connection of Shifman's three functions of political memes. It can be established that many political memes do not have a sole purpose to exist in an online environment, many have multiple layers in order to achieve the objectives in mind. In the context of Politieke Jongeren, it fills in all the three functions for young adults to be informed, persuaded, and take action at the appropriate moments. "The argument made is that many young people are engaged in politics, possess opinion on issues which they believe to be important and will act to ensure those views are expressed either through non-electoral or electoral forms of political participation." (Laughland-Booÿ, Skrbiš & Ghazarian, 2018) It needs to be taken into account that many young adults already have some knowledge about political issues, which is why memes can be made. They are not always used to inform, also used to make mock certain situations they are experiencing themselves.
The memes in this paper were mostly directed to criticize right-wing parties, creating a foundation of bias. The owner will show his audience what kind of social, political, and economic issues are important, nevertheless, this will always be subjective. What kind of issues are important to the admin, does not have to be the same for every individual that comes across his page. On top of this, what an individual is exposed to from this page does not have to be their political stance as well. The person can fully disagree with what has been said in the post.
This raises the discussion of whether these types of accounts can actually provide content for every young adult. Logically, it cannot fulfill this role. Just as every other person, young adults have their own thoughts and opinions and it is impossible to accommodate content that is suitable for each one of them. Even if the admin only wants to inform their audience on a particular matter, there is always a possibility for another motive underneath. The page presents young adults with memes and information, while people can still decide if they want to agree with what is posted. People from either side can argue, creating a public debate amongst young people about their beliefs.
References
Boulianne, S. (2016) Revolution in the making? Social media effects across the globe. Information, Communication & Society: 22(1). Pp. 39-54
DOI: 10.1080/1369118X.2017.1353641
Boulianne, S.; Koc-Michalska, K. & Bimber, B. (2020) Mobilizing media: comparing TV and social media effects on protest mobilization. Information, Communication & Society: 23(5). Pp. 642-664
DOI: 10.1080/1369118X.2020.1713847
Campos, R.; Simões, J.A. & Pereira, I. (2018) Digital Media, youth practices and representations of recent activism in Portugal. Communications; 43(4). Pp. 489-507.
https://doi-org.proxy.uba.uva.nl/10.1515/commun-2018-0009
Couzy, M. & van Dun, M. (2017, November) Dit zijn de grootste spelers op de Amsterdamse vastgoedmarkt. Het Parool. Retrieved 31-10-2021 from:
https://www.parool.nl/nieuws/dit-zijn-de-grootste-spelers-op-de-amsterdamse-vastgoedmarkt~b5fea4c9/
FvD (2021) Waar staat Form voor Democratie in het politieke spectrum? Retrieved 31-10-2021 from:
https://www.fvd.nl/standpunten
Kassa (2021, March) Investeerders kopen meeste woningen ooit in 2020. Retrieved 31-10-2021 from:
https://www.bnnvara.nl/kassa/artikelen/investeerders-kopen-meeste-woningen-ooit-in-2020
Kences, (2021, Ocotber) Grote tekort studentenwoningen afgelopen jaar weer verder toegenomen. Retrieved 31-10-2021 from:
Laughland-Booÿ, J.; Skrbiš, Z. & Ghazarian, Z. (2018) The voting strategies of young people: a conceptual framework, Australian Journal of Political Science, 53:2, 143-159,
DOI: 10.1080/10361146.2018.1444138
Otjes, S. & Louwerse, T. (2015) Populists in Parliament: Comparing Left-Wing and Right-Wing Populism in the Netherlands. Political Studies. Sage Journals. 63(1). Pp. 60-79
https://doi.org/10.1111/1467-9248.12089
Politieke Jongeren [@poltieke_jongeren] (n.d.) [Instagram profile]. Instagram Retrieved 31-10-2021 from:
https://www.instagram.com/politieke_jongeren/
RTL Nieuws (2021,Febuary) Racistische uitspraken van Thierry Baudet op WhatsApp opgedoken. Retrieved 31-10-2021 from:
https://www.rtlnieuws.nl/nieuws/politiek/artikel/5213604/appverkeer-met-geur-van-racisme-tussen-thierry-baudet-en
Shifman, Limor. 2014. "May the Excessive Force be With You: Memes as Political Participation" in Memes in Digital Culture. Cambridge, MA: MIT Press
Stornaiuolo, A. & Thomas, E.E. (2017) Disrupting Educational Inequalities Through Youth Digital Activism. Review of Research in Education; 41. Pp. 337-357.
Valenzuala, S. (2013) Unpacking the Use of Social media for Protest Behavior: The Roles of Information, Opinion Expression, and Activism. Sage Journals, American Behavioral Scientist: 57(7). Pp. 920-942.
https://doi.org/10.1177/0002764213479375
Van Rootselaar, A. (2021, October) Aidsfonds naar aanleiding van uitspraken Baudet: 'Hiv discrimineert niet'. AD. Retrieved 31-10-2021 from:
https://www.ad.nl/binnenland/aidsfonds-naar-aanleiding-van-uitspraken-baudet-hiv-discrimineert-niet~aabe6759/