Alumni
Class of 2011-2012
Class of 2010-2011
Class of 2009-2010
Morning Group
Denise Pires, Han Rusman, Marc Stumpel, Joery Bruijntjes, Yu-Fen Chen, Ellen Sluis, Tim van Essen, Rutger van den Berg, Rakesh Kanhai, maarten Hoogvliet, Siying Yang, Charlotte van Brakel, Desiree de Jong, Allison Guy, sarah Moore, Harro Heijboer, Sander Leegwater, Kimberley Spreeuwenberg
Afternoon Group
John Haltiwanger, Sjoerd Tuinema, marta Colpani, Norenid Feliciano Ramiarez, Charlotte Hendriks, Gwen Keupe, Thomas Fonville, Margarida Amaro Fonseca, Suzanne Schram, Yu Si, Morgan Currie, Jelle Kamsma, Niels de Hoog, Thomas Wielemaker, Hanid Piotrowsky, Ramses Petronia, Nicola Bozzi, Susana Zaragoza
The class of 2008/2009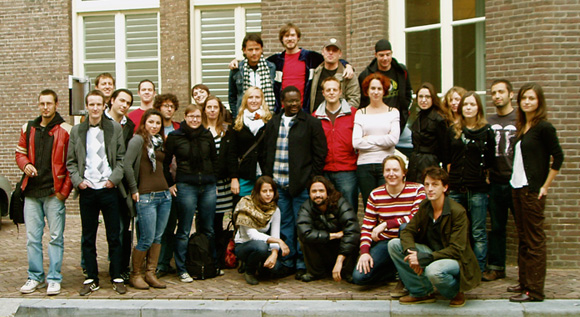 Jasper Moes, Lucas Bos, Wouter Dijkstra, Guido van Diepen, Laurens Roos, Heleen Kerkman, Dorris de Heij, Ali Balunywa, Stephan Barmentloo, Marie-Anne Soyez, Arno de Naris, Inge Ploum, Liliana Bounegru, Maggie Batermadjian, Annewil Neervens, Saskia Korsten, Stefan Keerssemeeckers, Alessandro Valente, Ben White, Marijn de Vries Hoogerwerff, Bram Nijhof, Alejandro Ortega Lozano, Chris Castiglione, Sarah van der Land, Kai Hendriquez, Hannah Biemold, Maria Perevalova, Cornelia Scripca
The masters of 2007/2008: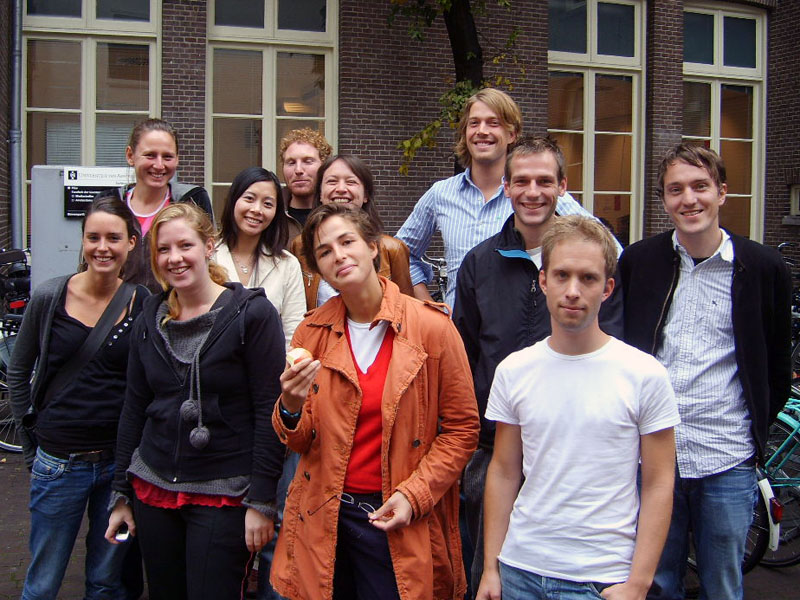 Group 1 (unofficially 'the early shift'), from left to right, back to front:
Paulien Dresscher, Tjerk Timan, Pieter-Paul Walraven; Qilan Zhao, Esther Weltevrede, Erik Borra, Michael Stevenson; Laura van der Vlies, Rosa Menkman, Felicia Plijter, Raoul Siepers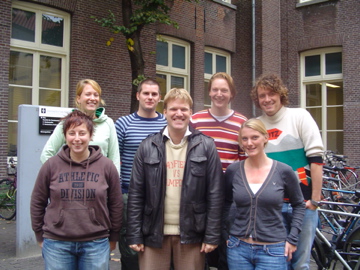 Group 2 (unofficially 'the late shift'), from left to right:
Daphne Ben Shachar,Carolien van der Vorst, Maarten van Sprang, Bas Bisseling, Bram Nijhof, Fleur Dujardin, Rikus Wegman
The masters of 2006/2007: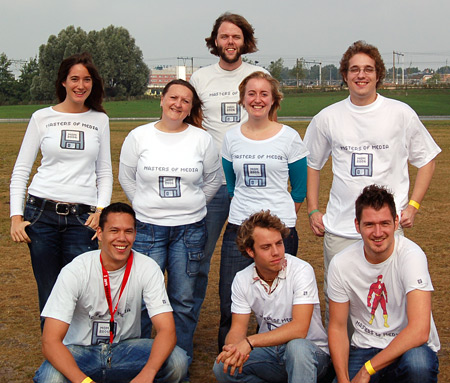 Masters of Media at PICNIC06
From top to bottom, from left to right: Twan Eikelenboom, Eva Kol (MA), Heleen van der Klink, Anne Helmond, Pepijn Uitterhoeve, Roman Tol (MA), Tom Roes, Jeffrey van Schie
One of the new media matters we studied is the occurring rise of the blogging phenomenon. The way we use the web is shifting in a fundamental way. Instead of being passive consumers of information, more and more internet users are becoming active participants. This is why blogging and other forms of unfettered expression on the web are often referred to as the rise of participatory culture.
Besides providing academic insight, we aimed for this blog to be a testing ground for commercial opportunities in blogging. Our objective is to reach a wide international audience and by doing so generating financial gain. By the end of this academic year (July 2007) we expected to have accumulated enough capital to pay for a three course dinner at one of Amsterdam's hotspots. Our experiment had mixed success.
And yet, we continue to contribute on Masters of Media and our own blogs. By checking back regularly, we hope you will learn from our moves and mistakes in the process of commercializing our site. In return we look to provide a critical view of the global conversation of the web, helping you to tune into what's interesting, topical, entertaining, and just plain fun.