The Craigslist Circus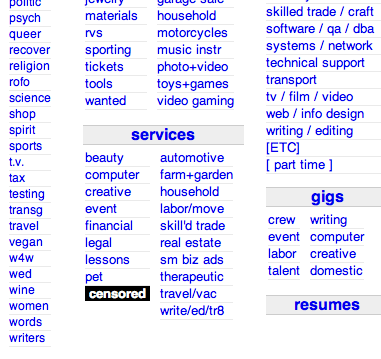 Last month a friend was planning a trip to the U.S and while trawling Craigslist for a short-stay apartment in New York she commented on her growing wariness of the site. This, mostly because of its well-publicized reputation for resident scammers and because she received plenty of "money first, details later" email responses to her queries.
More seriously, in the latest blow Craigslist has censored its Personals section over reported sex service ads and allegations of abetting sex trafficking. Techcrunch ran the news on 3 September. CNN and Wired stories quickly followed. Craigslist is yet to respond on its blog.
According to Advanced Interactive Media Group Craigslist will make between $88 and $99 million profit this year. The Personals section has been very lucrative for them, growing three times more than 2009 and accounting  for a third of total Craigslist revenue.
More interestingly though, is how with this censorship Craigslist is also returning the onus to its users to report any illegal activity on the site.  Reminding users that they, not the site owners, are the most vigilant guardians of the site's content.
Before a user can enter the dating section of the site on any of the European sections of Craigslist, the rules read as follows:
"I agree to flag as "prohibited" anything illegal or in violation of the craigslist terms of use. I agree to report suspected exploitation of minors and/or human trafficking to the appropriate authorities. By clicking on the links below, I release Craigslist from any liability that may arise from my use of this site."
So when did a "mere" classifieds site become such a minefield for users? How did a platform that is in essence so simple and ostensibly useful earn the profile of what Wired magazine headlined in 2009: 'Why Craigslist is Such a Mess'?
The site, which is consistently ranked amongst the top trafficked sites in the world, is named after web eccentric Craig Newmark who started it with a mailing list to friends. It has grown into one of the most popular and talked about sites on the web. A year ago Wired magazine reported that Craigslist had more traffic than Ebay or Amazon.com. Where both of those companies have in the region of 20,000 employees each, Craigslist reportedly only operates with 30.
It's ruthlessly simple design is best echoed in Newmark's words about the site in general when he said during an interview: " If most people are good and their needs are simple, all you have to do to serve them well is build a minimal infrastructure allowing them to get together and work things out for themselves. Any additional features are almost certainly superfluous and could even be damaging."
Newmark (58) is a fascinating figure.  An awkward interview candidate he is often evasive. He has a quirky affinity for squirrels.  His Facebook profile picture includes him, Barack Obama and, er, a squirrel. He tweets (and retweets) squirrel actions like: "Run run" or "Dig dig". His often-touted mantra is: Treat People as You Would Like To Be Treated.
He stands at the head of an online community of 50 million users and not surprisingly he was one of Obama's technology advisors (or "technology surrogate") during his election campaign.
Before the censorship announcement Newmark had also been at the centre of investigative reports by CNN reporter Amber Lyon where she tackles him over the claim that Craigslist was manually screening all the adverts in the Personals section. However, many ads clearly selling under aged sex still appeared on the site. During one of their interviews he reiterates to Lyon the users' responsibility to report illegal ads to the authorities. He asks her: "Did YOU report what you found?"
Does Craigslist really expect its users to play cop? It is fair that while browsing the world's largest classifieds site for a holiday apartment you have to be extra vigilant of the next shady scammer? Do we have a responsibility as netizens to clean up this mess as Newmark suggests?  Or can Craigslist spare some of the (almost) $100 million profit they are reportedly making this year and employ a few more people to clean up the site?