A PICNIC in Pictures // Day 1 Roundup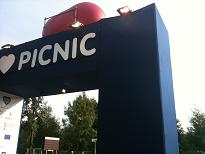 PICNIC is certifiably special and cool. There's a lot of love for ideas there and I'm happy to share that yesterday I finally had the chance to experience this unique festival first hand for the first time. Immediate impressions? I want to go again and again. And not just because of the awesome venue where it took place – the culture park, Westergasfbriek , my new favorite spot in Amsterdam. A dynamic program guided by the theme and principles of 'Redesign the World',  it featured an overwhelming amount of interesting sessions, speakers and hands-on workshops — many of which were happening at the same time — so attending for only one day was a real challenge for me in terms of fitting everything I wanted to see and not staying for more of the good stuff on day two and three. My brain is still buzzing after all the cognitive stimulation experienced there but it's refreshing to experience the minds of the world coming together and brainstorming solutions.
To start off on the right foot, Amsterdam decided to warm up for the festivities of PICNIC and we were blessed with a fine sunny day in late September :).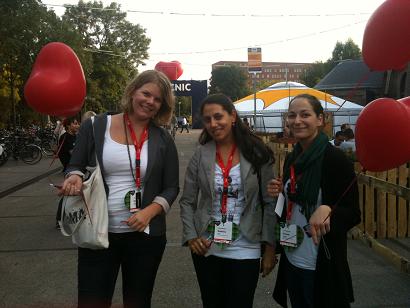 With the fellow Masters!
It was awesome to have so many practical 'Redesigning the World' type of things to do at PICNIC, like fabbing funky glasses (Video: FabGlasses FabGlasses2)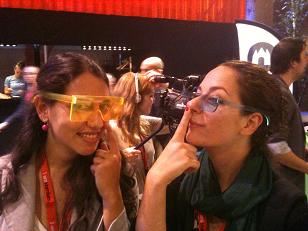 ,  digesting the web by eating fine pizza made by Instructables Restaurant (a complete online DIY resource), and playing around with virtual art (more below..)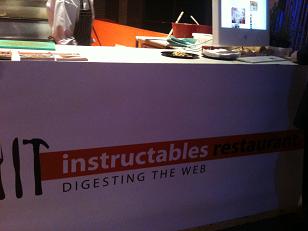 Augmented Reality + Stedelijk Museum = ARtotheque. Ever wanted to place a famous work of art anywhere you pleased? That's exactly what you do by selecting your fav. Masterpiece, scanning it with an AR Layar application and placing it anywhere on the PICNIC venue for others to see. I can say it's also been more visual eating lunch out looking around at all the virtual paintings. Have you found mine?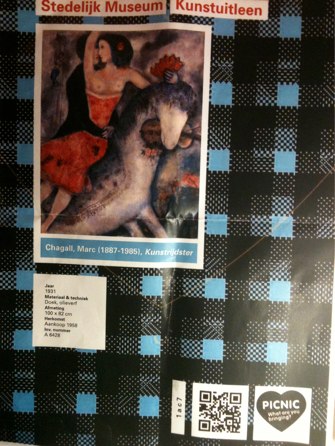 Everything you know about Transmedia Is Wrong: We hear the term being loosely thrown around, but what is transmedia and what makes something transmedia? At the core, we learn that transmedia is telling a story without boundaries or borders, across multiple media platforms. This special session's fine speakers who included Dan Hon, Tommy Pallotta (ultimate in remix) and Anita Ordine took us into the world of how transmedia is happening today and how we can apply it to our future for positive social change.
I was especially happy to see and hear Tommy Pallotta speak about his creative transmedia film projects and look back at some of his films I love so much, A Scanner Darkly, and my personal favorite, Waking Life . The film experience is clearly extending out to us, the audience, and a perfect example is how Pallotta took to the web and let thousands of people and fans produce the winning trailer for A Scanner Darkly by way of remixing. He shared a sneek peak of his newest transmedia film project that he's currently working on, Collapsus – the ultimate in remixing by combining film, animation, documenteary, narrative, internet, conspiracy theories and everything else in between. The rules of using transmedia to augment a story is start with a film and then push out across multiple platforms. There you have it.
Anita Ordine, representing a global transmedia production company, took us a deep step further on how we can go beyond entertainment (as in films) and use transmedia as a tool for social change. A key element to transmedia is audience participation and inviting the audience to enter and influence the story from all perspectives -in concept and framework — and across every platform. More than creating a better story in the end, this approach creates a new energy in the audience where the story becomes the engine for emotional experience.

There are many questions that must be answered if you're thinking of producing a transmedia project and one must ask themselves these essential questions that ultimately drive the motivation behind this kind of project:  What does this story mean to me? Why does the story need to be told? What's the best way to tell the story? Which are the best characters to tell this story through? What themes will help amplify my story? what emotional journey will the audience experience? What is the path to action at the end? How will audience involvement impact the story outcome?
One big reminder out of this session is that social media is just one small element of what transmedia is about. More than just connecting with people, transmedia is the conversation, content, gaming element and real world all integrated together. In the end it's all about mixing things up and so I'm really fascinated and curious to explore this further and see how it develops as we become even more connected globally.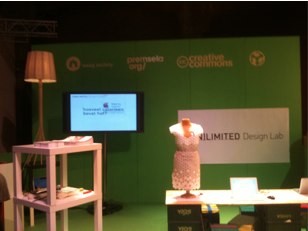 Other PICNIC highlights…
Service Design with Tim Kobe , who spoke about making design real and ultimately striving for experience design for people to connect on an emotional level.
Meet Your Maker brought us Matt Stinchcomb of Etsy in Europe who shared the inspiration for it  — connecting nature and community, and reconnecting consumers with the makers. You do not just own a piece of jewelery when it comes from an Etsy maker, you are connected to a human being who made that piece, and it is precisely that type of connection to humans that enable true community. So choose people, not products. Choose connection and you will get community.
A transformation in automotive design: a local connection.
Jay Rogers is doing cars differently and shaping the way cars are designed, produced and distributed. He is the founder of Local Motors, a co-creation company that is attempting to revolutionize every part of the hardest industry out there and change things drastically by making C.O.O.L Cars = Community, Open, Ownership, Local.
He believes co-creation, not crowd-sourcing, is key, and so Local Motors is by the community and for the community. This means everyone from the community are the engineers, designers, producers and users of this vehicle, and according to Rogers, this community-powered structure produces a car five times faster and ends up being one-hundred times less expensive – both for the company and for the car. The first vehicle out of Local Motors was a vehicle specifically designed for the New Mexico desert community who were literally asked what they think about making a desert car and what they want and need it to be like. It's an interesting concept and certainly brings customization and efficiency to communities – and a market – desperately looking for fresh ideas.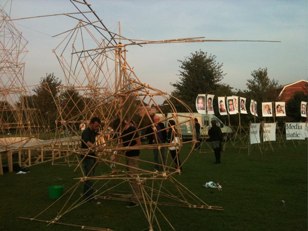 A bamboo structure built outside for people to ride on (all built that first day!) – check out the video.  There was also a helicopter in development.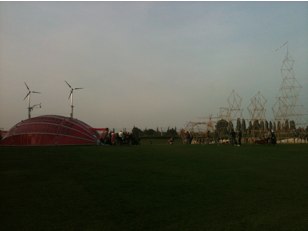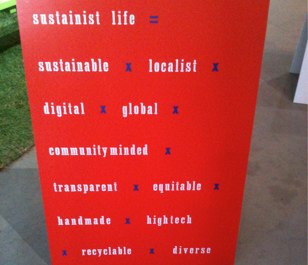 What a satisfying day with so much to think about! PICNIC should be monthly.
More pictures will be posted on my blog