6000 years of world conflicts online
Enjoy history and modern technology? Then prepare to get yourself time-sucked into the virtual world of wars and conflicts. Recently I have discover a website that clearly illustrates how isolated battles overlap and entwine into a never-ending strand of conflict.
Conflict History is a very interesting mash up that combines information from various different websites. Made in Flash, the site shows a map of the world (based on Google Maps) of armed conflicts over the centuries. Many centuries – from the year 3000 BC to modern times. This interactive timeline spotlights the course of wars across human history by scraping information from Wikipedia and Freebase. It covers every significant battle fought by man since the last 6000 years, which is pretty much the time when man started keeping record of events.
To start exploring the website, use the timeline by year below the map to navigate between different periods of time and watch red circles pop over at places where conflicts had occurred. A separate window will appear – list of the names and dates of events. Clicking on these data will "transfer" the user to selected regions on the map. Clicking on the "i" button will open a window that loads pictures and article about the war with a link to read more about the conflict at English Wikipedia.

The timeline can be used in many different ways: you can grab the black bar and slide it across the given portion of the timeline. Another way is to click on the left and right arrows so you can either progress or go back in time. You can also change the width of the black bar that indicates the period of time covered: narrow it down to load conflicts by year or widen it to load conflicts by 5 up to 100 years at once. For another point of view, user can also search for conflicts by given phrase, such as name of a country or a name of a leader involved.
Above, a search for wars between 1941 and 2011 reveals 259 ongoing conflicts, from the global (the Cold War) to the local (i.e. The Nepalese Civic War). Scroll through the decades, and you'll learn an awful lot of things about man's nature.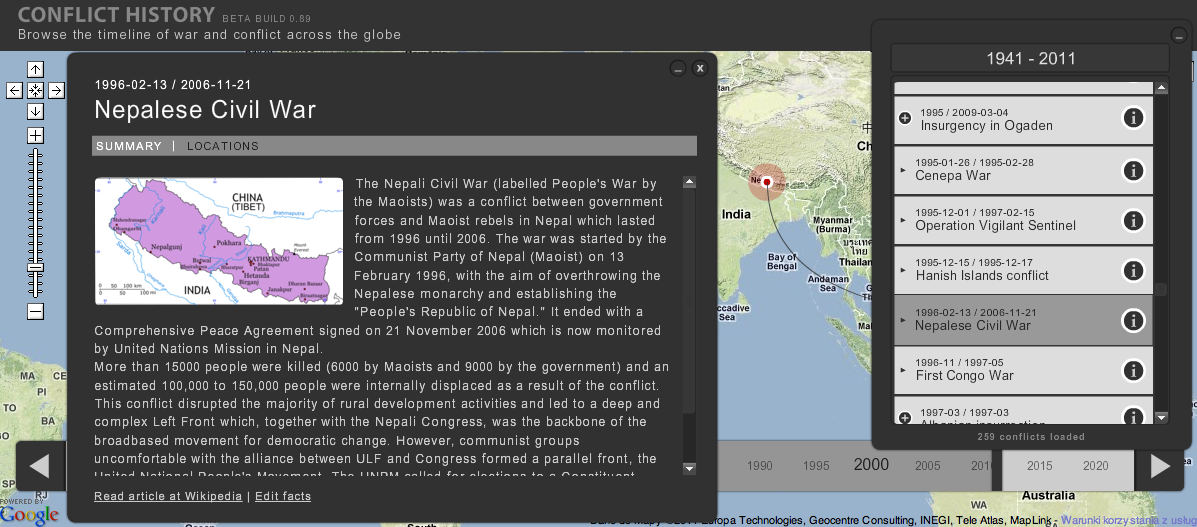 The website is an enjoyable and advantageous distraction, not only for fans of specialized Google Maps (such as Newspaper Map: service that allows you to skim through nearly 10,000 newspapers, filtering results by language or location), but with recent interest from institutions in tracking the historical conditions of global affairs, Conflict History might prove a useful tool also for future research by academics.
My tips for how to improve the site and make it even more interactive? It would be worthwhile to add  videos and links to social media accounts that are devoted to the ongoing conflict. Additionally, there could be a bookmark to notify the user of recent and substantial changes in conflicts. In this way the user could keep track of interesting events and have an insight into the recent history of conflicts around the world.