For the Love of Material!
Posthumanism, Protocol and Techno-Craft at Mediamatic's Ignite Amsterdam 10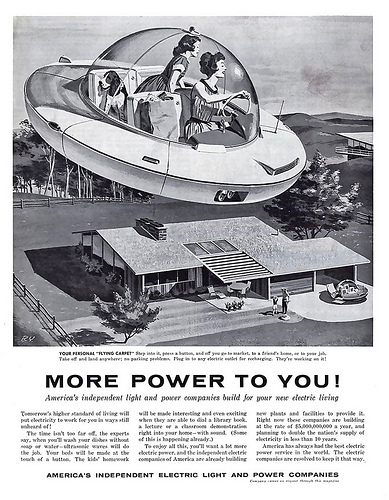 If androids dream of electric sheep, we posthumous dream of the Jetson family's flying car. "Posthuman" because, as foreseen by early prostheses now as natural as eyeglass, human identity consciousness has already evolved beyond embodiment to privilege subjectivity over physical intervention; all information is substantiated by a medium, and we must only see ourselves as technological to be a technology (Hayles). The "flying car" because, like Derrida's logic of supplementation– which emphasizes the proximity of speech and writing, the latter completing the former– we readily conceive of that which embeds organically into our statues quo.
While we wait in anticipation of a future that plays Santa to our most indulgent and time-honored technology wish-list, artists, designers, scientists and enthusiasts are already delivering the goods on making their fantasies a reality. Like-minded individuals meet monthly for Ignite Amsterdam, hosted by the project and exhibition space Mediamatic. Ignite is a locally-organized, worldwide series of moderated events that allow speakers five minutes and twenty slides to present their passions and ideas to a public audience. Ignite knows the difference between taking posthumanism by the reigns of Santa's sleigh— an intrinsically postman cooperation— and waiting until Santa appears a fully-formed android.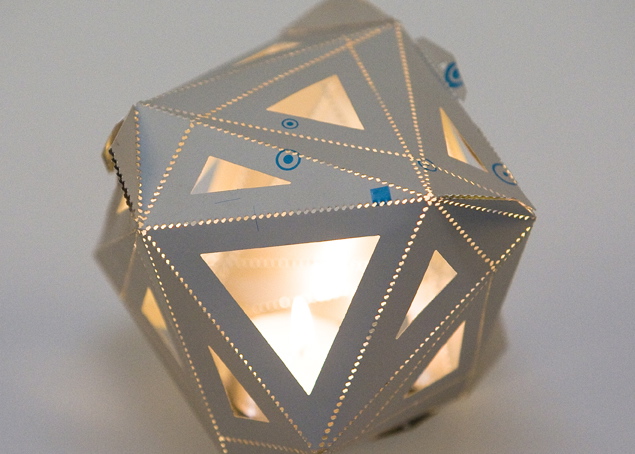 The tenth installment of Ignite Amsterdam took place yesterday evening. Among the presenters was Noa Haim, an architect concerned with sustainable design and cultural education. Her project Collective Paper Aesthetics transforms paper discard into templates for self-contained, Buckminster Fuller-inspired, geometric models. Haim spoke with open gratitude for the laser fabrication that allows her to cut and mass-produce templates. Like many other presentations, from kombucha appreciation to extracting protein from filamentous fungi, Haim's fascination lay in the how as much as the what of her ambitions.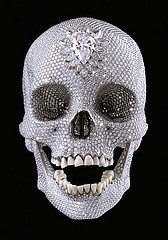 Damien Hirst's infamous sculpture For the Love of God (2007) is a platinum  cast of a human skull adorned with 8,601 flawless diamonds, the crown of White Cube gallery's Beyond Belief exhibition. The sculpture takes belief beyond religion to an unrepented bodily integrity and material spiritualism. Ignite, in turn, takes body and material beyond fetishization to a the polyvalence of technological production. Ignite facilitates a new techno-craft, a hybrid process-product for the posthuman driving Santa's sleigh. Techno-craft differs from twenty-first century interpretations of the factory model where the worker is hidden and the means of production detached from the consumer product. Even when popular culture watched Lucille Ball at the assembly line in I Love Lucy, the candies were already recognizable as candies, simply waiting to be wrapped:
http://www.youtube.com/watch?v=uztA6JCKB4s
The factory model perpetuates a myth of immaculate conception in the mind of the everyday consumer relative to the products they consume. The myth, in surprising opposition to increased information access, seems to strengthen the further economies move from labor-based systems. Certainly workers in the Industrial Revolution, a turning point in posthumanism, knew what it meant to be a button-down shoe. In his Postscript on the Societies of Control, Deleuze writes of a new capitalism for the product rather than production. Techno-craft deconstructs capitalism so that human interaction with technology is as important as human interaction with the final product.
For Ignite presenters, techno-craft means more fun and a greater challenge. For human subjectivity, techno-craft facilitates an exciting middle-ground between reviving early posthumanist notions of the factory worker and navigating the dangers of Foucault's panoptic Modern disciplines, of which the factory worker certainly was one. Disciplinary sentiment survives in contemporary network protocol, which is "less about power (confinement, discipline, normativity) and more about control (modulation, distribution, flexibility),"(Galloway and Thacker 10). According to Alexander Galloway and Eugene Thacker, counterprotocol begs a striation of lived resistance, as dynamic as the networks it challenges: "The goal is not to destroy technology in some neo-Luddite delusion but to push technology into a hypertrophic state, further than it is meant to go," (25). The proposal at Ignite Amsterdam 10 to construct a mountain two kilometers high off the Dutch coast in the North Sea is an innovation that certainly takes technology to hypertrophic proportions.
In the spirit of network resistance, the self-made posthuman, and the body politic of techno-craft, the following are just three platforms right here in Amsterdam where technological practices can realize the material objects of your dreams. After all, in Huizinga's sandbox, sometimes you want to get dirty.
Espresso Book Machine at the American Book Center
Print a perfect-bound copy of your own digitally formatted text within minutes for € 12.50 per book up to 200 pages. You may also selected published texts from many digital repositories including Google Books, Open Content Alliance and the EMB's own database.
Fablab Amsterdam
Cut vinyl, use rapid prototyping to design a prosthetic alignment laser or print a 3D rendering of your own head. Take classs, attend workshops or rent equipment independently on an hourly basis. Inspired by the fabrication laboratory at MIT, Fablab is now a worldwide community.
Facilities at the Netherlands Media Art Institute (NiMk)
In addition to being an academic institution, archive and exhibition space, NiMk opens its production facilities to the public. Learn multimedia programming, work on the post-production of your movie, conserve your VHS tapes or receive expert consultation for your projects.
Works Cited
Hayles, N. Katherine. How We Became Posthuman: Virtual Bodies in Cybernetics, Literature and Informatics. Chicago: University of Chicago Press, 1999. 2-22. Print.
Foucault, Michel. "Docile Bodies." Discipline and Punish: The Birth of the Prison. New York: Vintage Books, 1995. 135-156. Print.
Galloway, Alexander R. and Eugene Thacker. "Protocol, Control and Networks." Grey Room 17 (2004): 6-27. Print.