Autoguard app review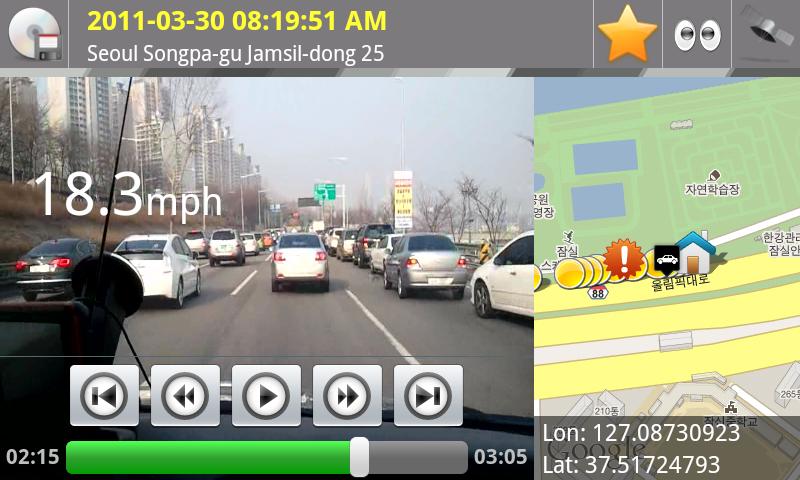 As developer Hovan Yoo explains:
It records various minutes and leaves a record of acceleration levels, latitude, altitude, and speed every second while it records (when runs in background, too). Finally, this application will make video files and data files with those.

After an accident, police and insurance companies would be able to use the data to accurately discover what happened – and to apportion blame.
Installed on the device Autoguard takes up a little more than 1 MB or as much as two photos. For the app to work, the GPS receiver should be turned on constantly, so the user'd better plug his/her phone in the USB hub of the car while driving.
From then on Autoguard records video, audio mileage and speed. Trough its sensors it claims it can distinguish between an actual collission and a minor bump.
The app can be scheduled to automatically dial an emergency number in case of a car crash.
The motivation behind Autoguard is pretty straight-forward:
The three-year study revealed that drivers of cars fitted with data recorders were 10% less likely to be involved in a fatal accident, and that repair bills after a crash were cut by an average of 25%.

Many UK vehicles are already fitted with data recorders, including lorries and emergency response vehicles.

In the US, more than two-thirds of new cars are now fitted with some kind of data recorder, although most of these are far simpler than those being proposed by the EU's report.
The interface of the device is basic and the software did not crash not a single time during my test.
With that being said I think the developer could limit the number of icons of the home screen. Right now they are six and might bring hard time on a first-time user. But if you can operate your car's USB hub, there would be no problems.
Autoguard's premium version provides recording in the background during simulteneous use of other apps, for example navigation. Another paid features is the better quality of video recording. It costs 1.49 EUR. Otherwise the free app comes with ads.
Currently Autoguard works only on Android. A similar app for iPhone is iCar.