Instagram lets us discover our hidden talents
Fortunately or not, I am not a smartphone user and I hardly play with applications different than alarm watch and calculator on my very old school Nokia. Believe me or not, they work and they do their job! Sometimes there are some moments in life when I would cut my arm for GPS or even Internet in my mobile and I fully agree that many smart features of XXI century phones are more than useful, what makes me considering getting one of them, eventually. But as for now and generally speaking, I'm not a hard user of applications: old or new, old school or very trendy and hip. Who introduces me to many 'must have' programs for mobiles or tablets are my dear friends who often get, so to speak, more than excited about them.
Knowing of this week's blog task, I couldn't have not sent a Facebook message to Magda – my former uni friend from Poland, a media expert, social media Goddess and a great Obama's follower. Hoping for quite a quick response, I asked her about the trendiest/the newest/the most useful/the most popular or just the best app she could think of. And I was right – a ready list of programs for me to check was ready in no more than 5 minutes and it consisted of a few interesting suggestions such as Around Me, Qik, Foursquare, Instapaper, Evernote and last but not least – Instagram developed in 2010 by Burbon Inc.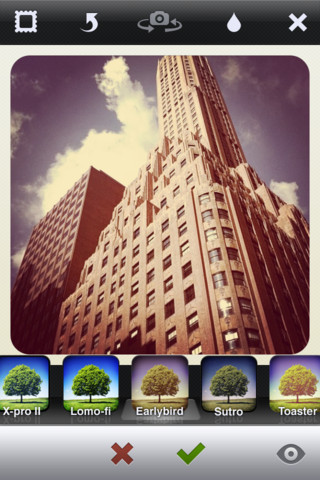 Originally designed exclusively for iPhone and iPad users, Instagram is a social platform and application for so called iPhotographers that allows them to use number of filters and transfer everyday moments and mundane shots into 'works of art' full of color, mood or personality. After you select a filter, for instance an old-style camera lense and grainy film, you can then add a description and a place (via Foursquare's API), and choose to share it with family, friends and strangers via number of networks (such as Twitter, Facebook, Flickr and Tumblr) including Instagram's built-in network. The app is free to use and is deceivingly simple in purpose and function — snap a photo, select a photo-enhancing filter and upload. Thus self-made artists interact with audience through giving and receiving likes and comments. Since Instagram has become quite a popular app (9 million users, more than 150 million uploaded images), there are more than many of friends and other people from around the world whose lifestyles we can follow.
With unlimited upload limit, Instagram encourages users to shoot and publish at all times – spontaneously and anytime when a mix of inspiration and creativity feel come to them. Of course, bad picture will remain poor regardless of how many effects we will apply, but with the use of filers and effects, usually the final work is much more interesting and, naturally, the author can freely experiment with his or her artsy ideas what often brings unexpected and good results.
Then comes the feed. The feed is the in-app place where users can view the stream of photos their friends are sharing (it's easy to connect with Twitter and Facebook), like and comment them. According to Mashable,
once you build up a small following and start following your friends, the feed comes alive and morphs into an active social network around great-looking photographs. The "News" section will alert you to new comments, likes and followers. Other users can "Like" and comment on photos to boost their popularity, and find more users to follow by browsing keywords and what's popular, as well as search.
The popularity of a new cool service couldn't have been unnoticed by the big players. According to The New York Times Bits Blog, following a failed attempt to acquire Instagram, Facebook will roll out up to a dozen photo filters in a mobile application release. Other big companies such as Pepsico, Levis, Red Bull and actively interact with their audience. For brands, it offers a quick and easy way to generate and share visual content with existing fans and, thanks to Instagram's search and browse functions, attract new ones. Topshop, a famous clothing brand was offering its shoppers a complimentary summer styling and makeup session, followed by an Instagram photo shoot. Participants could then select one of several Instagram filters to stylize their images, print out on postcards and upload their snaps directly to Topshop's gallery as well as their own social media profiles.
It's no wonder that Instagram is proving very popular also among street style photographers. What is unusual, before discovering the app, many of these well-followed (10 000+) photographers had done little to no street style photography in their portfolios but thanks to the new service, they took up a hobby they had never before considered. Left: Instagram picture of user thomas k, one of the new street photographers and well appreciated (or followed) artists.
To continue, Instagram is changing not just the way photos can be shared, but how music videos can be made, too. UK indie rock band The Vaccines recently a website that asked fans to snap photographs of themselves while at music festivals and then tag them with "#VACCINESVIDEO". The band have recieved nearly 3,000 submissions and used them to create the music video for their song "Wetsuit". Aside from a few video clips, everything we can see in the video was submitted through Instagram:
It's not difficult to predict that using Instagram can get very addictive, also because of the active feed: one can soon become obsessed with attempting to find the perfect shot and filter in the hopes that your photo will become popular. If only I had an iPhone, I would definitely try this (free) app and look for my hidden talents. For fun or for business, it seems to be an interesting solution.