'Consider it a safety Tool.' – App Review: Glympse
Glympse is a groundbreaking new way to share your location with anyone for a specified period of time using patent-pending GlymseWatch timer.
This app enables you to immediately share your location with friends and allows them to track your movement for a chosen amount of time.
It is supposed to be 'Groundbreaking' for several reasons:
First of all, according to the Gympse Team, Glympse is much easier and faster than a phone call or a text message if you feel the need to share your current location with a friend or a colleague. You can choose from a preselection of short messages to accompany your location data. Think of sentences like 'Almost there!' or 'Meet me here in 10 minutes.'. Though not as efficiently, you can type your own message if it's not in the list.
Also, Glympse is not network-based as, for example, Facebook, Twitter or FourSquare.  So, in order to share your location, you do not have to befriend people on Glympse or get your friends to create a Glympse account; it allows you to use your own network and sends a message with the location data to an email-adress or a phone number. There is no software or setup required. However, if you do feel the need to share where you are with your Facebook- or Twitter friends, you can publish the location data on to social networks too.
I stumbled across this review, which shows another value of this app as being a 'safety tool':
I love having this app! I tend to get lost so when I go somewhere alone, especially at night, I send a Glympse to significant people so they have some idea where I am in case I end up somewhere else. I consider it a safety tool.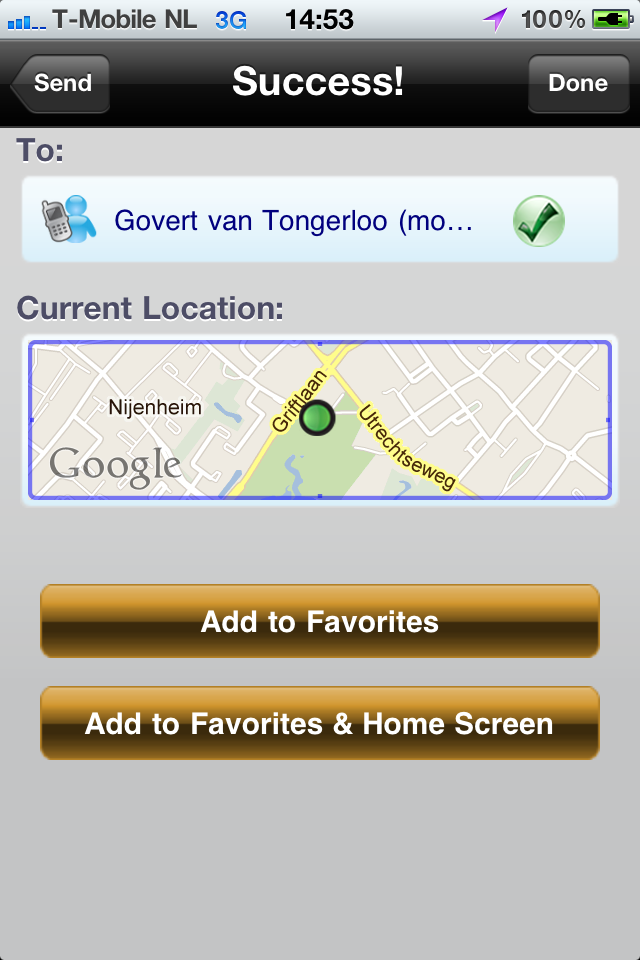 Of course, knowing that your friends know where you're heading feels safe, but most location sharing apps endanger the user's safety in multiple ways. Apps like Foursquare make it possible for everyone, including potential criminals, to see where the user is heading and, in other words, when the user is at home. But above all, it tells us when he or she is NOT. Glympse is a lot safer than other Apps that allow you to share your location. That is simply because with Glympse, you decide who to share with. You set who can see where you are, and you can even decide for how long the data remain visible.
The website pleaserobme.com deals with the danger of this so called 'oversharing'.
The danger is publicly telling people where you are. This is because it leaves one place you're definitely not… home. So here we are; on one end we're leaving lights on when we're going on a holiday, and on the other we're telling everybody on the internet we're not home. It gets even worse if you have "friends" who want to colonize your house. That means they have to enter your address, to tell everyone where they are. Your address.. on the internet.. Now you know what to do when people reach for their phone as soon as they enter your home. That's right, slap them across the face.
On the site you can enter your Twitter and/foursquare/etc. data to find out how easily your house could be emptied. Brrr.
Personally, I don't see the point in constantly sharing your location with the world, and the endless flow of Foursquare posts on Twitter and Facebook can get me quite annoyed. Even though I can understand why an app like Glympse can be useful – to let your hungry kids know when you'll be home for dinner or to let your friends know where you've been in case you'll get raped or kidnapped – I'm not planning to use it. Besides, Whatsapp already offers a similar application; the 'share location' function works fine if not better.
I have to admit though, a location sharing app like Glympse or Whatsapp can come in handy at times. But do I feel the irreparable need to post it online? No. Please, no.