Does Adobe Digital Editions replace the paper book? A consumer's report.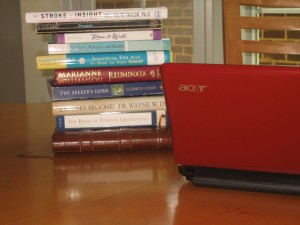 Although I'm only 25 years old, I sometimes feel like I should join my 80-years-old uncle Wim. He lives in a peacefull retirement house called Aar en Amstel, which means as much as ear of corn by the river the Amstel. Namely: contrary to most people my age I don't own a smart phone, a tablet or an e-reader. The only internet connected device that I own is a laptop. Since I am in the Editor Master of the UvA and we are often discussing e-books, I decided that it's about time for change. To buy an e-reader was a bridge to far, so I started my search on the internet.
I installed Adobe Digital Editions, a programme with makes it possible to read e-books in among others an e-pub format or pdf on a laptop or pc. Computer Totaal, a Dutch computer magazine, rated the programme 7 out of 10, so I tought I'd give this a go. The programme looks uncomplicated, on top is a menubar and on the left are virtual bookcases. There is for example a bookshelf for borrowed books and books I didn't read yet. Via 'file' in the menubar I was able to import my via a Dutch webshop for free purchased Pride and Prejudice.
Once I was able to read the book on my computer, I decided to do a test. I would read a part of the book on my laptop and a part in a paper version. After that I would decide what I prefer and whether or not it is time for an e-reader or a tablet. I settled down in a comfortable chair, picked up my laptop and opened the file and skipped to the table of content. Every chapter was linked to the page it started on, very handy! I paged to the first chapter and it looked just like an opened book. Between the pages was no line, but a small space devided the first page from the second. By pressing an arrow on the screen or by using the arrow keys I was able to leaf through. A bar on the bottom of the page gave an indication of which part of the book I was reading. Just above this bar was the page number, next to the total amount of pages. It was possible to enter a digit and skip through to a certain page. There was also a possibility to make the letters bigger.
The laptop was comfortably warm, but also a heavy device. While reading, I looked up the name of that fan fiction sequal and listened to a song from the Bollywood adaptation Bride and Prejudice. It made me think about an article written by Nicolas Carr and I reread some parts of the article before returning to the book. I had to shift myself because the sun was reflecting on the screen and regretted that I couldn't sit outside with my laptop because of that reflection. While reading I also started missing hearing the characteristic sound of leafing through and inhaling the lovely smell of paper.
After an hour I picked up my paperback Pride and Prejudice, which is part of The Complete Novels of Jane Austen. I had to bend the back of the book, so that it wouldn't close again and leafed through to the chapter where I had remained. I started reading again.
The book was very heavy, which annoyed me a bit. I did my reading experiment at home, but wouldn't be able to take it with me into the train the next day while heading for class. A laptop is also heavy, I thought, but it offers several possibilities. Besides reading a book, it is possible to use the internet or a word processor. Another thing I noticed was that in a paper book I would hesitate to take notes, but in a digital book they can be deleted anytime. Besides that another advantage of a digital book would be that it probably costs less money to buy or copy it. The last thing I experienced is that not being able to search the book like is possible in Digital Editions is very impractical.
So, to conclude: reading on a device is actually not as bad as I thought it would be. Although I am very positive, I will stay old-fashioned and will not completely abandon my paper book. I love the smell of paper to much. But I can imagine I will use Adobe Digital Editions for reading studying material in the future or for reading books that I would like to do research on. Although after this experiment I will not run to a shop to buy myself an e-reader or a tablet, I feel like my search made me a bit more aware of the benefits of e-books. Dear uncle Wim, I am sure that that you're having the time of your life in your wonderfull retirement home, but I will not join you. I'm to busy getting my next e-book.