Is it cyborg o'clock yet?
This year has been exceptionally fruitful for the fans of wearable technology. Last week, we were introduced to a new child of the wearable technology era: the Apple Watch.
On September 9, Apple revealed its own long-anticipated smartwatch – the Apple watch. The smartwatch will be available in two sizes of 38mm and 42mm, and come in three main designs: the classic Apple Watch with stainless steel straps, Apple Watch Sport (for fitness fans), and Apple Watch Edition (for high-end orientated customers). The watch will be available in early 2015, with the pricing starting at $349. Apple Watch can only be used in pair with an iPhone, and it runs Apple's own Watch OS.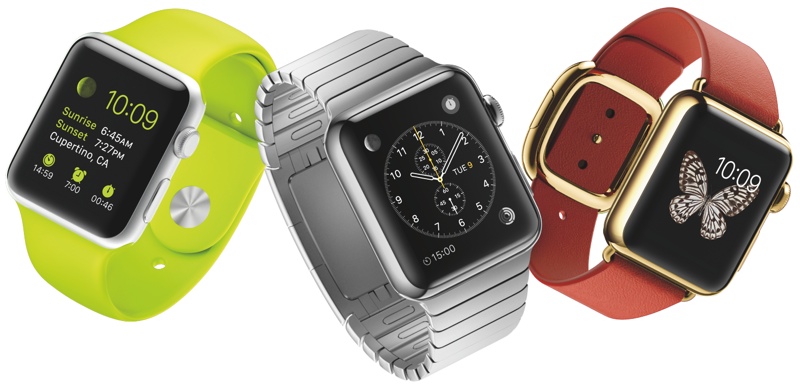 So what does it do? Except for the ability to tell time (in the variety of watch faces), Apple Watch can serve as the extension of the iPhone. Many apps are available in a simplified mode, such as messages, phone calls, calendar and app notifications. It offers the ability to make Apple Payments, play music over Bluetooth, and serve as a remote shutter for the iPhone camera. Apple Watch naturally offers some features for the lovers of fitness gamification – the smartwatch has a heartbeat sensor, a pedometer and a handful of apps for tracking your activity. Apple Watch also offers somewhat new ways of communication, called "Digital Touch". Users can send each other simple sketches, a voice message, a tap (which the receiver will feel on their Apple Watch) and even share heartbeats. Apple Watch is making use of a so-called "Taptic sensor", which provides haptic feedback: different vibration signals for different notifications. Apple Watch can be managed through the touchscreen, and a "Digital Crown", which allows for zooming, scrolling, and selecting items without the necessity to touch the screen.
https://www.youtube.com/watch?v=ktujsc4ZUTo
Wearable technology is often associated with cyborg culture. However, can we think of Apple Watch as of product that brings a person closer to being a cyborg? The term "cyborg" has many definitions. In the original sense, a cybernetic organism is a mix of an organism and a machine. Oxford dictionary defines cyborg as "A fictional or hypothetical person whose physical abilities are extended beyond normal human limitations by mechanical elements built into the body." We are not the cyborgs in a classical sense of the fusion between the man and the machine, as Apple Watch does not serve as an implant, and merely replaces and accessory familiar to us from the beginning of time.
I think that we can see wearable technology in terms of Marshall McLuhan: wearable technology serve as the extensions of men. Here, it takes quite literally position: smartwatches serve as modification of our wrists, and Google glass as extension of our eyes. So no, Apple Watch does not make us cyborgs in a classical sci-fi sense. Here, I think more in terms of Donna Haraway. She offers the following definition of a cyborg: "A cyborg is a cybernetic organism, a hybrid of machine and organism, a creature of social reality as well as a creature of fiction" (291). Haraway claims that in our time we are all cyborgs, hybrids of an organism and machines. From her point of view, any devices make person a cyborg.
Although smartwatch can be seen as en extension of ourselves, it is questionable, whether Apple Watch adds anything new in terms of experience. Many people think it's a redundant technology, which merely does the same things as an iPhone. The only original features I can name are the haptic sensor, the activity tracking possibilities and the "digital touch" communication feature.
Apple Watch is primarily social-media and fitness oriented. It makes sure that don't miss the latest notification, that we always stay in touch. There is however, something new about smartwatch, something that distinguishes it from a smartphone. What smartwatches do replace is indeed the regular watch. I think that this is very significant. It is no coincidence that we wear a watch on one of the most accessible places – a wrist. The practice of timekeeping is essential to our society. Apple Watch notifies us of new messages, emails and Facebook updates without having to reach for the phone. That way social media is always in front of our eyes. It firmly embeds media in our daily lives. My question here is whether "mediakeeping" has become as important as the practice of timekeeping?
References
Haraway, Donna. "A Cyborg Manifesto: Science, Technology, and Socialist-Feminism in the Late 20th Century." The International Handbook of Virtual Learning Environments. Springer Netherlands, 2006. 117-158.

McLuhan, Marshall. Understanding media: The extensions of man. MIT press, 1994.