"Checkout on Instagram": Chance or risk for e-commerce businesses?
Ever since Facebook purchased Instagram in 2012, the platform has not only grown from ten million active users to over one billion, but has also introduced a number of new features. Instagram Stories, live streams, television and shopping – the photo sharing app seems to have it all. Its newest update, "Checkout on Instagram", intends to take it one step further, making the in-app shopping process completely gapless and thereby potentially revolutionising online shopping.
From shopping tags to "Checkout on Instagram"
Instagram's commerce history started in November 2016, when the app first tested shopping tags that linked products of a select number of US-based retail brands in Instagram posts (1). Soon after the first trial, in March 2017, Instagram expanded their new service to a larger number of businesses and additionally enabled them to get insights on consumer behaviour towards their products (e.g. how many people clicked on product details or "shop now") (2). Later that year, the app brought shopping to Instagram Stories and the "Explore" page, by adding product stickers (3).
In accordance with a vast increase in popularity of Instagram's shopping features – 130 million users a month tap posts to reveal shopping tags – the company "took its next step to becoming a full-fledged commerce business" (Newton) by introducing a checkout feature that enables users to purchase tagged products without leaving the app (5). It not only promises a more user-friendly experience, but also higher conversions and sales volumes for merchants, by saving them "from abandoned shopping carts left by users frustrated with having to sign up with each different brand" (Costine, 2019).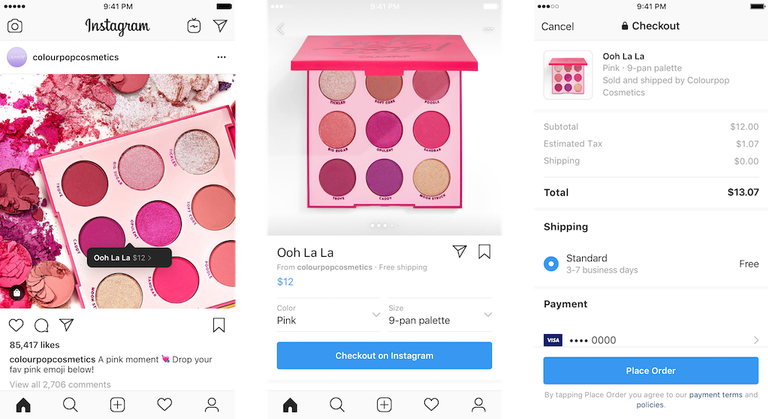 Its principle is simple: You see a product you like, tap on the shopping tag and instead of being taken to the retailer's website through the former "View on Website" button, select your preferred size and colour, proceed to payment (via PayPal, Visa, MasterCard, American Express or Discover) and complete your order, all within the app. Once your order has been placed, you receive notifications about shipment and delivery and your payment details will be securely saved for your next shopping spree (7).
As As of May 2019, a small number of content creators – though without financial interest – are also able to tag items and directly sell them to their followers (8). For now, checkout on Instagram is in closed beta for 26 US based businesses and available for people in the US only (7). Adam Mosseri, Facebook's new head of Instagram, however, recently mentioned in an interview that the company is hoping to further expand its shopping tools and thereby ""connect the dots thoughtfully" between shoppers, sellers and the app's huge number of "influencers"" (Murphy).
Even though "Checkout on Instagram" undoubtedly opens up new possibilities for e-commerce businesses, critics fear, "Instagram will take over retail and […] kill off fashion discovery apps and products forever" (Russell). Adding to ongoing debates about mobile shopping (11) and social media platforms for shopping (12), it raises questions as to where its strengths and weaknesses lie and whether or not it truly revolutionises the way consumers approach online shopping.
Chances and risks of "Checkout on Instagram"
With over 200 million Instagram users actively visiting business profiles everyday (13), an in-app shopping tool, like "Checkout on Instagram" seems to be a potential gold mine for e-commerce retailers and could, according to Deutsche Bank, be a ten billion dollar market by 2021 (14).
By limiting the number of steps involved in the shopping process, it offers a potential solution to one of the biggest problems, faced by online retailers – "cart abandonment", "the act of placing products in an online shopping cart without purchasing any of them during that online shopping session" (Song 3). Especially considering the importance of convenience factors in virtual shopping, such as accessibility and time efficiency (16), to young consumers – which make up the majority of Instagram's audience (13) – the platform could produce better return on investment for online retailers.
Despite its advantages for e-commerce businesses, the new feature also bears noteworthy risks and limitations. First of all, merchants will only receive necessary costumer details to fulfil an order, leaving them with "a little less data than if the purchase happened on their website" (Costine, 2019). Furthermore, it will reduce the traffic onto the retailer's website and comes with a merchant selling fee that might equate revenues with expenses for small businesses and ultimately result in power centralisation of a few key players in the e-commerce environment. In addition to that, "brands should be wary of becoming too dependent on Instagram for sales" (Meyersohn), as they have less control over their customers. Lastly, it is important to mention that despite the feature's potential to maximise sales volumes, the easy-access tool could also backfire in terms of companies' profits, as it is – in contrast to regular shopping carts – so far only possible to purchase one item at a time.
E-commerce revolution or just another add-on?
The question whether "Checkout on Instagram" really has the potential to transform the e-commerce environment is yet to be answered. Although both the possible chances and risks give reason for further discussions on the already existing debates on platformization of online shopping (11) and mobile shopping platforms (12), its effects on online consumer behaviour need to be further examined, as there are, in the words of Cally Russel, still "a lot of problems to overcome to enable truly smooth transactions for consumers on the platform" (10).
references
(1) Instagram Business Team. "Shopping Coming to Instagram" Instagram Business Blog, Instagram, 1 November 2016, https://business.instagram.com/blog/shopping-on-instagram/. Accessed 20 September 2019.
(2) Instagram Business Team. "A Better Shopping Experience on Instagram" Instagram Business Blog, Instagram, 21 March 2017, https://business.instagram.com/blog/a-better-shopping-experience-on-instagram/. Accessed 20 September 2019.
(3) Instagram Business Team. "Announcing Shopping in Instagram Stories and Explore" Instagram Business Blog, Instagram, 17 September 2017, https://business.instagram.com/blog/announcing-shopping-in-instagram-stories-and-explore/. Accessed 20 September 2019.
(4) Newton, Casey. "Instagram adds in-app checkout as part of its big push into shopping" The Verge, Vox Media, 19 March 2019, https://www.theverge.com/2019/3/19/18271840/instagram-checkout-shopping-facebook-business. Accessed 20 September 2019.
(5) Bell, Karissa. "Influencers can use Instagram's new shopping features to sell products" Mashable, Ziff Davis LLC, 30 April 2019, https://mashable.com/article/instagram-influencers-shopping-tags/?europe=true. Accessed 20 September 2019.
(6) Costine, Josh. "Instagram launches shopping checkout, charging sellers a fee" TechCrunch, Verizon Media, 19 March 2019, https://techcrunch.com/2019/03/19/instagram-checkout/. Accessed 20 September 2019.
(7) "Introducing Checkout on Instagram" Instagram Press, Instagram, 19 March 2019, https://instagram-press.com/blog/2019/03/19/instagram-checkout/. Accessed 20 September 2019.
(8) McDowell, Maghan. "Instagram users can now buy influencer looks. Eva Chen explains why." Vogue Business, Condé Nast International, 30 April 2019, https://www.voguebusiness.com/companies/eva-chen-instagram-shopping-purchase-from-creators-feature. Accessed 20 September 2019.
(9) Murphy, Hannah. "New Instagram chief reveals plans for online retailing" Financial Times, The Financial Times Ltd, 25 June 2019, https://www.ft.com/content/ab69b29a-968a-11e9-8cfb-30c211dcd229. Accessed 20 September 2019.
(10) Russell, Cally. "Instagram Checkout – Set For Failure?" Forbes, Forbes Media LLC, 29 May 2019, https://www.forbes.com/sites/callyrussell/2019/03/29/instagram-checkout-set-for-failure/#5023ba1d3167. Accessed 20 September 2019.
(11) Marriott Hannah R., et. al. "What to we know about consumer m-shopping behaviour?" International Journal of Retail & Distribution Management, vol. 45, no. 6, 2017, pp. 568-586, Emerald Publishing Limited, doi: 10.1108/IJRDM-09-2016-0164.
(12) Alaimo Cristina, Kallinikos, Alaimo. "Computing the everyday: Social media as data platforms" The Information Society – An International Journal, vol. 33, no. 4, 2017, pp. 175-191, Taylor & Francis Group, doi: 10.1080/01972243.2017.1318327.
(13) West, Chloe. "17 Instagram stats marketers need to know for 2019" Sprout Social, Sprout Social Inc., 22 April 2019, https://sproutsocial.com/insights/instagram-stats/. Accessed 21 September 2019.
(14) Meyersohn, Nathaniel. "Instagram is changing the way people buy things" CNN Business, Morningstar Inc., 15 August 2019, https://edition.cnn.com/2019/08/03/business/instagram-shopping-checkout/index.html. Accessed 21 September 2019.
(15) Song, Jae-Do. "A Study on Online Shopping Cart Abandonment: A Product Category Perspective" Journal of Internet Commerce, vol. 18, 2019, Taylor & Francis Group, doi: 10.1080/15332861.2019.1641782.
(16) Mahapatra Sabita. "Mobile shopping among young consumers: an empirical study in an emerging market" International Journal of Retail & Distribution Management, vol. 45, no. 9, 2017, pp. 930-949,Emerald Publishing Limited, doi: 10.1108/IJRDM-08-2016-0128