Pingback Spam, Popularity and Protecting Investments
This blog is a real magnet for pingback spam lately. While I'd like to take it as a sign of our growing popularity, that would be like being flattered by calls from telemarketers. Also, it probably says more about the arms race between spammers and spam-filters: the trend for a while now is for spammers is to use RSS feeds to syndicate. Now excerpts from our blog posts end up on spamblogs, where spammers include Google Ads and wait for the money to roll (or trickle) in. It's all automated, and ends up looking like this: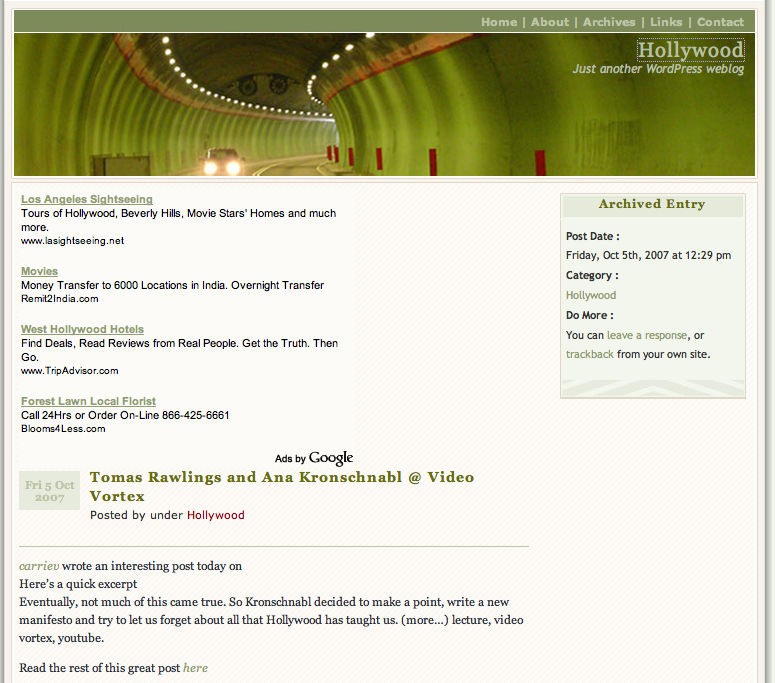 But here's the interesting point. Two years ago, Google implemented the nofollow html attribute to prevent this very same comment spam. Nofollow is the default setting for comments on blogging platforms, meaning links placed in blog comments (including pingbacks) do not 'count' in search engine rankings. It is overwhelmingly obvious that as a prevention mechanism, it simply doesn't work – spamblogs and comment spam are just too easy and cheap. What nofollow does do, though, is help keep Google's search engine rankings stable. If Google is serious about preventing comment spam, wouldn't it make more sense to prevent these guys and girls from getting accounts on Google Ads?
With the aggregation blog pictured above and the thousands of others like it, I have to complement the spammers on finding a solution for just about everyone involved:
Pingbacks are not followed, leaving rankings intact.
Google ads are a source of income for spammers and, ahem, Google.
I feel popular. (Excuse me while I go moderate some more comments.)
When the spamblog is the perfect marriage between Google and the spammers, what does that say about blogs more generally? As content recommenders – as citation specialists – we create value with and benefit from the work of others. We recommend, aggregate and redistribute – the spammers automate this process, as does Google on a massive scale.
Understandably, many have had enough of being this popular, and at least one blogger has issued a warning to the spammers saying they're no longer welcome. Like anyone, like Google, she's looking to protect an investment. A more radical approach might be to disable the Nofollow attribute en masse, invite the spammers in and watch as Google rankings become unsettled. From there, bloggers could wait for the changes in Google Ads policy to trickle (or roll) in.
(For more on nofollow and how to disable it on your blog, go here. NB: a 'dofollow' plugin has not yet been implemented at MofM, but that will change very soon.)