Review of a Web 2.0 Application: 'deviantART'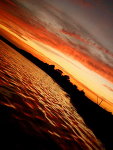 "Most artists are brought to their vocation when their own nascent gifts are awakened by the work of a master.That is to say, most artists are converted to art by art itself.[…] Inspiration could be called inhaling the memory of an act never experienced. Invention does not consist in creating out of void, but out of chaos." (Jonathan Lethem – 'Sound Unbound';'The Ecstasy of Influence', p.29)
The previous words encourage everyone who is passionate about art to test their artistic skills. So does deviantART! The Oxford Dictionary explains the term 'deviant' as 'a person who is different in moral or social standards from what is considered normal'. As we all know, everything that is considered out of the normal social standards has a derogatory meaning. But the word 'deviant' linked to 'art' seems to generate a lot of odd posts from weird users and much more peculiar visitors that are drawn here by the unusual association of words. Once you enter the website you are absolutely amazed by the beauty of the digital photography. I have to admit that not everyone that posts pictures on the site is immensely talented, but some of the photos take your breath away. Digitally adjusted or not, interesting portraits or marvelous landscapes, weird drawings or traditional photos, sculptures, abstract forms…Deviant Art carries you through an immense creative universe where imagination breaks the limits of unseen and unknown.
In order to become a deviant you need to create an account. This web 2.0 application allows users to make a profile, to post any kind of digital items or to write pieces of literature. The posts are usually accompanied by the artists' own description on his craft which gives the viewer/reader a better understanding of what the artist wanted to express. Users can create their own gallery, their community of friends -this means they can meet other artists- and add to favorites the photos they like most. As a visitor of the site you can not only admire the pictures or read the writings but also leave comments.
Some other applications on the page make it even more interactive: there's a shop, a chat room, news, a forum. In the section 'today' you can see the community mood bar chart. Here you can also check the number of online users. At this moment there are a total of 33,997 deviants of which 6,102 are artists; 2,106 photographers; 1,429 writers. Back to the main page we have to the left the different categories of art. These are very well structured and easy to browse through. Besides traditional and digital art you can find films and animations, designs and interfaces, artisan crafts and many other categories and subcategories.
I have searched among a few artists and this is what I have found: Mrizalcs has a beautiful gallery with portraits of people from Indonesia and also some fantastic panoramas. If you don't know what to do when there's nothing to do you have some interesting and colorful ideas here.
Deviant Art web 2.0 application is a parallel universe that is worth exploring. Look for a second around you and then escape in this virtual world. Open the gates of digital reality and let your mind frolic through artistic pictures, unbound words and visuals.