SNS profiles: BlackPlanet vs Orkut
This blogpost is a chapter of my paper for the New Media Theories course, updated and with little changes.
BlackPlanet
Started as a community site, but now more linked to the 'category' of social network site, BlackPlanet shows how race is established on the Web. 'BlackPlanet.com is your place to meet and connect with African Americans around the country', states the website, continuing with 'Chat or post photos and videos to share your black experience.'  Thus, on this social network site, being a member of a specific ethnic group (African Americans in the United State) seems to be an experience. Social network sites like Facebook and MySpace don't aim on a specific group. BlackPlanet does.
Dating with other African Americans is an important feature of the site and is promoted, again on the starting page:
Finding someone tailor-made for you is a hard thing. We've done our part to make it a little easier. Search for love, lovers or mates and make connections with infinite possibilities—all at a place where like-minded people from your community hang out. Skip the superficial dating barriers and find lasting, real romance based on common interests and roots in a shared black culture. Flirt with thousands of others just like you at BlackPlanet.com.
BlackPlanet aims on African Americans, but that doesn't necessarily mean the website is exclusively for African Americans. To analyse, I started to create my own profile and after registration this screen appeared: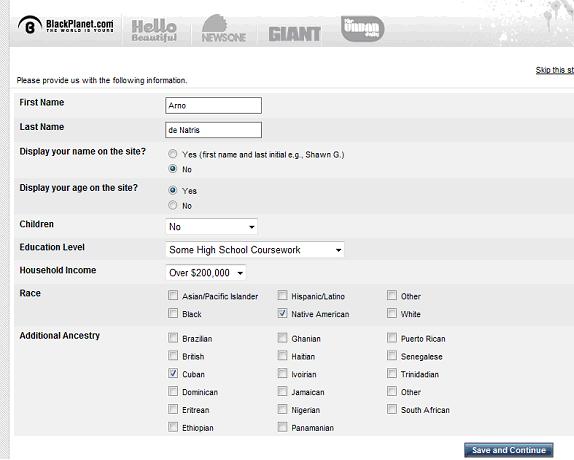 Mostly for fun, I created a profile of a barely educated rich Native American with Cuban ancestor(s), simply because it is possible. But here it is not important how to play with online identities (obviously, I am not a low educated rich Cuban Native American). The twofold of the social network site interests me. At one hand, the site seems to aim on a specific ethnic group: African Americans. At the other hand, after registration, everybody can join the network. Unfortunately, my profile is recently deleted. Why?
Hi MoM_Arno,
Your account has been closed. It was closed either at your request or because we determined you have violated our Terms of Service.
At BlackPlanet.com, we embrace freedom of expression. However,
we also make it our duty to consider the interests of the larger community of
members who use this site. This means keeping free of as much profanity,
offensive and derogatory material, and SPAM as possible — in the form of,
but not limited to, images and text.
Should you decide to open a new account, please take a moment to familiarize
yourself with our Terms of Service at:
http://www.blackplanet.com/misc/tos.html
Sincerely,
Your friends at BlackPlanet.com Member Services
(We still are friends…)
Dara N. Byrne explores community life on this social network site and how users participate in public discussion, but she argues that discussions on BlackPlanet stay on a discursive level:
…participants are deeply committed to ongoing discussions about black community issues. However none of these discussions moved beyond a discursive level of civic engagement, suggesting that the potential for mobilization through social networking online has not yet been realized, despite the traditional orientation to community service among blacks in America.
BlackPlanet is owned by Interactive One, a company with a 'mission':

Mission
* We will embrace and positively impact the lives of African Americans.
* We will empower our community by providing news, information, entertainment, community, tools and services which speak uniquely and directly to our audiences values and needs.
Empowerment seems to be the goal of the company (of course, a company's goal is always making a profit) and it will empower the African Americans with … information.
Orkut
Google's Orkut is not aiming for a specific ethnic group and promotes itself as an application 'designed to make your social life more active and stimulating'. But ethnicity is a part of the profile: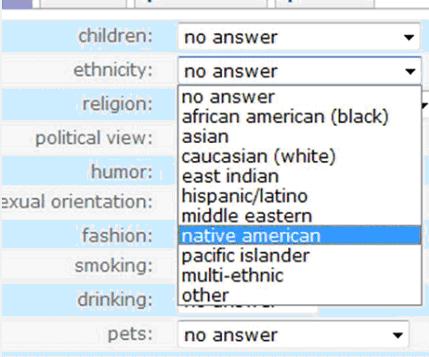 One thing immediately stands out: one can be black on his or her profile, but being black means being an African American. But what about Africans not living in America? A whole ethnic group here is categorized in 'other'. Being black in Orkut means being an African American. And being white means being Caucasian. Drifting from the 'ethnicity' box to 'religion', it becomes clear how the categorizing on this social network sites his organized: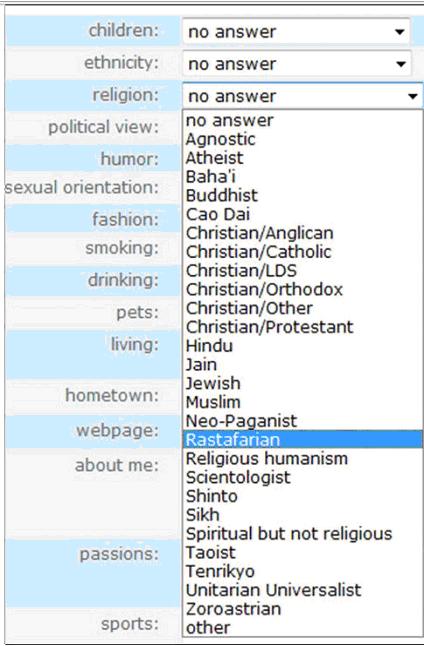 One can associate oneself to on of the several predetermined chooses. One can link oneself here to a particular religion. And if one's religion is not on the list, there is, again, the 'other' option. Orkut requires the user having a religion, or at least being spiritual. This list of options says 'atheist' is a religion and not being religious means the user is spiritual. One can choose to not answer, but answering by definition means atheistic users do have a religion.
This blogpost is a chapter of my paper for the New Media Theories course, updated and with little changes.