Esther Polak – New cartographies and storytelling of everyday life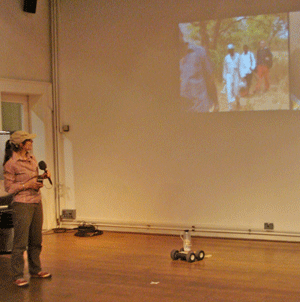 Last Tuesday I had the chance to watch a lecture-performance by Esther Polak at the Netherlands Media Art Institute.
Esther Polak is an artist born in Amsterdam in 1960 that is working in the field of New Media. Her work has been related with the possibilities that GPS tracks offers in creating personalized mappings and also with manipulating and editing those GPS tracks.
She started her lecture talking about the AmsterdamREALTIME project back in 2002, presented together with Jeroen Kee and Waag Society. This project consisted in inviting Amsterdam citizens (around 60) to be equipped with a portable device with GPS during two months, to trace their diary routines through the streets of Amsterdam.  Using satellite data the tracer calculated its geographical position and the data were sent in real time to a central point and the traces displayed against a black background.
The daily routines of these citizens revealed a new map of Amsterdam that was exhibited in the exhibition Maps of Amsterdam 1866-2000 at the Amsterdam City Archive.
All the individual participations when put together gave an extremely realistic map of the mobility within Amsterdam:  "a living map, formed by the use of the city itself and using new technology" – Esther Polak
A print of their own personal tracks was given to each of the participants, their "Diary in traces". From this experience Esther Polak told us how strongly people reacted to the print even remembering and identifying specific parts of their trace and then telling stories that specifically occurred in those places. A journalist is now interviewing these people who participated in the experience and she is going to write about their stories.
Esther compared GPS recording with the first steps in photography, as new form of realism, that at first was used as a tool and then evolving to storytelling.
After the Lecture, Esther did a performance with two GPS drawing robots about her most recent work based on the herders' and truck drivers' tracks collected in Nigeria.
The robots, used as visualization tools, made sand drawings on the floor of the Netherlands Media Art Institute based on the GPS recordings of the herders while moving their cattle, and of the truck drivers moving from Lagos to the capital Abuja.
These sand tracks are a bit coarse but the important thing is that people recognize their tracks and associate them with the places they had been before, so sometimes Esther Polak needs to edit these tracks and this is what gave her the idea of developing a software for editing the GPS tracks.
While attending to Esther Polak conference I remembered another project called cabspotting I saw in 2006. This project involved cabs instead of people, in San Francisco; they also had GPS trackers and created a living and always-changing map of the city.