The use of locative media in post-catastrophe response
"Location aware, networked mobile devices make possible invisible notes attached to spaces, places, people and things. . ." In 1999 when locative media was in its incipient development, Ben Russell (author of the 1999 Headmap Manifesto) observed how geography would get interesting. "Cell phones become internet enabled and location aware, everything in the real world gets tracked, tagged, barcoded and mapped. Overlaying everything is a whole new invisible layer of annotation. Textual, visual and audible information is available as you get close, as context dictates, or when you ask[1].
During these years, however, the technology of locative media involves with huge commercial interests which aim to develop killer devices or software applications. During these recent years, the use of locative media has been initiated by artists who intend to experiment a new way of creating digital art, and this is why we addressed the problem between art creation/scientific research and business sponsorships in this week's New Media Theory class.
Besides critical commercial projects, the other problem of locative media is literally 'the being in that location'. As 'being in somewhere' is a very personal, intimate experience, the use of locative media becomes a popular way of individual storytelling. For example, by geotagging locations and photos, people can virtually share their life with others. Alas, the new form of cognitive mapping between various actors is not easy. As Tuters points out, we need to guard against using that mapping to place only ourselves, thereby reducing objects to a subservient position in regard to humans[2].
I wonder, therefore, is there any other way we can look into the function of locative media, other than retrieving geo information, playing GPS treasure hunting game (geocaching), or babbling where we have been to? Can we (as prosumers) actually apply locative media to other meaning when we suspect its accountability and ethics?  
The creation of Typhoon Morakot Damage Response Map
Thereby, a post-catastrophe response map drew my attention. The force behind this map is a temporary self-organized network in Taiwan. As Taiwan was hit severely by Typhoon Morakot (photos) earlier this summer, almost all press was criticizing how slow the Taiwanese government responded to rescue victims from damaged villages. Meanwhile, a strong force of self-organization among young citizens is formed by the platform of BBS, Sinatra (a lightweight Web framework), and Plurk (a micro-blogging site) for real-time communication. This volunteering organized network rapidly gathered thousands of 'flash mob volunteers' who devoted themselves to those heavily damaged villages for post-catastrophe response. By spreading words through various sites, they successfully created a Typhoon Morakot Damage Response Map (in Chinese) on Google Map and allowed everybody to be a Map co-editor.  Because most devastated areas were located in remote mountains with no electricity and water at that time, this Map played a key role for citizen volunteers to get informed of the latest traffic & landslide condition in remote mountain areas before they departed for rescuing.  
1. This map is open for everybody to edit. It helped provide the most updated info and allowed the self-organized voluteering network able to respond faster than journalists and the government.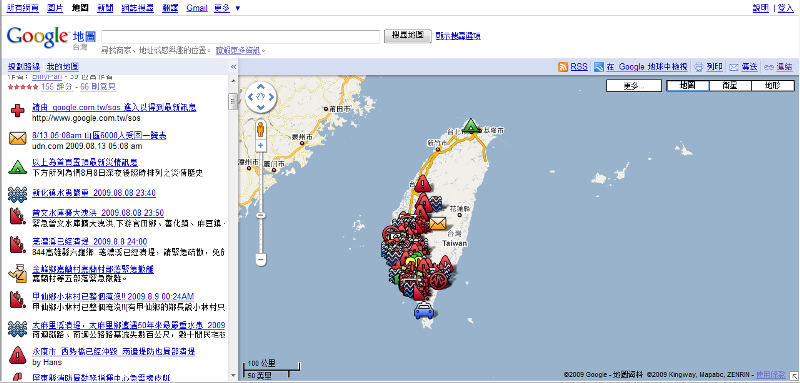 2. Various geotagging icons were used to organize a mass amount of information. By clicking the icon, a volunteering would know the current condition of a damaged area, as well as what kind of voluteering tasks or goods are needed (like delivering instant noodles or bottle water).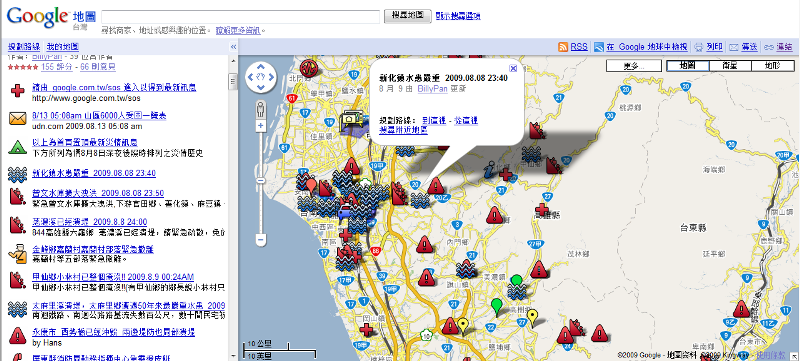 Natural disasters like typhoon and earthquakes happen frequently every year in South & East Asia, and I've grown up with horrible earthquakes and floods even living in a metropolitan city like Taipei. Typhoon Maraka is nothing new in Taiwan, but what totally different is how self-organized network can play a key function of post-catastrophe rescue by the aid of new technology such as locative media. Tuters once respond to Bruce Sterling's darker, more idiosyncratic vision of locative media and claimed that "if, in the enlightenment, we learned that nature—in its role as background to human activity—had been replaced by human second nature, then today we are perhaps at the threshold of a machinic third nature[3]." Commercial interests may be the driving force attributed to the so-called third nature, nevertheless, a natural disaster like Typhoon Morakot, which brings a large-scale of impact on human society, can also influence and reshape the interaction between human and machine in our network society.  
---
[1]
Tuters, Marc and Varnelis,Kazys. 2006. "Beyond Locative Media:Giving Shape to the Internet of Things," LEONARDO, Vol. 39, No. 4, pp. 357.
[2] Ibid, p. 362
[3] Ibid, p. 363