Google Wave: A new way of creating dialogue
Google Wave is an online communication tool for real-time communication and collaboration. A wave can be both a conversation and a document where people can discuss and work together using richly formatted text, photos, videos, maps, and more [1]. In detail a wave means that:
Equals partly conversations and shared documents. People can communicate and work together with richly formatted text, photos, videos, maps, and more.
Any participant can reply anywhere in the message, edit the content and add participants at any point in the process. Then playback lets anyone rewind the wave to see who said what and when.
A wave is live. It is realtime. With live transmission as you type, participants on a wave can have faster conversations, see edits and interact with extensions in real-time.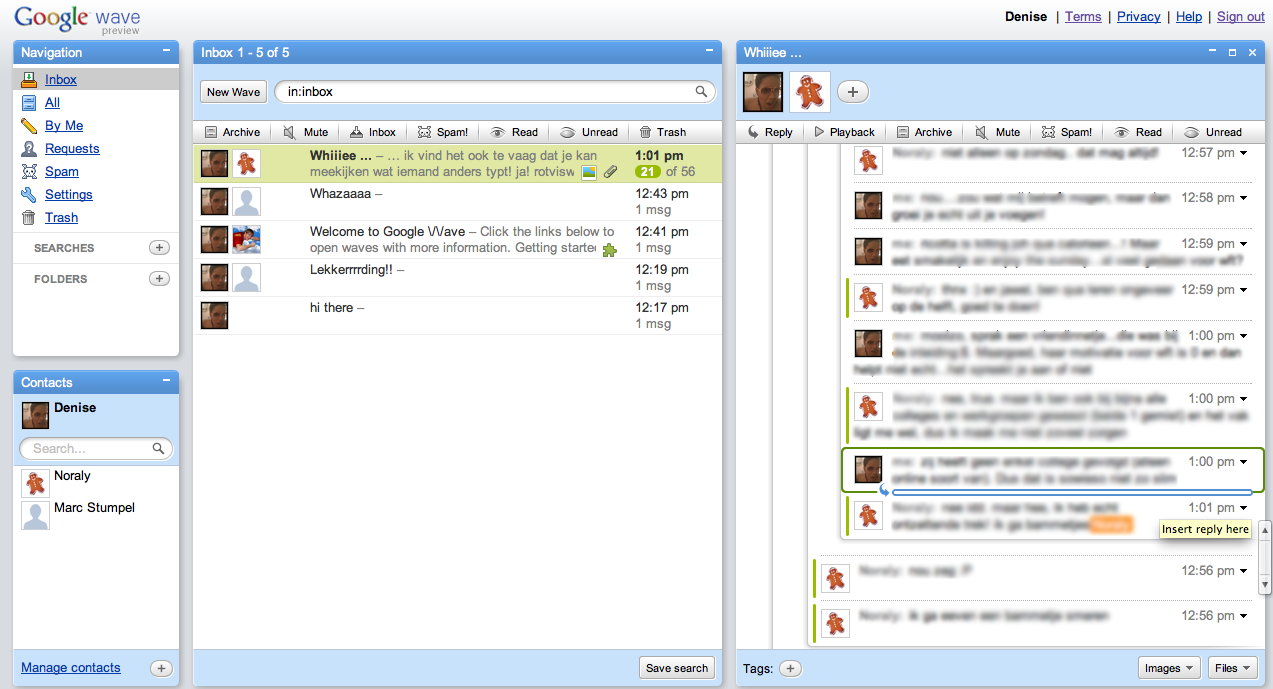 Yesterday I got my long awaited invitation for Google Wave thx to @Zuurstof. The invitations for Google Wave are somewhat scarce so it is pretty cool that I can take a look at it now. My first impression of this new communication tool was in one word: WOW. Edit: it is pretty complex at first, I didn't have any idea how to get started so I had to take a closer look at some demo videoson Youtube (I was not in the mood to see to the looooong vid) and had to visit the Help section of Google Wave, but what the heck, when I got it it was: WOW! But one of the greatest reasons that I found it so WOW is because it creates a totally new way of creating online dialogues.
A new way of creating dialogue
After a little chat with a friend of mine – who also got an invitation for Google Wave – we came to the conclusion that Google Wave has brought a totally new way of creating dialogues between a group of people. Why? It is realtime! While one of the users in the 'wave' it typing a message the remaining users can see what he or she is typing. And this creates the urge to respond immediately to what is being said. It is a more immediate way to respond to the thoughts of others. But this has some side effects…
Translation: I think it's really vague that you can see what someone else is typing!
Some caution is advisable here
I rarely used the Enter / Done button while 'waving' with my friend. Why? Because she already could  see and respond to what I was typing. This way of chatting or 'waving' – don't know what you prefer – creates in my humble opinion a new mindset. And it has effects on the way we write things down. One of the effects is that you have to be really careful when selecting your words before typing them in. What we write down has to be structured in our minds before before writing them down. Even the speed and the pauses someone takes while writing down a 'wave'message can be meaningful in a conversation.  And that is what I found so interesting about Google Wave.
These quick findings got me thinking. A while ago I read a very interesting blogpost of a colleague of mine on the Masters of Media blog. She argues if technology influences what we write and uses the work of media theorist Friedrich Kittler and ProfessorAlan Lui. In her conclusion she states that Alan Lui proposes that:
…we can only create, share, and write things that can be structured. The technology does not only influence how we write, but also what we write or what we can write. I agree with Liu that the technology disciplines our writings and communications in a technical manner, … but I don't think that it disciplines in what we write or what we say [2]
You can relate her findings to the Google Wave platform in a way. From what I have seen of Google Wave it is a technology that influences how we write things down; you have to structure your sentences carefully in your head before writing them down. In a way you can compare this to a face-to-face conversation. You structure the story that you want to tell in your head before speaking out the words.  That is why to me Google Wave seemed a more natural way of creating dialogues online.
However, Google Wave also influences what you write and can write down. Sometimes you will deal with users in a wave that you do not want to share particular information with. 'Fortunately' Google Wave has a delete and edit function, but in most cases the damage is already done. Besides, the playback function of Google Wave may serve as a function to unhide the deleted and edited messages in the wave anyway. In this example you can see that with the playback mode you can retrieve messages that were deleted:
To conclude: in a way I think that Google Wave is a communication tool that strongly disciplines us in what we write due to the immediate causes of our actions. So the disciplinary factor is inherently present and could be of influence on human behaviour.
Can't wait to try Google Wave?: Get your own invitation!
—
Sources:
[1]
http://wave.google.com/help/wave/about.html
[2]
https://mastersofmedia.hum.uva.nl/2009/10/15/discourse-network-2000-does-technology-influence-what-we-write/