RjDj and the rise of 'reactive' music.
As our daily interactions are increasingly affected by the use of mobile wireless devices and technologies, new media seems to become more reactive to our actual environment. Is there an attributable value of our environment to the means of cultural production, consumption and distribution through the use of new media technologies?
The futuristic thought by critical media thinker and researcher Rob van Kranenbug in 'the Internet of Things' that "iPods will display colours and produce sounds that correspond to your surroundings"[1] has now been actualized with the rise of RjDj, the 'reactive' music player.
Last week I attended the Music and Bits conference, where Reality Jockey Ltd. demonstrated their RjDj application and shared their idea of using unique sensory data, generated by the user and the environment as an input for  'experiencing' music. According to the speakers Andy en Martin the experience of music has changed:"Everything is Music". The application, released in 2008, uses the audible input acquired by the iPhone headset or microphone for the reactive (re)creation of sound.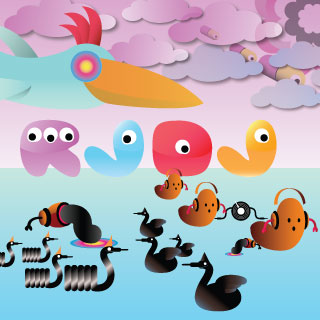 RjDj directly applies effects to its input, by which a unique piece of audio is created. This piece can be recorded and uploaded to the website, where users can also create a profile and share their recordings. Unique audible moments are captured, stored and shared, by the use of reactive compositions that are called 'scenes'.
"Scenes have a different musical structure than traditional compositions and they often have no clear beginning and end. Some scenes promote active listener involvement and others promote passive listening. In any case, when listening to RjDj, take care and enjoy your mind twisting hearing sensations."[2]
There is a variety of free scenes available and there are paid scenes as well. Nonetheless, how these scenes are being created is much more interesting. RjDj gives the opportunity to create scenes by providing a composers pack that contains tools for creating a scene and share it with the RjDj community, which allows composers to experiment with this new 'reactive' music genre that RjDj is promoting and advocating.
However, the 'genre' is in a clearly in a very early stage. For me, using RjDj indeed is a 'twisting' hearing sensation, which went beyond synthesizer plug-ins or simple soundboards. It made me excited to think about music in a much less constrained way. Arguably referring to RjDj as an emerging music experience is much more suiting than calling it a new 'music' genre.
As our environment has become more influential to the production, consumption and distribution of culture, it is satisfying to notice a movement in the music ecosystem whereby the issues surrounding 'intellectual property rights' simply tend to fade and music experiences that are being created by the use new media technologies can be 'fun' again.
"Join the augmented music revolution"!

Visit the Rjdj website
Download the free RjDj iPhone application
Listen to a recording that I've uploaded

Sources
[1] Rob van Kranenburg. The Internet of Things: A Critique of Ambient Technology and the All-Seeing Network of RFID. Amsterdam: INC, 2007
[2] RjDj, What the heck is RjDj?