Who wants to be a DJ?
When just a few months ago the iPad was revealed, it seemed only a matter of when not if the first DJ applications for the newest Apple gadget would hit the market. Now it looks like the Austrian energy drink brand Red Bull will pioneer the electronic music scene with a DJ tool compatible for the iPad, iPod and iPhone. As announced in a press release on September 2, 2010 their Red Bull BPM Player will be launched at an exclusive event on September 16, 2010. The party will take place in the Amsterdam Club the Trouw, and will be headlined by DJs like Modeselektor, Joris Voorn, Nuno dos Santos and others. Individuals can sign up through the event website to get a spot on the guest list, which at this point is already filled up. The software will be available on iTunes starting September 17, 2010 and Red Bull will host a series of world-wide parties following that date.
The BPM Player consists of three different players, Compact, Pro and HD – depending on the user's experience level as well as their device. The software's interface is characterized by its minimalistic design. Usability appears to be Red Bull's main concern, in an attempt to allow everyone, from amateur to pro, to make/mix their own music.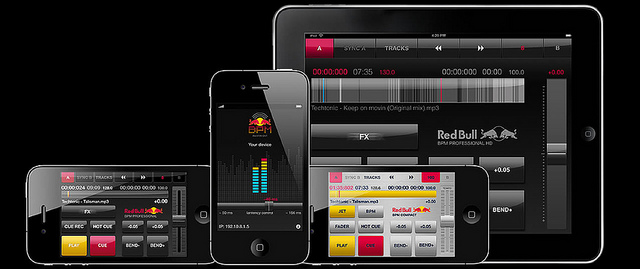 While the notion of participatory new media technologies in the music industry has an appealing touch, the question remains whether these tools aren't just a gadget to reduce the quality of electronic music productions and life sets. The trend could go both ways.  The new software could add depth and more variety to already experienced professionals as well as introducing a democratic element to nowadays club scenes; or it could advocate a culture of amateurs and people who support the idea that electronic music means just pushing a set of buttons. Either way we will be witnessing exciting new developments.  More reporting will follow after next week's event.