Paradiso – The Night of the Unexpected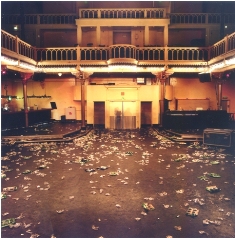 Paradiso is a church building on Weteringschans that serves as a concert hall, club and cultural center since 1968.
The "Night of the unexpected" is an one-day music festival which Paradiso hosts for the last 8 years in Amsterdam. Not only the music attractions and visual arts but also the atmosphere and the building as such makes the visit and overall experience overwhelming.
The concept of the festival is to surprise the audience by featuring and exploring the diversity and dynamics of the contemporary music practice. The festival's line up for 2010 comprised of numerous artists and musical ensembles that performed live and DJ sets that followed the live acts till late at night.
The following artists and ensembles surprised me with their non mainstream sound, visuals and performance: Knalpot, an artistic duo that perform with guitar, electronics and drums, gave two short demos of their recent work. Alex Nowitz, a solo performer who uses 2 remote controllers in order to compose and produce his electronic sounds, and finally, Kill a band from Oslo, Norway that combines metal, rock and electronic sounds in a very unique way. The strong lights that they use for their visuals and the intense bassline made their performance even more rousing.
Alex Nowitz
Kill
All in all, yesterday night i found myself attending this very stimulous music concert that involved different musical  genres and performances which made me speculate on all these new experiences that you gain when you go out to the  world, when you drift and are left driven by the encounters that you find. When your life is no longer an everyday routine but an everyday surpise.