Youtube is going live in 3,2,1…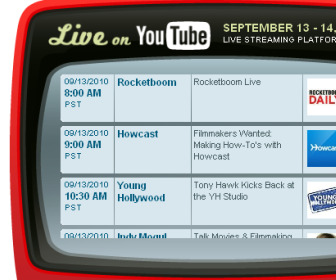 Would you like to watch the latest episodes of Dexter, Entourage or NCIS  on your computer without having to search all sorts of obscure websites? Without the piracy-issue pricking your conscience? If it's up to Youtube in the near future we all would leave the comfort of our televisionset in the livingroom and move to our computer, surf to Youtube and watch their latest move to expand their already enormous power: live streaming.
Call me a Youtube-fanatic or at least a follower who watches every step of this multi-billion enterprise with both admiration as with criticism. So when they announced the trial of a new live streaming platform on their blog I raised an eyebrow and asked myself: Isn't that water under the bridge? Youtube already live streamed a wide array of live events like the E3, Indian Premier League and a U2-concert and rushing into yet another live-stream attempt would seem pointless. But according to them they open a new chapter of Youtube live streaming, one that has never been seen before and in conjunction with four of their partners they will reveal a platform that integrates live streaming directly into Youtube channels. This opens up the possibility of live comments and engaging with the broadcasters and the community and all the broadcasters need is a webcam. But like with every 'new' and alleged earth-shattering invention on the web there are a few questions that have be asked.

One of the biggest challenges of online video services like Youtube is attracting a crowd that is used to sitting in the comfort of their livingroom, on their couch with the remote in their left-hand and a bag of potatoes in the right, the so-called 'couch potatoes'. It is hard to lure them away from their HD 30-inch digital, surround sound  television set to the 15 inch screen of their pc or laptop and you have to hand it to them: why would they? So Youtube' attempt to breathe new life into live streaming seems doomed to fail. Youtube also understands the only reason why people would leave what they are used to is when there is something to gain elsewhere, so they introduced the the possibility of commenting and engaging. But in my opinion this added value is not valuable enough to attract the audience Youtube is used to, certainly if you consider that of the 100 people engaging in a social, web 2.0 application 89 people are passive users and 11 actively comment on the highly active individual.
Youtube is not only fighting the 'added value' of the comfort and quality of the television but also websites like
Ustream
,
Justin.tv
and L
ivestream
that ,although they are offending copyright issues, offer the audience the see the latest content first whenever they want and websurfers have never been known as having a strong conscience: piracy is not an issue for them. Ofcourse like this
blogger
says copyright issues and bandwith problems are also big issues that Youtube has to overcome but don't seem to pose that big of a problem that the numerous lawyers and technicians of Youtube can not resolve.  It's up to the marketeers and creative brains of Youtube to come up with an 'added value' that surpasses all the other ones.