Book review: "PORN.COM: Making Sense of Online Pornography" – by Feona Attwood
"12 percent of all Web sites are pornographic, 25 percent of all search engine requests are pornographic, 35 percent of all internet downloads are pornographic, every second, 28,258 internet users are viewing pornography, every second, $89.00 is spent on internet porn, every day, 266 new porn sites appear on the web, U.S. revenue from internet porn in 2006: $2.84 billion"
Although porn is very popular and an enormous economic force, contemporary debates about internet mostly rearticulate concerns about the bad effects of pornography on attitudes, believes and behavior. And because today porn is more accessible and mainstream then ever, this concern grows. But despite the level of concern, there's been a distinctive lack of academic work on online pornography. And that's exactly what this book is all about.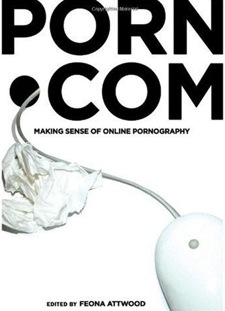 Porn.Com is a collection of articles edited by Feona Attwood. She teaches media and communication studies at Sheffield University in the United Kingdom. Her research interests include new pornographies, online sex practices, and controversial images. The approach of this book is to investigate porn as a set of cultural practices, instead of the assumption that it's a social problem. In this, it takes the stance of contemporary Media and Cultural Studies and studies on digital technologies in late modern societies. The aim is to make sense of online pornography by looking at the shifts occurring in the digital pornography.
A variety of porn styles are being discussed, of which each have different means of expression, for example Child Porn, Swinging, Horrorporn, and Gayporn. The different styles have their own ways of representing the desires of individual performers, communities or subcultures; of asserting or refusing sex and gender difference; or on how is upholds or transgresses sexual norms and categories.
The way we look at and make use of porn has been changed due to the user-generated content, that's been made possible because of the development of digital camera's and camera phones. They have made it much easier to produce and share images. Because of this Attwood examines the notion that the internet is "democratizing pornography". New porn practices, like blogging and sharing amateur videos on for example porntube.com, reveal much about contemporary views of sex and the self, the real and the body, culture and commerce. The debates around this subject are being examined from a non-judgemental, academic point of view. Therefore this book is recommended to anyone who's interested in reading about the role of porn in our contemporary society.
Full Details:
Porn.com: Making Sense of Online Pornography
Feona Attwood, 2010
Peter Lang: New York
ISBN 978-1-4331-0207-3 (paperback)