Book review: "Deep Search. The Politics of Search beyond Google"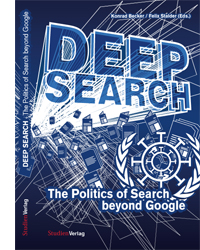 It is hard to imagine life without search engines. Information is everywhere and we seem to need it all the time. So the importance of being able to access all information at any particular time of our choosing cannot be underestimated. This speaks for itself. Or does it?
Unfortunately, most people use search engines on a daily basis without ever even thinking about it, let alone asking critical questions about such an influential presence in their lives. Examining the social and technological construction of information and knowledge, Deep Search. The Politics of Search beyond Google aims to ask the questions that should desperately be raised by everyone using the Internet.
"How is computer-readable significance produced? How is meaning involved in machine communication? Where is the emancipatory potential of having access to such vast amounts of information? And where are the dangers of having to rely on search engines – particularly when operated by opaque monopolies – to make use of that information?" The latter, of course, an unavoidable reference to Google, the ultimate market dominator and recent producer of yet another search engine enhancement.
With contributions by everyone from Katja Mayer to Matteo Pasquinelli, Lev Manovich and many others, Deep Search covers the issues raised in four topics: histories, liberties, power and visibility, ensuring a thorough and global criticism on the subject. In the context of law for example, not many rules and regulations have been established that provide a framework for all the (potential) players in search engine field, thus allowing for much more legal tolerance than would probably be desired by most users. This is a well-known issue in countries without a tradition of free press and freedom of expression, but Joris van Hoboken renders a much-needed eye opener on the topic in a European setting.
And there are plenty more eye openers to be found in Deep Search. Its examination of the politics and power play that surround the development and use of search engines is insightful. The book offers an understanding of the past and daring statements and ideas for the future, but most of all it brings up those questions that are now more than ever relevant and incredibly important. If the next time you jump behind a computer and start searching you want to do it without a blindfold on, read this.
Full details:
Deep Search. The Politics of Search beyond Google.
By Konrad Becker and Felix Stalder, 2009
Studienverlag & Transaction Publishers
ISBN 978-3-7065-4795-6