Book review: Repair – Ready to pull the lifeline
Repair is an art and technology festival organized by ARS Electronica, an Austrian platform for digital art and media culture based in Linz. The festival was held this year from September 2 until September 11. The message of Repair is loud and clear. Up until now we homo sapiens have gone out of our way to slowly destroy the earth.  Time is however running out, and we have to act now.  We can't go back, so we have to start again and make a change. We have to change ourselves and our society in order to change the environment and start a culture of repair.
Repair means fixing something so it can function again, but repair does not just make it work again, it makes it better. It makes it unique. Repair here can be interpreted literally but also conceptually. Products, societies, culture, bodies, places, anything can be repaired. As recorded in Platform 21's repair manifesto, we have to stop recycling and start repairing. In practice this demands a change in design and production. Products are currently being produced to be replaced within a set amount of time, preferably as soon as possible. The sooner it breaks down, the sooner it needs to be replaced. It boosts our economy, but pollutes our planet. Repair argues for us to break this cycle.But more importantly, Repair demands a culture change.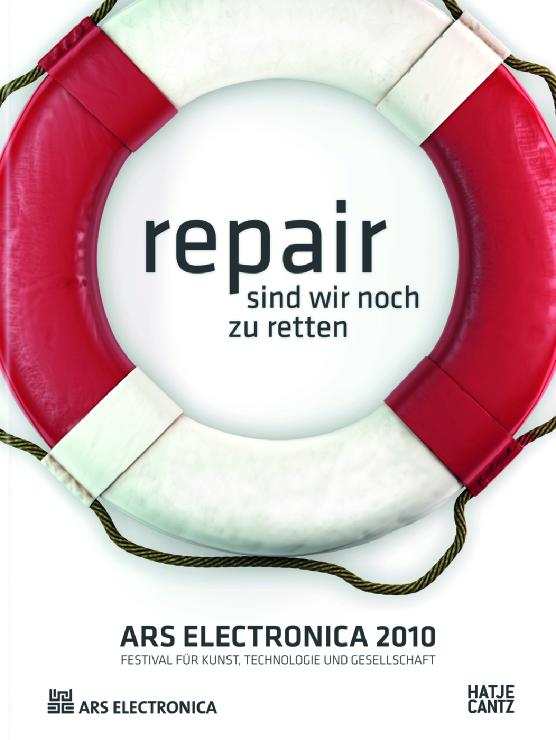 The festival is uniquely recorded in this visually appealing catalogue. While half in German and half in English, the catalogue's collection of beautiful pictures serves a supportive role in the message. The projects are accompanied by explaining text by the artist that together with manifestos and interviews give a good impression about what the festival is about. The upbeat tone leaves the reader with an almost contagious feeling of optimism.While it is easy to get carried away by this optimism, it is important to stay grounded as well. Some concepts, while admirable, remain hard to imagine and apply in everyday life.
Luckily Repair also has ears for a more critical approach. An example would be the two interviews conducted by Andreas Hirsch about the concept of the Open Source Lifestyle that is exhibited at the festival. Identical questions were asked to Geert Lovink and Joichi Otto, but both men share different opinions. It speaks for the festival to have ears for different sides of this optimistic ideal. While Joichi Otto sees the open source life as the way of the future, Geert Lovink provides some grounding arguments and asks for context.
Talk of a change of society can be very inspirational, but when questions about what is to happen to the actual industrial economy right now are asked, answers stay somewhat vague. Sustainablity is one thing, but what is a manufacturing company to do if our economy in order to be sustainable must produce far fewer things? A question imposed by John Thackara, proponent of the open source life, himself. He also bravely admits to not having a real answer.
Such is the case with more concepts that are presented. While often creative and innovative not everything that is presented is that practically applicable. The question however remain if this is really necessary. Art doesn't  need to have all the answers. The task of art is to make us think and to wake us up. And on the way perhaps trigger the process of formulating the answers ourselves. It is clear that we desperately need answers, overpopulation and pollution and are not just concepts. It is everyday reality.
While the message of Repair strongly relies on inspirational quotes like ' The best way to predict the future is to invent it' and 'There's no time left for pessimism', Repair above all points out that we need to make an extensive change. That is also why Repairs optimism is in place. Not only is it in place, it is essential.
The Repair catalogue offers a nice visual and conceptual overview of original ideas and projects in the light of our worries about mother earth. It is a beautiful book for casually placing on the coffee table, but is also substantive in a way that it brings together the state of the art ideas about a sustainable future. Repair tries to convince us that it is possible. It aims to inspire us and to provoke us to think and act upon it. It also makes me secretly wish I were there to experience the atmosphere.
————-
For those who are interested, some lectures can be viewed at ARS Electronica's Vimeo channel.