Ah Dr. Blofeld, I've been expecting you!
Well not quite you …
When I wrote my article in Wikipedia about Suzhou Creek Art District in Shanghai, I really hadn't expected to encounter Dr. Blofeld coming out of hiding from his Himalayan retreat to edit my category listing! Au contraire, I had expected perhaps a bot or two … but Dr. Blofeld and his odd-eyed furry feline, well that's original! If that's not strange enough, in the space of 5 minutes of posting my original entry, I was pulled up for category misdemeanour 1.01 by none other than a fellow of the mysterious sounding Order of the Superior Scribe of Wikipedia (imagine metallic rasping voiceover here). Oh dear, things are getting serious around here! I am taken to task by two rather unusual encyclopedia copy editors. Hmmm this all smells very theatrical and game-like to me. Ok Bond, let's just take a quick look at the files …
Hmm intriguing, Dr Blofeld likes to copy edit entries on James Bond and Asia. Meanwhile, the user file on Slon02 reads like an end of level game progress chart. This is fascinating stuff, I'm reminded of Jane McGonigal's (Institute for the Future) TED talk on video games . McGonigal's hypothesis on how we can leverage gaming skills to tackle real problems comes into focus when you look at the volunteers' ranking system for Wikipedia. While Wikipedia are not utilising gaming skills as such, they are using a game style strategy such as the level-up, title and reward system to motivate volunteers into fighting the good fight against bad grammar and Wikipedic vandalism. Barnstars can be earned in competitions such as the 'Guild of Copy Editors July 2010 Backlog Drive' for which Slon02 displays a badge of 'Most Articles Completed on the First Day' on his user page.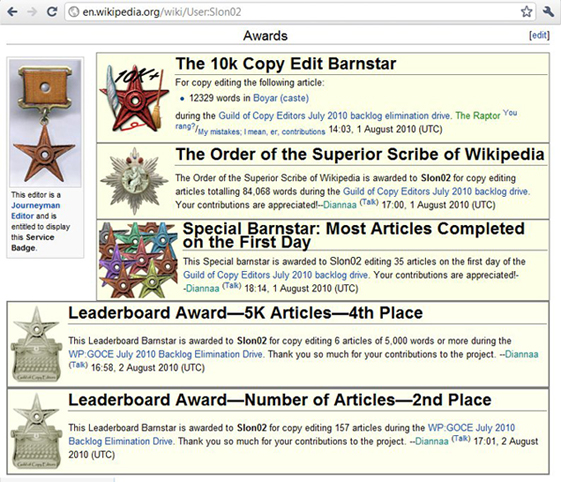 Needless to say, there has been much debate over the drop or decline in the numbers of editors of the English Wikipedia. The difficulty in finding a new topic to write about means that only very new or niche articles are yet to be included for editing, so it's no wonder that many volunteers have called it a day. However, my introduction to Dr. Blofeld and Slon02 left me with no doubt that the hardcore volunteers that remain are seriously committed to their craft and won't jump ship too soon. I myself, as a Wikipedia newbie, am seriously tempted to edit such gems as 'Fishballs' and 'Raaj the Showman'!