NEXT! Chatroulette: a shuffle through genital exposure and musicality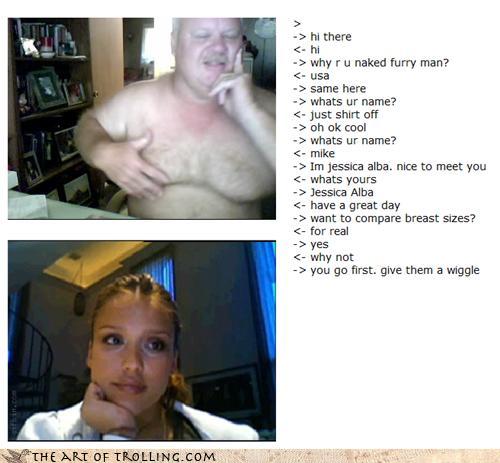 Presenting! an online  webcam chat room with functions similar to that of Skype or any other audio-video-chat spaces, yet the difference here lays in the simplicity of Chatroulette. The creator; a seventeen year old  Russian teenager named; Andrey Ternovskiy briefly explained in an interview with the NY Times that his ambitions were simply to establish another social space for him and his friends, stating;
"I created this project for fun. Initially, I had no business goals with it. I created this project recently. I was and still am a teenager myself, that is why I had a certain feeling of what other teenagers would want to see on the Internet. I myself enjoyed talking to friends with Skype using a microphone and webcam. But we got tired of talking to each other eventually. So I decided to create a little site for me and my friends where we could connect randomly with other people."
Chatroulette sets out to bring together people through a random selection of users around the world. As a user you are constantly being faced with strangers, equipped with a "next" button, one is able to click away people and immediately be faced with another player. Joining Chatroulette is as simple as the features it offers, there is no need to register or give away any form of personal information. The only requirement is that you have a functioning webcam.
Andrey seemingly innocent aspirations for Chatroulette might suggestively no longer be reflexive of that, looking at the content that is exposed on the site. The sites visitors are varied in age group, as there are no age limits. Chatroulette has become an expanding forum for sexual social networking.  The anonymity of the space has encouraged a great deal of personal exposure amongst the visitors. Sexual exposure or perhaps even exhibitionism is very commonly seen on this site. Users are regularly encountering people masturbating, having sex or displaying other sexual behaviour, as well as other forms of  actions deemed socially inappropriate.  Sex and the internet has since its beginning been intensively associated, sexually related content online could even be suggested as a factor that pushed the internet usage even further, that together with the increase in online pornographic sites. In her book Control and freedom: power and paranoia in the age of fibre optics (2006) Wendy Chun goes as far as stipulating "Cyber porn fuelled the dot-com craze ". Chun highlights the relationship between our sexual desires and our online presence; we seek contact online looking to satisfy needs.
The great deal of exhibitionism that is carried out through Chatroulette could be suggested as a reflection of peoples suppressed sexual desires. The idea of suppressed desires relates to the Freudian theory of the Id, Ego and Super Ego, from S. Freud's sexual psychoanalytical works from the nineteen-twenties titled: "Beyond the pleasure principle" followed by the "Id, Ego and Super ego".  The Id is driven by the pleasure principle and our intuitive cravings, whilst the Ego struggles to tame our need for gratification following the reality principle. The Ego which looks to maintain our desires within socially acceptable frames, projects the needs through objects that can substitute the actual idea developed by the Id. At the end of the process there is the Superego which ultimately acknowledges the rules and standards considered acceptable by the individuals' surroundings. The Superego is also what allows one to recognise the consequences leading to guilt and punishment as well as rewards. As infants we relied on the Id for survival, seeing as we are only able to express our outmost needs, yet as we grow older the struggle of acceptability in society and our cravings intensifies. Chatroulette existing as a platform for sexual social networking would perhaps suggest a space for people to act out their secret desires, following Freud's pleasure principle and the Id.
The internet and social networking site such as Chatroulette allows people to explore subjects and behaviours that could be considered taboo in other private social situations. Such as that of exhibitionism, this then becomes a very common expression on such sites. In the three volumes of Michel Foucault Histoire de la Sexualite (1976- 1984) he discusses repressed sexuality and sexual discourse. Foucault argues that sex became such a taboo- made topic following the rise of the 18th C bourgeois; expressing sexual desire and other pleasures publicly was made unacceptable. This lead to sexually related matters becoming censored and for the private domain only, which in its turn resulted in a high rise within prostitution and people seeking psychiatric care. People were suppressing their needs and were forced to resort to the situations as mentioned by Foucault. A solution to this he argued, would be encouraging discourse on the matters, freeing people from their frustrations, through communication. He ultimately was suggesting that the taboo placed on sex to be removed, thus permitting people to discuss their pleasures and cravings.
Chatroulette can be argued as an outlet for people's suppressed desires, perhaps even a solution of discourse mentioned by Foucault. Chatroulette is a space that encourages exhibitionism and behaviour that has been condemned within the "offline" social spaces. Whether its people acting out sexual fantasies or playing an instrument, the forum provides a wide platform for people to enact the roles of exhibitionists or in the case of the observer; as voyeurists.  Chatroulette has evolved into such a success, that other sites are adopting its features, such as the new site Wocchat. The main factors that should be highlighted here is that with Chatroulette the visitors are being offered the ideal platform to explore the "Id", yet there are also other dilemmas that should be considered with sites such as this one, the dangers of paedophilia and other situations  that can result as harmful for younger visitors. As there is no age limit and need for registration to the sites, with today s younger generations spending a great deal of time online, and a lot of it being unsupervised. As a child or teenager growing up it, the events occurring on the site can be misleading and cause damage to the child. Chatroulette is a phenomenon that gives the public an experience of always meeting new people, through its simple features it has established a space where the user chooses its own degree of exposure and anonymity, based on this it might even be the ultimate online experience?
Musicality and genital exposure, the tales of Chatroulette