Kaassouffle…good enough to stay?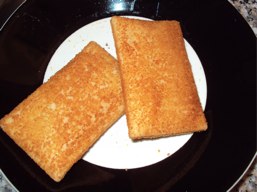 My adventures in kaassouffle'ing have officially begun and the beloved Dutch streetfood snack has now triumphed to English Wikipedia status. Thus far, the bots have not attacked my entry and only a reviewer from the Czech Republic stepped in to align my photos to the right side of the page. Thank you, Vejvančický.
Though my first time in the Netherlands was five years ago as part of a Euro-trip, I was only introduced to this fried cheese delicacy when a Dutch friend was shocked to find out I had not experienced the ubiquitous greasy snack. To FEBO, and their nifty automat machine, we went and I did what every newbie does — I burned my mouth with the first bite of dripping hot cheese. So here I am a year later writing my first Wikipedia entry on kaassouffle — an entry possibly good enough to stay.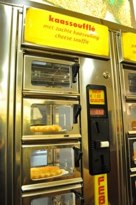 After my academic posting on Wikipedia a couple of weeks ago, it was time to make this assignment fun. I was curious about trivia relating to this snack and Googling it found there are very few 'serious' and factual entries about it. The Dutch Wikipedia page was quite bare, a few sentences long, and afterall, doesn't this popular fast-food in the country I currently reside in deserve its very own (improved) entry in the English language?; I also thought of all the tourists who might be looking for Dutch cuisine (and experiences) they should try, and isn't Wikipedia the first page nearly all of us go to?
My trivial Wikipedia page lives on for now and I am beginning to think it may be notable enough to stay. I can only hope fellow Wikipedians do not think it is a complete joke and instead decide to offer their own contributions as well as credible sources.
Stay tuned for updates…