What's got the Greater Manchester Police all aTwitter today?
Discard your police scanner, since 5am this morning and for 24 hours only, the Greater Manchester Police have been logging every incident live on Twitter. What's got them all atwitter?  According to their website they want to raise the public's awareness of 'the complexities of modern policing, which often aren't fully appreciated.'[1] By publishing events real-time as they unfold they hope to give the general public insight into how social issues are increasingly taking up a large proportion of their duties and draining public funds.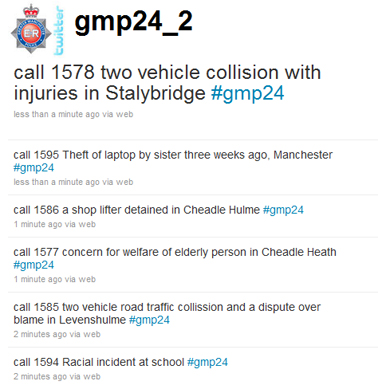 It's interesting to see a police force like the Greater Manchester Police using social media tools like Twitter in order to engage and inform the public (even as a PR case). In fact, it might interest you (or not) to know there are quite a number of law enforcement agencies using social media such as Twitter and Facebook as a way to foster public relationships and build networks with the aim of tackling crime and trying to solve social problems.
(Click image to view or visit http://twitter.com/gmp24_1)
The West Midland's Police have adapted their public website to make better use of social media, in a BBC interview Inspector Mark Payne stated:
"We want to talk to people and allow people to talk to influence the way we police. Print media is shrinking and losing some of its traditional audience. This is not about abandoning the traditional ways. More and more people are using social media to communicate and, if that's where people are talking, that's where we need to go."[2]
Social media no doubt allows for greater communication, visibility and interaction with the police force and this social extension into new media has already helped solve crime, but will this 24 hour Twitter PR exercise really help the Greater Manchester Police with their budget? Let's hope so! It certainly has helped them gain followers. Of the three live feeds Twitter 24_1 has 17,368 followers 24_2 has 9,833 and 24_3 has 9,302.
To view the 24 hour live feeds visit any of the three alternating sites:
1. http://twitter.com/gmp24_1
2. http://twitter.com/gmp24_2
3. http://twitter.com/gmp24_3
References
[1] http://www.gmp.police.uk/mainsite/pages/42B60B1DA0B3A6B1802577BC00184C53.htm
[2] http://news.bbc.co.uk/2/hi/8363064.stm