Chatroulette, no longer The Ultimate Online Experience?
In a previous post called; NEXT!Chatroulette; a shuffle through genital exposure and musicality I went a head and proclaimed Chatroulette to be  an ultimate online experience, allowing visitors utter anonymity and random shuffles between users. Yet  recently I returned to this internet treat, and realized  it was no longer the same . The administrators of the site have now decided to address the matter of nudity and perverted behavior on the popular forum, doing this through some slight adjustments to the login page. In a very short and concise manner, it is encouraged that the users remain fully clothed.
Enable your camera and press Scan to begin.
Tip: use mouse to change video resolution
Dress code: stay fully clothed
[Terms of Use]

E-mail: feedback@chatroulette.com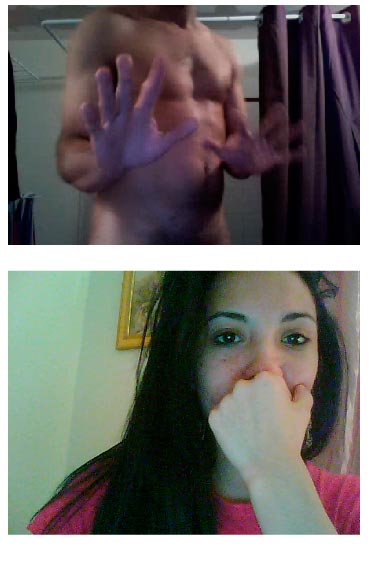 The dress code is not the only change seen on the site, they have also set up a "report"  tab in the case of someone behaving in a manner considered  inappropriate. These alterations seemingly minor, encompass a significant meaning that was projected by Chatroulette; anonymity. The original layout of the side provided its visitors an experience through exhibitionism and voyeurism depending how actively you engaged yourself in the chats. Referring some of the sexually charged activities seen on Chatroulette to Freudian theories of the Id, Ego and Super Ego. People whom came on Chatroulette shared the unique option of  exposing their sexual or other intimate desires on the site as well as simply observing others , live through their webcams.  There was no need for anything to  be  inhibited, as the site shares  a minimum requirement of  a webcam function  in order to join the global random  chat space. Wether it was someone masturbating or playing an instrument, people log on and are free to act out any kind of behaviour.
The argument followed that that this ability would be an ultimate achievement for online interactivity, social interaction at its finest. The option of clicking "next"  and instantly switching over to another chat, meant that a user could take on the control of exposure and level of interactivity. The common obligations of having to give away personal information for registration on social networking sites, does not exist, neither could one report  activities as well as there never having been a dress code to abide by. Now the question is what reactions these new alterations would bring? There is still no active registration necessary , yet one does risk the ability of being reported, which naturally suggests that a form of monitoring exist.The dress code suggestion could also be stressed as a factor condemning exhibitionism and the free space of exposure.
In a less dramatic approach its safe too suggest that Chatroulette is moving in a direction closer to that of  the standardised online format of social networking, where the individual is obligated to register. Thus giving away personal information, resulting in the experience becoming non anonymous.  Less anonymity would suggest the type of social experiences that we normally encounter  offline in our daily lives. Such interactions which  force us to act accordingly to the norms and expectations of our communities.  Chatroulette as a social entity allowing people to explore their interests online unprohibited , has come to an end. Chatroulette we thank you for an attempt at providing the online social networking world an Ultimate Online Experience.