Professional use of e-readers: a whole different e-game
Take off your shoes, kick back and relax: cuddling up on the couch with your e-reader. Or forget about the couch and lay before the crackling open fire, maybe with a cup of hot coco like you might have done when you traditionally would read a long-awaited book. And then, let yourself be transported to that other universe the writer has laid out for you. For most people, e-reading is a substitute for leisurely book reading.
However, reading is of course not always for pleasure, and neither should e-reading be. E-readers have potential for professionals that are on the road a lot, who generally don't work on a desk, but still need to have loads of information at hand. Imagine an architect on his building site who needs to consult a report. Or us students having to deal with dozens, maybe hundreds of academic articles. A city where I'm about to finish a webproject just started a pilot where the city councilors all get iPad's to view notes, reports and minutes during the city councilor's meetings. But, as apparent as the potential for this kind of usage is, the market seems to lag behind. The e-reader market for professional users turns out to be a whole different ball game, or e-game so to speak.
Why is it any different?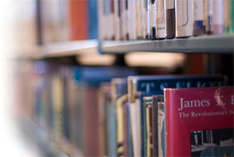 Those who use the device for relaxing use it in a different way then those who need it for work. How do the requirements for professional use differ from relaxing purposes? Here are some of the criteria that a pro e-reader should meet. One of the main problems is the organization of information. Where a free time e-reader might randomly, or alphabetically, put the purchased books on some digital bookshelves, this method won't do for professionals having to deal with loads of documents that need categorization. Another thing is the formats of the texts. On the work floor one should be able to consult common business formats such as Word and Powerpoint, and of course PDF. Also it should be easy to exchange the files, so they can be easily sharable, not just among colleagues, but also between platforms. An internet connection probably comes in useful for this sharing. Especially academics might want to make references to the text, so it's handy if the e-reader supports easy referencing. And not just for this user group, but for all professional users, taking notes on the displayed text is essential. Last off, I would be nice if it's touch screen.
Most e-readers on the market today don't include these features, or only some of them. There have been two promising initiatives, but both haven't yet risen to the occasion.
Plastic Logic
Plastic Logic announced its first generation QUE proReader back in 2009, promising a new all-business e-reading device:
With QUE, Plastic Logic is expanding the eReader category, which to date has focused on leisure reading devices and casual users. QUE is designed to simplify the multi-faceted lifestyle of the modern businessperson, and to quite literally lighten their workload. In addition to connecting its users with their business and professional newspapers, books and periodicals, QUE supports the document formats business users need (including PDF, Word, PowerPoint, and Excel documents) and features powerful tools for interacting with and managing the content. […] "More than an eReader, QUE means business."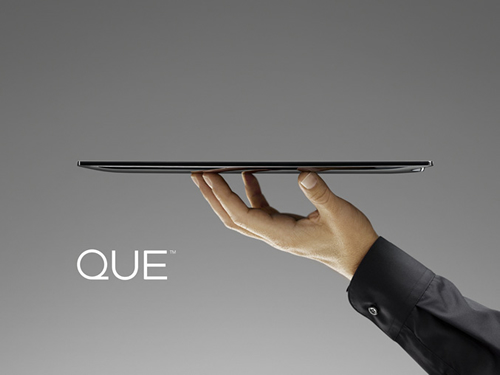 Plastic Logic modeled the slick touch-screen device at the CES, January 2010. With Wi-Fi and 3G connection, document management functionality, calendar options and all this at roughly standard letter size and weighing 17.2 ounces, further developments appeared promising. But then, after having postponed production a couple of times, in august 2010 Plastic Logic CEO Richard Archuleta announced the cancelation of the QUE reader, stating that "we recognize the market has dramatically changed, and with the product delays we have experienced, it no longer make sense for us to move forward with our first generation electronic reading product." As of yet, it is not exaclty clear what further plans entail.
iRex Technologies/IRX Innovations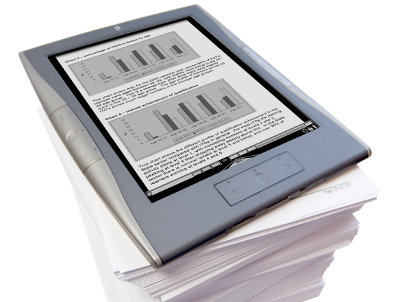 Then there's Dutch producer iRex Technologies. iRex already had products on the market from 2005, starting with the iLiad which was running well enough. The company originally intended to focus solely on the business market, but had gradually shifted towards the wider consumer market, leaving their original intentions unpursued. Some upcoming models, like the DR800 or the DR1000, seemed promising for business purposes in how they handled documents and connection possibilities. But as their new DR800 ran into problems when hitting the American market, delays resulted in the company missing out on the holiday season of 2009. It hit them hard, and by June 2010 the company was up for bankruptcy.
iRex Technologies hasen't given up hope though. Well, iRex Technologies has, but the people behind it haven't. CEO Hans Brons founded the new IRX Innovations and has learned some lessons, especially on the differences between the consumer market and the business market. Brons says the company lost focus on the original target group (professionals), but in it's new form IRX Innovations will go back to it's business-to-business formula and leave the consumer market for other producers to overtake.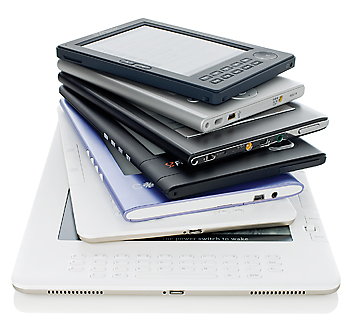 I'm curious if IRX Innovations has what it takes to realize their promise this second time around. E-readers are booming and fact is that by now the iPads, the BeBooks, the Nooks and Kindles have taken up residence around us, just like their names have taken up residence in our minds. When we think of e-reading, we'll think of those names, not of IRX. Missing out on that first big wave is a tough thing to overcome; especially when you were there, but just didn't catch it.