Apple Is Chasing The Largests.
Apple Inc. is becoming on of the most powerfull sellers and producers of smart phones. According to DC's Worldwide Quarterly Mobile Phone Tracker Apple, that came up on October 28, 2010, has went up and joined three the biggest phones producers, namely Nokia, Samsung and LG Electronics. The American multinational corporation that designs and markets consumer electronics, computer software, and personal computers has been listed as fourth the biggest seller and producer of mobile phones.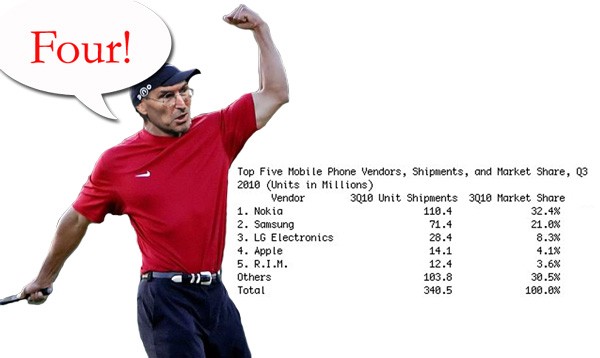 source http://www.engadget.com
Looking at the table here, we can see how the market of mobile and smart phones is shredded. Although being at fourth place, it has got only 4,1% share of the whole market. Brands from the top of the table Nokia and Samsung have 32% and 21% respectively. In spite of the fact that there is a huge distance between Apple and leading producers, it is an enormous success for producers of devices such as iPad and iPhone. Even now the computer company is shipping 14.1 million handsets every three months according to the latest IDC numbers. The company's record shipment performance can be attributed to the introduction of the iPhone 4 in 17 new countries last quarter. They still expect better and better scores, what might destroy 'oligarchy' of two biggest brands.
Bad news for Sony Ericcson lovers, which has been pushed off the list for the first time since 2004 when IDC began tracking the top 5 vendors. This should also apply Nokia users. As we read in Engadget portal:
Overall market leader Nokia, slipped from a 36.5 percent to a 32.4 percent market share since the same quarter last year. IDC notes that Nokia is starting to show some weakness in emerging markets, one of Nokia's last strongholds, with smaller regional handset makers starting to grab market share away from Espoo in Asia / Pacific and Latin America. It's not doing well in smartphones either, with IDC claiming that Android devices are gaining momentum at Nokia's expense.
The mobile phone producers that are 'delivering popular smartphone models are among the fastest growing firms,' said Kevin Restivo, senior research analyst with IDC's Worldwide Mobile Phone Tracker. 'Vendors that aren't developing a strong portfolio of smartphones will be challenged to maintain and grow market share in the future.' Therefore the war has not finished yet. We will for sure be introduced, in a near future, to some new mobile devices that will revolutionize mobile phones market and for sure mix in the table of best vendors.
It's just a matter of time.
Sources:
http://www.engadget.com/2010/10/29/idc-apple-passes-rim-to-become-fourth-largest-mobile-phone-vend/
http://www.marketwatch.com/story/apple-joins-top-five-mobile-phone-vendors-as-worldwide-market-grows-nearly-15-in-third-quarter-according-to-idc-2010-10-28
http://www.marketwatch.com/story/apple-joins-top-five-mobile-phone-vendors-as-worldwide-market-grows-nearly-15-in-third-quarter-according-to-idc-2010-10-28