Funware _playing with software art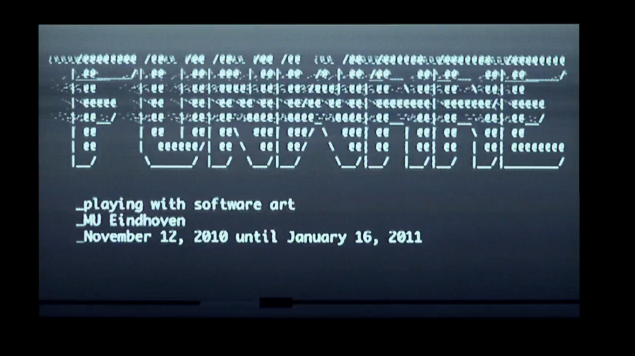 November 12, 2010 until January 16, 2011 | Conference on saturday november 27
On saturday november 27 MU and Baltan Laboratories in collaboration with STRP Festival organise a Funware conference. Provocative views on humor, software, playing and art will be given by amongst others Olga Goriunova (RUS/UK), Wendy Chun (US), Matthew Fuller (UK) and Wilfried Hou Je bek (NL). Register for this conference via Baltan Laboratories. Entrance is 10 euro including lunch.
programme Funware conference
Making and using software can be experimental, humorous and aesthetically rich.
The international exhibition Funware deals with this Fun-factor in softwaredevelopment, and the many ways in which artists have run off with it in past and present. For this seventeen very diverse and mostly interactive projects, in which playing with software is the starting point, are being brought together in MU.
Funware proves that the world is partly run by freaks, and that even the most formal and logical domaines of human activity are drenched with humor and experimental fun. Software is one of the realms in which these kinds op practices of geeks and professionals, codeurs and artists meet. Funware offers us a playfull way to re-address software, as an invisible universal culture, in its aesthetics, history, and power.
WORKSHOPS
In the context of Funware MU offers a couple of software workshops. In a workshop of an hourandahalf you will get introduced to the world of open source programming with Processing. There will also be a three hour workshop Arduino, in which you not only code your own software but also build a mini-computer that will respond to your software like a little robot or sensorbox.
Workshops with open registration are being given on Saturday December 11, 2010 and Saturday January 15, 2011 between 2 and 5 pm. There is only a limited amount of places available so be quick to register at mu@mu.nl or +31 (0)40-2961663. Costs are 7,50 € pp for Processing, 15 euro pp for Arduino (excl kit).
David Link / Christoph Haag, Martin Rumori, Franziska Windisch & Ludwig Zeller / Dave Griffiths / Electroboutique / Joan Leandre / Jon Satrom & Ben Syverson / Roger Wigger & !Mediengruppe Bitnik / RTMark / Bob Zimbinski, Jan Hubicka & Greg Alexander / Adrian Ward / I/O/D / JODI / Amy Alexander / Annina Rüst / Gazira Babeli / Dave Griffiths, Aymeric Mansoux & Marloes de Valk /