Online Love Search: New Identity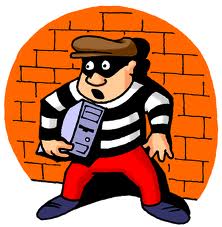 You might recognize the feeling of  a brief immediate panic, one where your hands fail to remain dry, your mouth goes depleted and you experience slight nausea, recently it happened to me. I had just committed my first ever Facebook grand theft, and for a whole six minutes I felt deviant, immoral and just plain bad.  I even contemplated to remove the selected picture, but that would suggest waiting yet another 48 hours to have an eDarling profile picture approved. So I decided against myself and kept the picture I had "borrowed" from the Facebook account of a random Eritrean girl in the US. My "victim" was discovered in a group photo featured in an album belonging to someone that knows someone, that knows someone, that knows me. With no friends in common, residence across the Atlantic and most importantly access to an abundance of profile pictures for me roam through, she was ideal.
I adopted the most modest image I could find( close up, alluring eyes, medium smile, head tilted, and a slight bit of shoulder on display) this was important as I am looking  to appeal to a greater range of potentials on the dating site, again also remembering the eDarling codex of avoiding "overly sexualized content". Eventually picture was uploaded and the profile deemed complete. The moral dilemma I initially experienced was eventually (after six minutes) washed away as my "new" identity is crucial for the research to be pursued unprohibited. Fair enough, I might be in the process of conducting research as well as personally suffering an overbearing amount of moral values, but the fact is that downloading pictures off of strangers on Facebook or other social networking sites has naturally evolved into common conduct.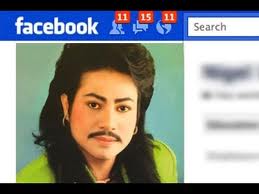 The essential choice of a profile picture and its imperative value needs little explanation, in some cases it provides the initial impression of someone's character, it's the ultimate self-representation, a profile picture is the front cover of a magazine featuring only You. How you chose to present yourself naturally differs, but in most cases we chose to reflect our most appreciated qualities, as appreciated by ourselves or others. In some cases a picture of You might be used to represent someone else , as a sister, brother, daughter , girlfriend or even simply a pretty face and you might on some occasions catch your own face featured as a profile picture of someone you don't know(compliment maybe?) . As a result of pictures and profiles being as accessible as they are, new profiles are constantly made using "borrowed" images of other social network users.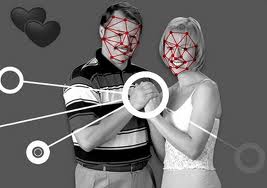 Such  imagery could then potentially end up anywhere representing anyone online, imagine how many times your face might have graced the personal account of someone registered with an online dating service. Illustrating this practice on a much greater scale, media critics and artists Paolo Cirio and Alessandro  Ludovico caused internet-mass hysteria in February after they stole ("borrowed") 1 million public profile pictures off of Facebook accounts and established an online dating site named Lovely-Faces.com.  The two men presented their project at the art and digital culture festival Transmediale in Berlin this year. They designed software that allowed them to steal the images from Facebook to then be further filtered through face-recognition software, which resulted in a collection of approximately 250,000 profiles categorized based on facial expressions. The profiles came under categories such as "easy going", "smug" and so on.  As you may expect these men were showered in law suits coming from Facebook representatives, yet they also received a great deal of positive recognition and encouragement from fellow Facebook critics. Cirio and Ludovicos intentions with this project was to illustrate how users on Facebook are stripped off of user-control and fall in danger of fraud and identity theft, they further explain the project on their website face-to-facebook.net.
Even though my situation differs, I intend to eventually give the girl her picture back by cancelling the account, but I have probably spread her face even further than she would ever guess. I am imagining the many men whom have by now (the picture has been up for 3 days) saved the picture onto their own desktops.  Ludovico and Cirio raised an important question of user safety and integrity, it is a highly serious concern as it is difficult to balance active networking and full-on privacy, and Facebook for instance like many other sites utilizes our curiosity and ignorance as users of their platform. So where does this leave the reliability of online dating sites and their members? Following the successful upload of my image I received three contact requests (I was desired!) and when I excitedly tried to access their profiles I was hit with a notice of  needing to become a premium member. It is free to register but in order to actually access someone's profile,  one needs to pay  a minimum of approximately 55 Euros , providing  "all access" for three months. HA! I felt duped, but essentially this does reassure me that the people I might potentially come in contact with are serious members and hopefully their pictures would be of themselves.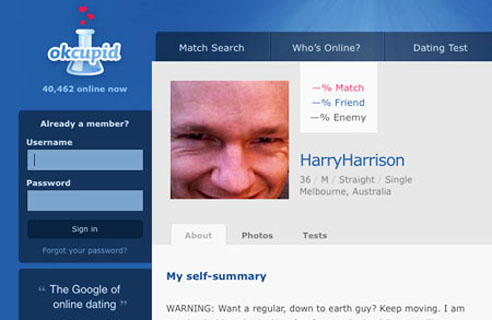 In next week's post I will take a step back in my dating process and discuss the initial questions posed by the site when constructing the user profile. Seemingly simple and straight forward sometimes even repetitive, but asking the question " would you consider yourself athletic ?" and then make you answer between a scale ranging from "not at all" to "definitely " almost encourages users to re evaluate themselves and attempt a perhaps overly optimistic depiction of oneself.