Social Inclusion through Digital Media, Medellín
In my second week in Medellín I spent some time on my project with Hiperbarrio. The organization tries to reach social inclusion through means of digital media in several depressed neighbourhoods in Medellín. By giving workshops in photography, blogging, podcasting and the use of free software, they try to keep the youngsters off the streets. Their methods are based on the idea of sharing knowledge, where anyone that can add something should give a workshop to the others to share that knowledge. Free culture therefore plays a very important role in keeping the organization sustainable.
This Tuesday I went to La Loma, an area even behind la Comuna 13, about which I blogged in an earlier post. The problem with this area is that it has been home to about all the violence and corruption that you can think of. As the area is located in a gray area of what is considered La Comuna 13 and San Cristobal, order and state presence have been largely absent. This led to the forming of gangs, paramilitaries, left wing insurgents such as FARC that have long used the area for their drugs-related businesses at the expense of the inhabitants. When I arrived everything seemed calm, but Henry, the coordinator of the program knew to tell me that this could change any day. In the library of La Loma I speak with Andrés, an ex gang member that has now dedicated his life to his work at Hiperbarrio. I'm guessing he is around my age, 23, 24 maybe. Hiperbarrio, in which he enrolled 2,5 years ago, saved his life he says. Before that he was mainly involved in the gang life trying to 'protect' the 'invisible borders' that mark the region of La Loma. In Hiperbarrio he entered another reality where it was about collaboration, learning and being critical to the society they live in. He is now one of the coordinators that implements this program in another area in Medellín, using one of the public libraries as their weekly meeting points.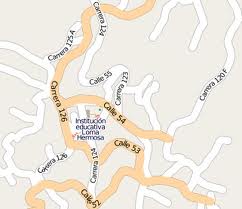 Another project that I was particularly interested in was related to Cartographies. Gabriel Vanegas, the sub-director of Hiperbarrio told me that they are now trying to map the area of La Loma, with all its streets and institutions to establish themselves on the map (photo): "If you search for La Loma now, you often get an area that seems to be just woods, but it's more than that, and it is important for the people here that they do not become forgotten". And who better to tell you where to go than the people that actually live in the area? The project therefore makes special use of the locals to draw up the map: "with cameras and pencils, we send the kids out on the street to create their vision on the neighbourhood. And although a slow and tedious process, it is advancing."
Talking about cartographies also reminds me of the final results of LabSurLab. During the workshop, Artists, activists, academics, hacktivists, rappers, video producers; all worked together to make it happen in just a few days. Within these days, several groups went into various depressed areas (la Comuna 13 and la Comuna 4) to interview people, and record memorable places. Most of the participants were already involved in similar projects across the world such as AntenaMutante, Platohedro, No2Somos, Cartografías Sonoras and Hacktitectura to name some.
The video below is one of the outcomes that was made during the 5 day  'Cartographies' workshop @ LabSurLab, Medellín.  Both of the neighbourhoods are subject of militarization, and recently also a huge fire destroying large parts of 'La comuna 4'. In the video, the cemetery where many of the victims of Operación Orion Rest In Piece stands central because in the end, it doesn't matter to which class or group you belonged.  Nice fact is that most of the music in the video is produced by local rappers of Comuna 13 and in this video in particular, a song was used by Yhiel, a young rapper that got killed by the 'sicarios', or hitmen, only about a few weeks ago. Even if you don't speak Spanish, it's worth watching: