War is Over?
As a professional journalist and newbie blogger I had never thought about a question whether online news sites and citizen journalists are undermining journalistic profession until I was assigned to write an essay on this issue as part of an entry exam for one of the Universities I had applied for. As I started writing my essay I got a message on my TweetDeck that a Tunisian blogger was appointed as a Minister for youth and sport. "Slim Amamou…had been an active blogger in a country once known for the world's most advanced internet censorship. He and fellow bloggers in Tunisia circulated news and video aimed at protesting against the former government of Zine El Abidine Ben Ali," networkblogs.com reported.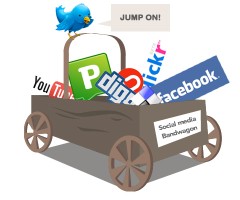 Tunisia's case is an example of how new media makes a real change in a society, where traditional means of media are silenced by the authorities. As technologies advance, all fields, including journalism, are going through changes. However, rather than asserting that online news sites undermine journalistic profession, it would be more appropriate to say that online media outlets have become a new branch in journalism, which can peacefully co-exist with the traditional means of media by targeting different kinds of audience. "Different professionals will propose meeting a particular need in different ways and will proffer different services to do so, thus avoiding direct competition to provide an identical professional service" (Jane B. Singer. 'Who are these guys?: The Online Challenge to the Notion. 2003).
Critics of new media often claim that "citizen journalists" fail to meet journalism standards. New forms of media require new approaches to ethics (Bradley Osborn. 'Ethics and Credibility in Online Journalism'. 2001). "Most journalists contend that traditional values remain relevant online" (Dianne Lynch.'Without a Rulebook'. 1998). It would not be fair to accuse online news sites of not complying with journalism standards, when quite often traditional media outlets also betray those standards when being pressured from the authorities inside or outside the newsroom. One of the most vivid examples of how traditional media sometimes willingly or unwillingly defy professional standards is a hoax news programme broadcast on the Georgian nation-wide TV channel Imedi last March informing the audience about a new war with Russia, causing mass panic among the Georgian population. Moreover, citizen journalists usually enjoy much more freedom, compared to those working in traditional media organisations. "…some observers charge that ethics codes ignore where the real power lies: with corporate owners concerned less with the public service than with maximizing shareholder returns" (Singer, 2003).
This is particularly true about a small post Soviet country like Georgia, where I am from. While all nation-wide TV channels remain under tight control of the government, print journalists, together with the bloggers (some of them professional reporters and some citizen journalists) are trying to provide somewhat balanced and fair information to their readers. The problem, however is the accessability to newspapers and internet resources in the peripheries of the country. While about a half of the residents of Tbilisi enjoy access to internet, most of the people living in other regions of Georgia lack internet access. Financial problems that the residents of the remote regions suffer affects the ability of the population in provinces to buy newspapers regularly. Thus, highly censored national TV channels remain almost only source of information for the people living outside the capital.
While media scholars question whether citizen journalism is going to put end to professional journalism, world's biggest newsrooms have made an attempt to take advantage of technological advancements allowing almost anyone to contribute materials on different events. CNN has a special section iReport, "where people take part in the news with CNN". "Citizen Journalism will never replace professional journalism and news gathering techniques as these skills are still needed to make any event newsworthy. However, journalism by citizens can collaborate with professional journalism to create a type of news that is read by more people" (Emma Morgan. 'The Pros and Cons of Citizen Journalism'. 2010). Thus, as some analysts have suggested, 'the war ended' (David Westphal. 'Old Media vs. New Media: Let's call this off'. 2009).