Book review: In the Plex by Steven Levy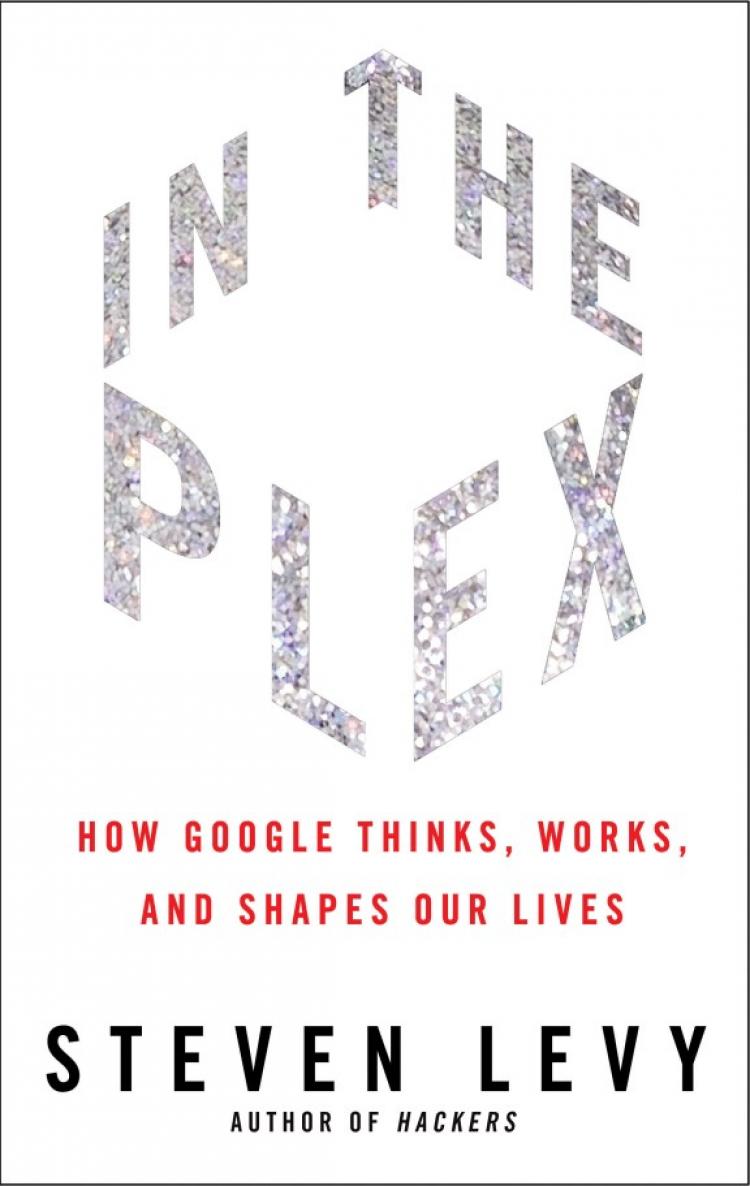 We all know some amusing stories about Google's origins: how Brin and Sergey started the company from a garage and how it has always managed to provide a work environment where engineers are in the center of everything. The reason In the Plex by Steven Levy is worth reading is because of its author; he has gained unprecedented access to the employees and the management of the company and his writing style is effortlessly captivating, the narrative makes sure that the reader will not put the book down.
Essentially, this book is a story about how Google started and what its vision is. To put it in a nutshell: Google would like to transform the world, make everything accessible, fast and data-driven. When I say everything, I really do mean everything. Apparently Page only hires people who think big, when a product idea is pitched, money or other issues are never talked about, the only question is: will this make the world a better place? Is it Google-y enough? And well, considering the effort the company puts into hiring new people, anything they come up with is probably Google-y enough.
Levy also gives an account of instances when the company's vision was contested by outside circumstances (e.g.: the China case, Google Books), the co-founders always set up with a vision in their minds that would better the world, but sometimes ended up running into issues and consequences they had not expected. It is interesting to see how these key management decisions are made and handled and how Levy is able to fight any negative criticism that Google gets by trying to get us to trust the co-founders, who are presented as very smart but slightly naive men, who would never do anything evil.
We get to find out that, the "evil" in the company's unofficial motto Don't be evil should have an asterisk after it, saying "Evil, as defined by Sergey Brin". Apparently, Brin is the person who makes the final decision on issues that might be culturally influential (and in my opinion, all issues are influential when it comes to Google) and controversial. Presumably, it was mainly because of Brin that Google finally pulled out of China.
Now, I am a huge Google-fangirl, people link to articles about Google's "wrongdoings" on my Facebook wall as soon as they happen, because for once they'd like to see my belief in Google get shaken by facts, and usually I am able to protect the company, because I honestly believe in their vision but sometimes I have to agree with the criticisms. When it comes to Levy, it seems like he'd be even a harder nut to crack than me (and that is saying something). He is just so enamored by the company (and I certainly can't blame him for that), that it seems like ever since that first day when the Google website was launched from a Stanford college dorm room, all it has done was make the world a better place without erring even once. (Of course, there are people arguing that giving such an overly positive account of Google was the only way he could've had access to all this information, but I find it perfectly believable that he really is this uncritical of the company- he is a senior writer for Wired after all.)
It would be very unfair to the writer to say that this was a result of an error in his methodology, I do believe that all Levy did was gather comprehensive data and facts and present them in a magnificent way that makes it easy for any reader (tech-savvy or not) enjoy the book. It just seems that it could have been a more comprehensive book about Google as a culturally influential company (that has its own vision and culture that it is trying to spread), if he had tried to include accounts from outside of Google as well. Based on the author's response to a question on Quora, his goal was to get the reader inside Google and I believe he perfectly succeeded in that.
Steven Levy has really been able to immerse himself in how one of the most ambitious tech companies of the world works and thinks. The book reads more like a collection of fun facts and anecdotes rather than a comprehensive analysis of how this corporation -whose ultimate goal is to shape how people think about information- affects the world around it. This is apparent in how Levy describes various products and controversies around them: the making of the product is described in great detail, whereas the consequences of the implementation of a service and circumstances outside Google are just mentioned in a  brief sentence or two. There is no critical input by Levy, he just presents facts from inside the company, anecdotes and quotes in a perfectly structured narrative. Of course, just a detailed account of the happenings in the plex as told by Levy is enough to keep readers like me -who love all things about technology- interested from the very beginning till the last page of the book but I did end up longing for some critical input, especially since Levy is such an experienced tech writer and I would've been interested in his insights about the more more controversial topics regarding Google.
About the author:
Steven Levy (born 1951) is an American journalist who has written several books on computers, technology, cryptography, the Internet, cybersecurity, and privacy. Levy is a senior writer for Wired. Previously, he was chief technology writer and a senior editor for Newsweek. Levy has had articles published in Harper's, Macworld, The New York Times Magazine, The New Yorker, Premiere, and Rolling Stone. [from Wikipedia]
Other books by him:
The Perfect Thing: How the iPod Shuffles Commerce, Culture, and Coolness (2006)
Crypto: How the Code Rebels Beat the Government Saving Privacy in the Digital Age (2001)
Insanely Great: The Life and Times of Macintosh, the Computer That Changed Everything (1994)
Artificial Life: The Quest for a New Creation (1992)
The Unicorn's Secret: Murder in the Age of Aquarius (1988)
Hackers: Heroes of the Computer Revolution (1984)
p.s.: Did you know that 1/3 of all Google queries are virgin ones? This was one of my favorite fun-facts from the book.