Social death of social networks
The question I was asking myself recently is what makes a social network cool or uncool? Why there are social networks in which having an account is considered embarressing? Why there are exsisting social networks to which some people don't even want to admit they are signed up?
In November 2006 in Poland a new social network was created. Based on an idea of American 'classmates.com', three Polish students presented their 'Nasza-klasa.pl'  (translation: our-class.pl). From the begining almost 8000 people a day were creating their accounts on it and today it has magical number of 14 millions users.
It is a lot comparing to 7 millions Polish Facebook users. Even though Nasza-klasa keeps on loosing their fans in favor of Facebook. Only in October and November 2010, 300 000 people signed out from Nasza-klasa, while Facebook reported 500 000 new Polish users. So far, according to socialbakers.com, Poland is 24th country with the biggest ammount of Facebook users and 61% of them are between 18 and 34 years old.


Facebook is associated as a social network of rather young people, at least in Poland, while target group of Nasza-klasa users is more opened and it tries to get to people of all age, even more emphasizing on older people. The idea of Nasza-klasa founders was to create a place where people could find their classmates with whom they lost contact and in general, to renew school friendships. They created a new phenomenon of school reunions, so far not really popular in Poland. Tabloids were full of stories about people who had found their old loves and even devorcing their present spouses and getting back together with their previous ones. What Nasza-klasa have done to Polish society was crazy to observe.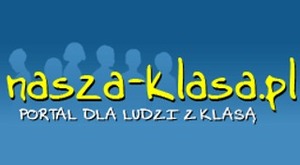 In 2004 Mark Zuckerberg founded facebook. First time I heard about it was in the summer of 2006 and I created my account there just for my foreign friends. After a year suddenly all my Polish friends were using it. In 2008 Polish language version appeared and that made more people join it. So far, still the language barrier was a problem, because many people didn't feel fluent enough to use a social network not in their own language. The other reason why Nasza-klasa was so popular was the fact that it was really easy in use. The only thing which had to be done was creating an account, finding a school and adding the classmates. Comparing to their layout, even first versions of Facebook could have been considered complicated.
Later, in order to keep younger users, Nasza-klasa was forced to think of new applications. That's why it started to resamble more and more Facebook, with the possibility of creating groups and playing games.
Still some people are affraid of using Facebook because it's foreign and they find it less pleasing. They prefer a social network where they feel like home. That's why almost 1/3 of Polish society stayed faithful to Nasza-klasa.
What is interesting, surveys had shown that the bigger the city is, Nasza-klasa popularity drops and Facebook raises. Nasza-klasa is ruling the cyber world of Polish countryside. People from big cities are choosing Facebook. In 2009 still the biggest age group using Nasza-klasa was 15-24 years old. Today it's changing to 35 and more. Young people are leaving Nasza-klasa, while older ones are happy with their first choice.
The success of Nasza-klasa was caused by the sentimental value of this social network. The founders made their users bring back their memories as well as check how their schoolmates life turned out. This is basically the reason why people started using this social network.
What made young people change it for Facebook? First of all the fact that they didn't want to use the same social network as their parents or even grandparents. That is the main thing which made using it considered as uncool. Nasza-klasa new about it and they tried to change it with for example making their logo look a bit more modern and making the name shorter. Instead of Nasza-klasa using just 'nk' like Facebook called 'fb' by the users. That  was supposed to make it sound better, more fresh. But still, kids didn't fall for that and kept on changing their social network. When you create a product for everybody, you can't make kids interested in it more that in a product which is designed especially for them. Facebook was temting with it possibilities of putting pictures from parties and checking who is in a relationship and who is not. As Mark Zuckerberg said- these are the two  main things in which students are interested.
What is also important, Zuckerberg was against advertisments on Facebook, he knew that people would not appreciate them. Till today they are rather small and don't take control over the page. Nasza-klasa didn't care about them this much and wanted to earn as much money as possible. It was a mistake because people easily got tired of the banners attacking them from all the possible sides.
I believe that more research should be provided on what is helping a social network on gaining popularity and what makes people quit. Flexibility, creating new design, constant and regular changes on the one hand should be helpful but on the other we can observe that each time Facebook provides some changes, people are unhappy and start to complain. Untill they get used to it what usually happens really fast.
What makes a social network uncool is for sure trying to make it look exactly the same way as another well known network by copying their design or ideas. That what happened to another Polish social network Grono.net. Seven years ago everybody I knew was using it because it was popular long time before Facebook and it was designed for young people. Even when Facebook gained on popularity, in Poland, still everybody had two accounts and was using both of this networks. Then, one day we loged in on our favorite website and we saw Grono.net totally changed and looking exactly the same as Facebook. It made people very mad, they felt fooled. They didn't want to use two Facebooks, they liked differences between these two networks and that is why they kept on having two accounts. This rapid change made them so angry, that one day everybody stoped using Grono.net and moved to Facebook. It was the biggest mistake of the Grono.net founders which costed them a lot of money.
What is the best recipy for keeping a social network popular? This is a question still left with no answer. Looking at the Polish social networks I know this: Don't try to promote it as equally good for teenagers and for their grandparents. Don't provide changes too fast or too big which would take people too much time to get used to. First of all it will make them anxious and second of all it just might scare them off. And the last but not least: Don't try to copy any other network. The same rule which apply to fashion, apply to social networks. Nobody likes fakes!