Is it worthwhile to develop a Facebook application?
With more than 800 million users Facebook is currently the most widely used social network platform on the Internet. Facebook states that more than 50% of their users are active everyday and each of them has approximately 130 friends. Furthermore more than 500 million people use an app on Facebook or Facebook platforms of other websites. (Facebook.com:2011) As a result this site has developed to an extremely promising marketing platform. Beside the target-oriented advertising, specific applications, so-called Facebook-Apps, are being offered as carriers of marketing messages.
What are Facebook Apps?
Facebook Apps are applications which extend the functional volume on Facebook. Mostly they are being developed and provided by third party offerer like users themselves or by companies. There are many different kinds of apps e.g. games, quizzes or extensions of Facebook pages. These apps have a high potential to reach users and spread literally by themselves in a frantic speed. This works very simply according to the Facebook principle: What my friends like might be interesting for me as well. Facebook posts when a user starts an application and encourage other users this way to try it out as well. The arising domino effect makes it possible to accumulate a mass of users, which use the app, in a little while. Furthermore Facebook apps are also able to write wall posts, which give a clear insight what the apps are designed for.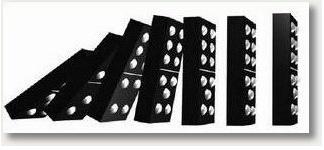 Beside the fun factor of apps it is also possible to make enormous profit with them. Especially attractive designed apps can be promoted very easy. Furthermore it is possible to place target-oriented advertising within this app. There are also apps like Farmville which also offer premium accounts. Premium accounts e.g. make it possible to buy virtual money with real money. Through this third party offerer often draw high profits. In addition to that application providers also have the advantage to obtain data of potential customers. Facebook grants application providers access to the data of users and partially also of their friends, which lets emerging discussions about privacy again and again.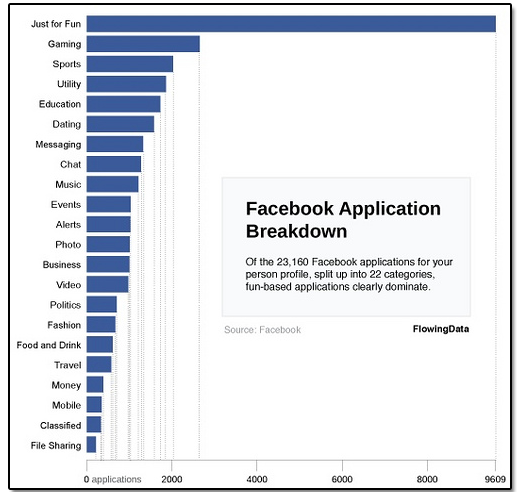 Are Facebook apps irrelevant?
Several analysis by experts in this field declared Facebook apps irrelevant as the chance to attract new users for an application are really low. An analysis of Nick O'Neill in 2010 shows that there are more than 250,000 applications which are used by only 1-100 users daily. Furthermore only approximately 1,600 applications are being used by more than 2,000 users. 28% of the activity on the Facebook platform fall upon a well-known app provider Zynga (Farmville, MafiaWars). Daily 52 million people use Zynga applications. Other application developers like Electronic Arts, Crowdstar and Playdom share 13% of all activities on the app platform.
Above mentioned numbers reveal that only a few applications of some leading app providers attract Facebook users attention. Considering the long tail theory, which says that niche products on the Internet can be successful and profitable, Nick O'Neill says that there is no long tail on Facebook as the share of applications with sufficient users is too low to be economically relevant.
Facebook apps and the future
Through Facebook it is possible to communicate with a mass of users and due to this it is ideal to use it as an advertising platform. In addition to that a further advantage is that user data can be read-out and advertising can be spread target-oriented. Launching a Facebook application can still be worthwhile to develop new markets. However before making high investments it should be clear if it is profitable to invest in this field. Once application developers and providers gain a foothold in this market they can experience an upswing quickly and catch up with the leaders.
Taking into consideration all above mentioned the question now is how to find an appropriate approach for research in this field as the existing literature is very limited.
What are the advantages and disadvantages Facebook applications bring about in general?
Which hurdles need developers to overcome for a successful launch of a Facebook application?
How can the privacy of users be warranted by using apps even though almost all private data is being retrieved at the same time?
What are the prospects of Facebook applications?
An in-depth research in this field requires an examination from different point of views as several communities of interest are involved. With the help of a specific example of an app this research field can be clarified precisely. On the basis of demographic differences, amongst other things, it is complex to concentrate on the broad field. Furthermore for an explicit research internal information has to be requested from the social network as well as the application provider. The users also have to be selected after certain characteristics.
Even though the literature and data in this field is limited I recommend in-depth research as this sector is advancing  rapidly and is becoming more important day by day.
References:
Facebook.com:2011 – Statistics
LA Times – Facebook F8: Redesigning and hitting 800 million users