Russian Classmates, politics and Georgia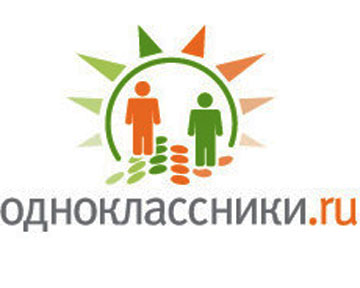 Despite having over 100 friends and former classmates in my friends list on a popular Russian social networking site Odnoklassniki.ru, I left it following a brief Russian-Georgian war in August 2008 and joined an increasing number of people in Georgia who preferred to stick to other popular social networking website Facebook only. "I am leaving Odnoklassniki as a sign of protest against the hate speech on the website. Those who still are not in my friends list in Facebook can join me there" – having sent out this message to my friends on Odnoklassniki and hoping to recruit all of them to Facebook I clicked the "delete my account" button (which was by the way much easier to find on Odnoklassniki website that it is on Facebook.com).
Odnoklassniki.ru – a "Russian classmates and old friends reunion site" as described by Wikipedia reached an impressive number of 100 millions registered users and 71 millions of activated ones by July 20, according to the website's administration. The website was launched on March 4, 2006 and is an analogue of the US website Classmates.com. Odnoklassniki, which is a Russian-language website, is predominantly popular in post-Soviet states. According to Alexa.com ratings, Odnoklassniki, which ranks number 7 in Russia, is the 3rd most popular website in Uzbekistan, 4th in Moldova and Armenia, 5th in Georgia and Kyrgyzstan and 10th in Kazakhstan. In Alexa's global rankings the Russian social networking site is in top 100, occupying 95th place according to the Alexa three-month world traffic ranking.
"Compared with all internet users, the site's audience tends to be less affluent; it also appeals more to men between ages of 25 and 35 who have postgraduate educations and browse from home," Alexa.com site description for Odnoklassniki.ru reads.
Compared to the much more widely used social networking site Facebook, Odnoklassniki is a far less fancy website with less features and applications. However the biggest concern one can have about using the Russian social networking site is privacy. While Facebook enables its users to keep his or her profile closed for the people outside the friends list, Odnoklassniki users' profiles, including status updates and photos are freely available to anyone on the site, regardless if he/she is a friend of the other user or not. However, Odnoklassniki's privacy policy does not stop its users from publishing vast amount of photos online.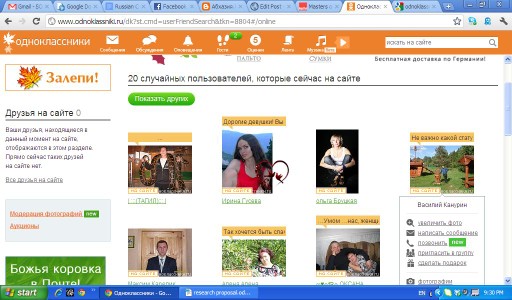 One of the reasons for Odnoklassniki users not being worried about privacy issue could be the fact that the site is quite frequently used as a dating website. So the users are interested in having public profiles open so that someone willing to find his or her significant other can take a look at photos and personal info of the other user. There is no official statistical information available about how many people find their future spouses on Odnoklassniki every year, however my personal observation in Georgia is that the number is quite significant. (Three cases of "marriage through Odnoklassniki" in my friends' circle last year).
Odnoklassniki in Georgia
Odnoklassniki is the fifth most popular website in Georgia after Facebook, Google, Youtube and Google.ge, according to Alexa rankings. According to the latest data, Georgian users make 1.1 percent of the visitors of the Russian social networking site currently. However, according to the unconfirmed and uncited entry on Georgian Wikipedia, Odnoklassniki rakned number one among the most visited websites in Georgia in 2009. Exact causes of the decline of Odnoklassniki's popularity is unknown. It is also unknown when exactly the Georgian users started leaving Odnoklassniki – whether there was a sharp decline or a gradual shrinking of the number of users.
There have been suggestions that the decline of Georgian users on Odnoklassniki was caused by Faceboook becoming more and more popular in the country. However, there is one more reason that could have triggered migration of Georgian users of Odnoklassniki.ru to other social networking websites: in 2009 Odnoklassniki added Georgia's breakaway regions of Abkhazia and South Ossetia to the list of the countries on the website, following the recognition of the de facto entities by Russia in August 2008.
"Earlier, those [Abkhazians] who were pro-Russian use to indicate Russia as a country [in Odnoklassniki] and city of Sukhumi, Gudauta and so on. Those who were for the independence of Abkhazia used to indicate one of the small countries – Guatemala, Azores, Maldives or something like this… However now they will not need to decipher any more," www.abkhaziya.net reported in February 2009.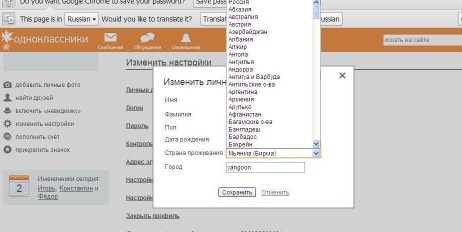 So far there has been no research carried out on how the "recognition" of Georgia's two breakaway regions as independent states by Odnoklassniki.ru has affected Georgian users of this site. It is not yet clear whether the loss of the site's popularity in Georgia is connected with the "recognition" or not. There is no official data available how many Georgian users left Odnoklassniki.ru after Abkhazia and South Ossetia were added to the website's dropdown list of countries. Nor there is an exact data how many people have migrated from Odnoklassniki to Facebook since 2009 when Odnoklassniki started losing its positions in Georgia.
By requesting official data about yearly statistics on Georgia from Odnoklassniki administration would make it clear if there was a sharp decline in 2009 or whether it was a gradual decline over the last three years. At the same time, conducting a survey among internet users in Georgia whether they are using Odnoklassniki or not, whether they have ever used it and if they left, what was the reason of abandoning the website would shed some light on the reasons of Odnoklassniki's decreasing popularity in Georgia. This survey can be conducted with one of the survey tools, like SurveyMonkey service.
Answering the question how listing of Abkhazia and South Ossetia as independent states on Odnoklassniki has affected Georgian users of the social networking site could help distinguishing how politics and behaviour of the users of social networks linked to each other.