The analysis of SNS website's viral marketing strategy by the actual example of Renren Website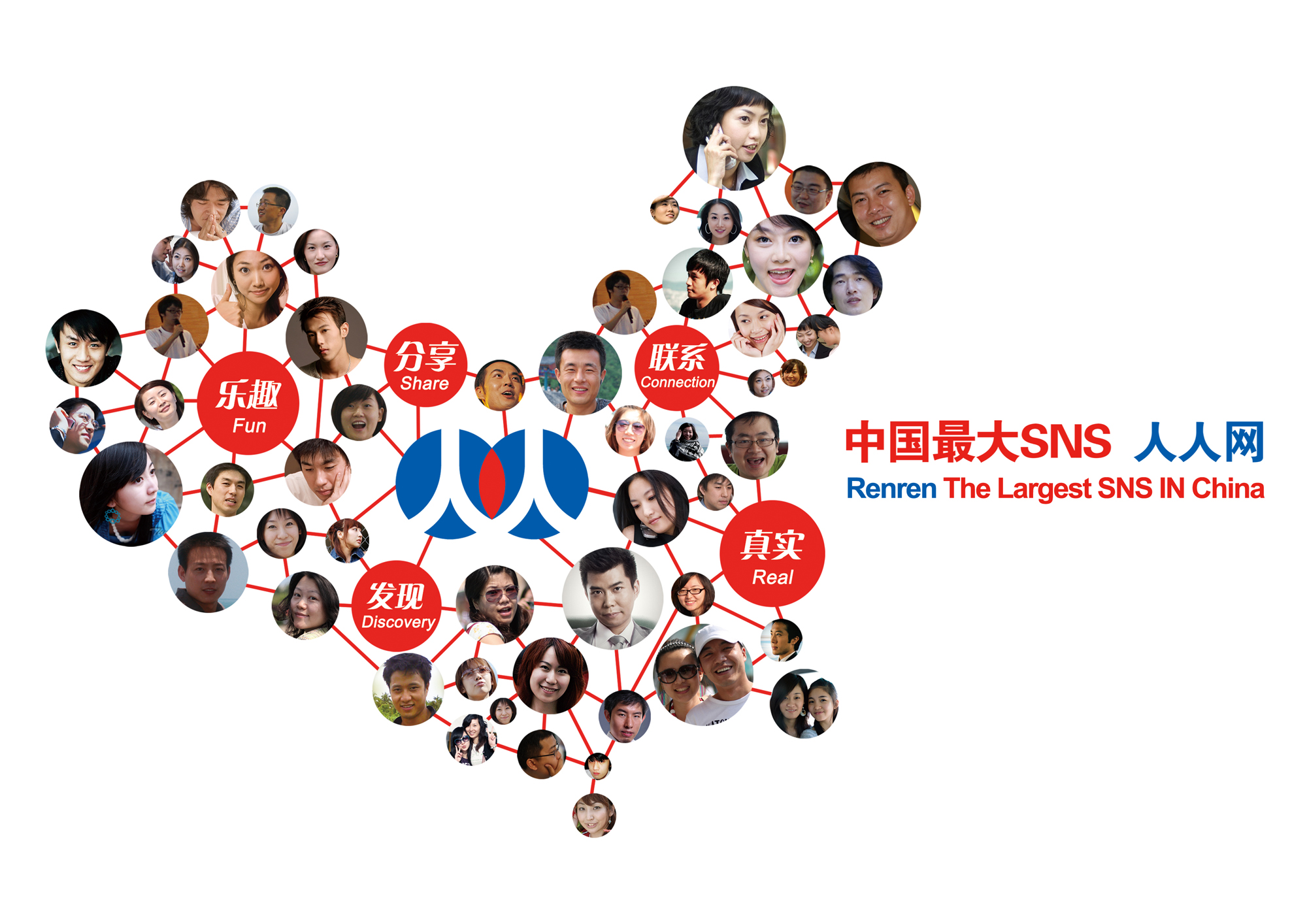 Overview of viral marketing
With the popularity of Web2.0, the ways of communicating derived from social interaction amid diverse groups of people have come to the surface of Internet, which is known as social networking services referred to as the SNS. It is designed to help people build social networks of the Internet applications. In this era thereby of a new online community, the milieu gives birth to a new marketing rule – viral marketing.
Viral marketing concept first emerged in 1997. The venture capitalist Steve Watson proposed this concept when describing Hotmail. And he used this term to depict the general principle behind the growth of Hotmail. In this way, the viral marketing is initially elucidated as "Web-based public marketing." Dr. Ralph. F. Wilson, who is an American e-commerce consultant, supposed that viral marketing is a marketing strategy, which encourages users to spread the marketing message to others and also circulate information to create the unexpected exposure of the potential growth impetus in order to reach the exponential increase. Viral marketing doesn't really carry out marketing by spreading virus, rather via the web-based community of users' network to let the information be publicized as fast as the virus using fast way to transmit original information to thousands and millions of audience.
Viral marketing on the importance of SNS websites in China
Confronting with the fierce climate of competition and complex development status of China's SNS websites, it's very important to unify varying China's own characteristics to the creating and designing notion of SNS so as to have its own unique way of marketing operations in this battlefield. At this very moment, the viral marketing should be highlighted.
1. Why the Viral marketing fits China's SNS
Viral marketing spreads the marketing information through networks of relationships opened to every user based on the principle of public mouth communication, showcasing a similar trend of spreading the virus. SNS website's operation is based on users' resources. Its reputation and influence should be built up by the process of sharing the information among the users, whereby also could gain another huge user's resources. Viral marketing is exactly to meet this feature of the SNS website, the use of existing relationships, the viral spread to the effect of rapidly expanding user base, meanwhile relying on relationships between this type of public credit marketing propaganda to make the effect more robust.
2. Viral marketing can enhance the competitiveness of the SNS website
Early users of China's SNS community mostly have to be invited by their friends to use and spread the information. However, today's China's SNS competition has turned into white-hot. Various major SNS websites have increased marketing efforts to expand the user resources to further expand their market share, to increase market influence in order to obtain further financing companies. Thus, in this sense, the major SNS companies need more viral marketing aids to cater the current marketing situation so as to expand market share, increase market impact, thereby enhancing competitiveness.
The status of viral marketing strategies on Renren Website
Xiaonei.com established in December 2005 is China's first campus SNS community. With limiting the internal IP address of every specific college and university Xiaonei ensures that the vast majority of registered users are college students.
The website encourages college students to register with their real name and upload a real photo so that students can experience the real life fun on the virtual cyberspace. On August 4, 2009 Xiaonei.com changed its name to Renren so that all users of the online community could join in this platform.
Viral Marketing on Renren
1. Take the initiative to invite users to register
Users' registration plays a vital role in the SNS. Only when the market share reaches a certain level can help the promotion of marketing. Renren takes the strategy of active invite to expand its market. For instance there're variety of ways to invite your friends into Renren including sending e-mail contacts to the invitation list, or their QQ accounts, or import MSN contacts to the invitation list. Either way of them can be easy for the users to reach multiple friends. The users can find their classmates friends, sparking memories of childhood, and again to themselves as the center re-send the invitation message, "because of the real, so wonderful" – the essence of Renren.com gradually penetrates into the user in mind so as to achieve the effect of viral promotion.
2. Interactive games implanted into the marking brand
The Online games in Renren are always a highly interactive project for users. These games with high degree of participation of users not only can stimulate the user's interest but also build a very high brand awareness platform. The game can be named after brand. Lay's potato chip in the "Happy Farm" is the most representative one in the promotion. In April 2009 Lay's chip was implanted into the "Happy Farm" with its raw materials and props to create an experience of producing the natural, pure, healthy potato chips for the users. Certain incentives are set to encourage the users to repeat the experience to participate in "Happy Farm" quickly gathered a lot of popularity in a few months and Lay's Chip seizes this precious opportunity. Users involved in the game constantly invite more friends in the game in order to get better game performance, and the invited friend will receive a letter as a permit to joining the game. If the user accepts the invitation to join the game, they will be shown in their own story page which can attract more people to participate in the game. Market research shows that due to this viral marketing communication, Lay's brand awareness improved from 90.8% to 95.1%, and brand preference from 39% to 72.4%, nearly double the raise.
Flaws of Viral marketing in Renren
Renren use its own rich resources and characteristics to attract many a company to borrow their own advertising platform for viral marketing, which also achieved good results. And various marketing activities have become a classic case, too. However, due to viral marketing on the use of SNS websites in China still in its infancy, there still has different types of shortcomings need to be improved.
1.Vague business model
Renren's applications update very quickly for the network is to accept all third-party software's development that has brought about constant concerns for all users of the implanted application. While maybe this can be a sense of open-fair to meet the various needs of different users, but not the more the better for this multi-banding will be presented a feeling of clutter. Just like Douban website said, Renren business model can only be "chaotic" to describe the school network operators in addition to further expand the resources available for the user because the model did not make any profit plan. When the site itself blur the business model, other corporate investors are difficult to estimate the effect of marketing and market reaction so that the market risk is difficult to make a huge investment side of its business confidence leading to affecting viral marketing play.
2. Simplifying marketing model
We know that although viral marketing is low cost, it does not mean non-cost. Network for their own promotion needs costs but also requires companies to take this platform to Renren advertising investment with the net profit model that everyone can develop to survive. Renren's users are more concentrated on mostly the young consumer group who has a positive enthusiasm to accept new things. Therefore everyone is very suitable for viral marketing network to carry out. However, Renren's viral marketing is limited to the state, gifts, games, applications and some other forum are utterly vacant being waste of resources which largely reduced profitability of operating.
Viral marketing is not as clear as a profit model, resulting in a decrease in investment. Let's say It is easy to form a vicious cycle but hard to predicate. All users of network resources with great advantage share the similar characteristics by which we can use to boost e-commerce functionality for instance the formation of alliances with big sellers for the consumption of users buy online application platform, or help shopping website or business promotion activities which could enhance the business is to find a clear marketing objectives rather than wasting this valuable space.