Adding emotional value to apps: Buurtwinkels
We all use apps for practical reasons; checking e-mail, messaging, checking train departure times and much more. These apps are down-to-earth practical; they don't bring tears to my eyes or amaze me with flashy images or unbelievable content. But they could, right?
Technologies are still seen as 'cold' and don't offer us the same emotional experience as older media do. In an earlier post I described my own experience with using a Kindle versus reading paper books. Here the Kindle, in my opinion, takes away the emotional experience of reading a paper book. However I still believe we can also add a layer of emotional value to many situations through technology. We just need to make better use of them, and consider if adding this emotional layer might make an app much more valuable and attractive to use.
Apps are one solution to do just that. Because we almost always carry our cell phones around with us, we have them at hand at any time. That means a layer of experience can be added to any particular location or event. This can be done for practical reasons, such as a program oveview at a festival, or safety concerns, like the Amber Alert and other examples (read more about this in Annet's blogpost). But that's not all; we can tell stories about the locations we visit. Maybe we have personal memories or photographs we would like to share with others that visit that particular location. But there can be different reasons why an app would like us to share, automatically resulting in different outcomes and therefore different user experiences. Here, I'll look at the Repudo app and the Buurtwinkels app.
Repudo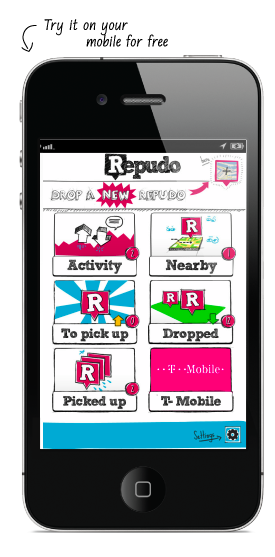 Repudo is an app that allows you to drop any type of multimedia at a certain location, and other users of the app can pick it up at that exact spot. After you've picked up a text, photograph, or other digital object, it becomes yours and disappears from the map. Now that's a downside, because if I have a very special photograph I want to share, I can only share it with one person. This person could decide to then drop the photograph again, either at the same or another location, or decide to keep it. So as soon as I've dropped a digital object somewhere, it roams around different smart phones and locations, out of my control. The nice thing is that you'll never know where your object will end up. The idea behind Repudo is really nice, but it's currently mostly used as a promotional tool for brands, who drop stuff everywhere. Tickets to shows or coupons for discounts or free things have been dropped by different brands, You can even specifically search different deals on the Repudo website and find locations to pick up free stuff. Therefore, often you only pick up commercials when you encounter digital objects.
But then again, Repudo is very clear about it's purpose: it's main goal is to provide a new and interactive marketing tool:
Working with Repudo means exploring unique and refreshing possibilities in the booming world of location based messaging and marketing. Whether it's a massive worldwide brand integrated campaign or a small local game.
Nonetheless it's a well made app that works well on different platforms. Because there are already many users, you'll find Repudos to pick up quite often, or at least if you are in a bigger city. And that's important, because the app will only stay fun if you keep finding different things. The dominance of Repudos dropped by companies do make this an app that is mainly practical; I get discount coupons or free items through the app. If there were more users dropping of 'personal' stuff, like cool photographs or personal texts, there could be more emotional value added to Repudo. This is not their goal however, and therefore I think we would have to look for that extra depth in other apps.
Buurtwinkels

The Buurtwinkels app was developed for the Amsterdam museum, as part of their Buurtwinkels exhibition. The app is based on the storytelling website of the Amsterdam Museum. This website tells the history of local stores in Amsterdam. Years ago, there were many local stores in every neighborhood. On every streetcorner you would find a bakery or small grocery store where the owner knew his clients. Lots of older citizens still remember these stores, and the storytelling website allows anyone to add pictures or stories of their memories of these stores. This makes for a database with personal accounts of a history otherwise not documented. Pictures from private family archives, and stories about personal encounters, you'll find it on this website because people decided they wanted to share them.
The app shows this content on a map, and since the launch of the website in September 2009, over 500 stores, and more than 600 stories about these locations have been added. There are over 2000 pictures available as well, most of them not added by the museum, but by people from the neighborhood. New content can still be added and people are encouraged to upload any story of photo on buurtwinkels.amsterdammuseum.nl because the iPhone app retrieves data from this website, new contributions are automatically added to the app.
Unfortunately, this app is not available for Android, and I had to borrow someone's iPhone to use the app. Riding around Amsterdam, I saw the little dots on the map, all representing a local store. It's quite amazing to see how many there are. It's quite fun when you see a picture that was taken in the 1940's, and you stand in front of the building that looks almost the same. However, the app crashes quite often, a big letdown and it makes me reluctant to use it more often.
Still, this app got me thinking about app development and the possibilities to add more emotional value to our digital experiences. We can add content to a website and access it in different ways. We're able to share our stories and memories, and therefore add emotional value to someone walking around Amsterdam. More than practical information, you'll get personal encounters. There are more projects that lend themselve really well for this concept. For example, the Jewish Houses project that was launched last year around May 4th (the National commemoration day in the Netherlands) and provided a website where people could fill in their address, to see where Jewish families lived in their neighborhood before they were deported. People who knew a family lived in their house or had a story about a family that lived there could add these stories or pictures to communityjoodsmonument.nl. This again is a website that lends itself to be converted into an app. You could ride around the city and see all the houses where Jewish families lived before WW II.
Almost every city in the world offers guided tours, but if we could add these personal stories to maps all over the world, we could walk around any city and get a close and personal look on the lives of the people that live there. It's no longer an experience created for us by an organization that chooses for us what is important, but it becomes a crowdsourced experience; growing all the time with new and different encounters. Both positive and negative, they'd make for a more authentic experience.
So what's to come for these location-based apps? I think we'll see more and more apps that take a different approach and allow more creativity and innovation. And sometimes we'll encounter apps like Repudo, with a really cool concept, but mostly used for commercial purposes. But hopefully we'll also see more apps like Buurtwinkels, that actually add a layer of experience that we don't find anywhere else. And as I mentioned before: searching for the stories that live in a city through a crowdsourced medium results in a much more authentic and personal experience. Technology then suddenly brings us closer together, rather than separating us.
Updated on October 10, 2011:
Here's a review of the Repudo app on the Masters of Media blog.