App review: Hoccer
I've got an iPhone 3G (yes that's a really old one, and it is really slow as well!). Maybe that's the main reason that I don't use apps very often nowadays, except for some built-in apps and a Dutch news app. But there are some wonderful apps on my phone. When I was scanning trough my phone in search for a useful app to write about, I came across one app I really like, but don't use it very often. Why? Because it is an app you use together with other people, and if the other people don't know about the app, you can't use it. I have told some people about the app, and they were as excited as I am. I hope you will be after reading this review, so we all be able to use it. The name of the app? Hoccer. And below you'll find my review on this app.
Hoccer: Share your data
Hoccer as a data transfer app for mobile devices. It makes it possible to exchange pictures, text, music, and many more other stuff between different devices. It works on the iPhone as well on Android and via the Web App on other computers as well. The strongest part of the app is the way it works. It works on a "one to one" basis, or a "one to many" basis. You don't need to connect or pair the different phones together, but it uses the (GPS) location of the devices. And that's really smart!
There are several ways to share the data to someone else. The easiest way is to 'drag' the file from one phone to the other. While you're 'swiping' an image, for example, you're swiping from your phone to the other. Than Hoccer is sending the file to their server, which is looking for any devices in the neighbourhood of your phone where the swipe gesture was registered as well. If so, than the file will be transferred to the other device.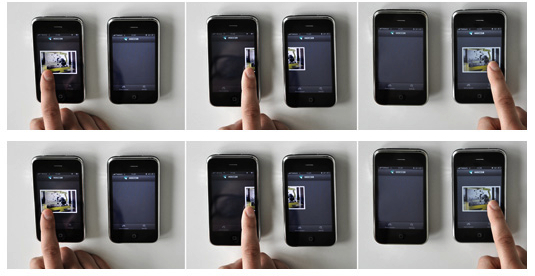 But there is an other, very cool way, to share the files. And in that way a one to many sharing is possible. If you selected a file to transfer, you can throw it to other people. As we can read on the Hoccer webpage: "First select a file by tap­ping. Then flick your phone for­ward like a fris­bee (hold on tight!) to trans­fer this file to others." The ones that want to receive your file have to make a catch movement to receive the file. After that, the app is working the same as with the drag option: it is looking for devices that are nearby and making the catch movement to send the shared file to.
To make this clear, just watch their ad on Vimeo:

I think the app is a very good example of what's possible with mobile applications. It is using gps-location, touch gestures and the accelerometer and/or the gyroscope to detect physical movements. And that is exactly what makes smartphones as they are: locatable, and a part of ourselves. It is not just a device with some applications, but it is a device that uses different ways to make life easier for us. It is 'listening' to our movements, it 'knows' where we are, and does what we all want: share things.
Web App and API
But there is more! As I mentioned before, there is also a Hoccer Web App. Via the Web App it is possible to share files with 'standard' computers, or maybe other mobile devices that are not using iOs or Android as their operating system. That makes it really useful. The Web App is working via different API's, and Hoccer made them available to developers:
"Geocialize your software!

Add Hoccer-like connectivity to your app in minutes!

Use our open Linccer Connection API to link devices at hand and give your users the ability to simply connect devices, join for a game or to collaborate off the cuff."
The Hoccer API is available for many different platforms: Javascript, Java, iOs, Android, Ruby, and C#/.Net. That makes is very strong and give other people, developers, and companies the opportunity to use this powerful tool in their apps, services and devices.
Conclusion
I think Hoccer is a very good app with a lot of potentials. It show's what's possible with smartphones and other mobile devices. It is very user friendly, the user interface is easy with built-in tutorials for first-time users. I think almost everyone knows how to throw and catch, so almost everyone would be able to use this app. There is just one little downside: don't get to excited with throwing, otherwise you might hurt someone (and something)…