Mobile Application Review: Grindr. It's a guy thing.
Since Facebook has gained such worldwide success, it was long overdue for gay people to have their own social network. Joel Simkhai made their wish come true and created Grindr. I have to admit, I first found out about it from my best friend, who is a dedicated user of this platform, but most of the information I will include here is from their official website, and from several articles and interviews.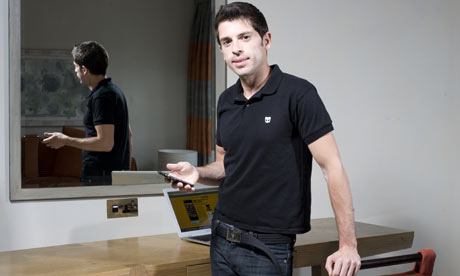 Launched in March 2009, Grindr has got to be the greatest invention ever, because now even women have repeatedly demanded a straight version.  This platform only works for Android, iPhone, iPod touch, iPad and BlackBerry and you must be 17 or older to get a profile. Grindr was developed by Joel Simkhai, an openly gay New Yorker, who was disappointed in the dating scene at the time. In his interview for The Observer he admits that "I've always kind of wondered who's gay around me. I've always had the situation where I make eye contact and nothing emerges." In the beginning, Simkhai contacted Dennis Crowley for help, but he declined and used Simkhai's idea to create the famous Foursquare. Eventually he created the application by himself.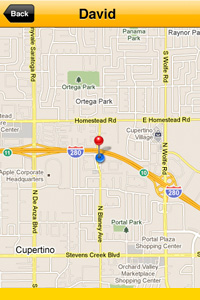 So, what is so special about Grindr, apart from it being advertising free and easy to use? Well, for one thing, the greatest advantage is that it has geo-location, and at any time, you can find out where to meet other gays. It is so simple, you just browse the map or look at their profile and you find out how many feet away they are from you. There might be one right next to you in the café or library. Unlike Facebook, Grindr was created to be mobile and does not use the classic process of sending friend requests, so your profile is not private to the other users. Therefore, I would have to say that this is a massive disadvantage of the application, because even though the administrators of Grindr have been trying to keep it quite clean by not tolerating naked pictures and obscene vocabulary, it is still more of a dating network than a simple "let's be friends". No matter where you are, anyone can get in touch with you. Now that has its ups and downs.
In spite of all these efforts in trying to keep it at a decent level, some scandals have been associated with this application due to the limited privacy. For example, as pointed out by Vanity Fair, former US congressman Chris Lee had a lot to suffer from a similar online dating network. The lack of privacy revealed the high number of gay men working in the Pentagon and in the White House, but also their most intimate fantasies. That smells like blackmail. Thus, the matter of privacy is quite delicate on this site and proves that online chat could get dangerous, as in the case of a 15 year-old boy that was sexually assaulted by a 54 year-old man after meeting on Grindr.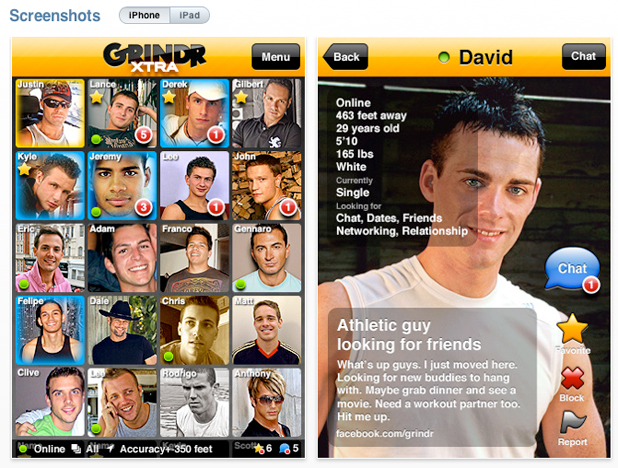 However, what I consider to be special about this GPS-based application is that, according to The Observer, it is used by over 2 million men and it is popular in 192 countries, including Sri Lanka, Haiti, Iraq and Iran. The most addicted country to Grindr is the UK where it has over 160 000 users. I thought it would be interesting to discuss Grindr, because it is quite popular in Romania as well and what is definitely remarkable is that gay men from all over the world now have their own network where they feel safe expressing themselves and coming out. I still feel that the lack of privacy, even if it is kept within the network, can get dangerous, just because you are never 100% sure who is behind the profile or the screen. Simply think of all the homophobic countries and what would happen should anyone have access to Grindr! As long as you play it safe and decent, nothing bad should happen.
After its great worldwide success among gay men, the creators of Grindr were considering a straight version called Project Amicus. In September 2011 they launched Blendr, formerly known as Project Amicus, and are still waiting to see if it is going to be as popular as their previous project. Personally, I had no idea this application was launched last month, so I would not hold my breath on it getting too successful. If interested, you can follow both applications on Facebook and Twitter or simply download them into your phone and Grindr someone.
Works cited
Grindr. 2011. Apple Inc. October 8 2011. <http://www.grindr.com/Grindr_iPhone_App/Grindr_-Meet_Guys_Near_You_on_your_iPhone.html#>
Freeman, Nate. "Grind Up On This! A Straight Man Uploads a Cute Pic to Grindr". The New York Observer. 2011. October 8 2011. <http://www.observer.com/2011/06/grind-up-on-this-a-straight-man-uploads-a-cute-pic-to-grindr-and-takes-the-plunge/>
Kapp, Matt. "Grindr: Welcome to the World's Biggest, Scariest Gay Bar". Vanity Fair. 2011. Conde Nast. October 8 2011. <http://www.vanityfair.com/culture/features/2011/05/grindr-201105#gotopage1>
Rushe, Dominic. "Grindr app goes straight – but there are different rules for women". The Guardian. 2011. Guardian News and Media Limited. October 8 2011. <http://www.guardian.co.uk/technology/2011/feb/06/grindr-gay-straight-dating>