Digital finger painting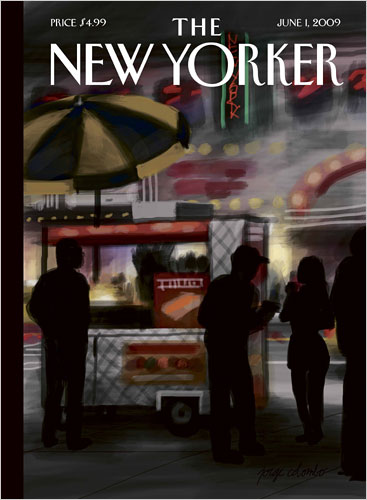 Digital finger painting – Using iPhone as canvas

Brushes is a painting application designed from scratch for the iPhone, iPod touch, and iPad. Featuring an advanced color picker, several realistic brushes, multiple layers, extreme zooming, and a simple yet deep interface, it is a powerful tool for creating original artwork on your mobile device.
Digital finger painting first started with the application Brushes released in 2008 by Steve Sprang who was working in the iWork team of Apple.This iPhone application caught the attention of the media and the art world when the 1st June 2009 issue of The New Yorker published one of the Jorge Colombo's iSketches. The cover represents the scene of a New York hot dog vendor and you can't really tell whether it was painted digitally or not. Colombo is a Portuguese photographer, designer and illustrator based in New York who realised in 2009 the series entitled 20×200.

I only got an iPhone in February 2009, so all of this is still very new. It all started when I realized I could draw while night-riding in a car. Soon I found myself sketching NY spots that are part of my life. I've lived in the USA for 20 years and I'm still looking at its urban landscape as if I was discovering it for the first time ((http://www.20×200.com/art/2010/05/corner-cafe.html))
The Brooklyn Artist David Kassan is also using the iPad as a portable drawing tablet. This contemporary artist best known for his life-size realist portraits is a teacher and gives numerous workshops around the world. Kassan has also studied extensively human anatomy and we can clearly see that in his works even when there are executed on the iPad. Brushes application enables artists to retrieve every component of traditional paintbrush-drawing.
The demo "Finger Painting on the Apple iPad from the live model" streams live from the artist studio where the model sat for three hours meanwhile Kassan was methodically touching his screen displayed in an real easel. The number of views reached over 1 million within six months of posting and therefore indicates the growing interest in digital finger painting.
http://www.youtube.com/watch?v=5OLP4nbAVA4
The British Artist David Hockney who is an important contributor to the Pop Art movement is using Brushes since 2008. In 2009 the exhibiton Fleurs Fraîches was held in the Fondation Pierre Bergé/Yves Saint-Laurent from October 20, 2010 to January 30, 2011. It showed hundred of portraits, landscapes and still lifes painted on iPhone and iPad by the artist. The very first idea of "Fresh Flowers", here used as a metaphor, was sending these drawings by email to friends. Later, Hockney extended this practice and his "Fresh Flowers" entered the art galleries.
From October 8 to January 1, 2012 the Institute for Contemporary Culture in Toronto (ICC) presents the exhibition David Hockney's fresh flowers: Drawing on the iPhone and iPad. During this event, 100 iPhone drawings and 100 iPad drawings will be displayed on 20 iPhones and 25 iPads respectively. Films of Hockney working on his drawing from start to finish will be showed to the public.
This $ 4,99 app represents both an artistic and a digital revolution and we can assert that it contributes to the history of evolving medium. Brushes, Photoshop and other softwares are the new tools in contemporary art. Well-known artists and amateurs are scratching every day their iPhone and painting something in the street, at the café, in the park or even in the metro. Brushes can be compared to photography in the sense you can capture an image very easily while walking in the public sphere. Digital painting is as revolutionary as Impressionism was in the 19th century when Claude Monet or August Renoir decided to abandon their studio and painting outside instead. Brushes offers unlimited possibilities of undo and redo and keeps your studio clean!